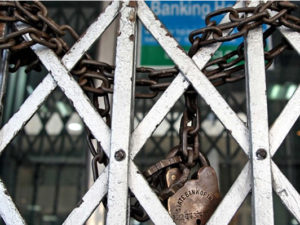 As 10 lakh employees, primarily from PSU banks, going on two-day strike in a bid to protest a "meagre" salary hike offered by Indian Banks Association (IBA) — the management body, the banking operations in  the country were hard-hit on Wednesday.
The strike to protest against a two per cent hike will continue on Thursday.
Except for a few activities including cheque clearance, operations in the new-generation private banks like ICICI Bank, HDFC Bank, Axis Bank were however almost normal.
However, some reports suggested disruption in banking operations in various States. The impact of strike in states like Kerala, West Bengal, Bihar and Jharkhand was observed to be far severe than others States.
About a million employees linked to various branches of 21 public sector banks, 13 old generation private sector banks, six foreign banks and 56 regional rural banks across the country are observing strike, as IBA offered them a nominal wage revision, stated a statement issued by All India Bank Employees Association (AIBEA), affiliate of UFBU ( United Forum of Bank Unions).