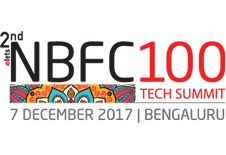 Non-Banking Financial Companies (NBFCs) in India are emerging as one of the leaders in the Banking, Financial Services and Insurance (BFSI) industry.
Their latest transformation in association with the new entrants such as Payments Banks and Small Finance Banks, is assisting the consumers in fulfilling their diverse financial needs.
Acknowledging this augmentation in terms of delivering financial services in the country, Elets Technomedia Pvt Ltd is organising the 2nd NBFC100 Tech Summit on December 7 at Bengaluru.
The Summit will focus on the factors concerning the rapid growth and upcoming opportunities within the NBFCs, based specifically in the Southern part of the country. This conglomeration will assimilate the who's who from the NBFC sector across Karnataka, Tamil Nadu, Kerala, Telangana and Andhra Pradesh.
Eminent leaders namely Subrata Gupta, Managing Director, NABARD Financial Services, Ashwin Khorana, Chief Technology Officer, Janalakshmi Financial Services, Hardika Shah, Founder and CEO, Kinara Capital, Nikhil Bandi, Chief Information Officer, Kinara Capital, Suresh A Shan, Head-Innovation and Future Technology, Mahindra & Mahindra Financial Services Ltd., Dominic Vijay Kumar, Associate Vice President-IT, Art Affordable Housing Finance India Ltd. and many others would be participating in the Summit to add greater significance to the amalgamation.
Renowned brands Dimension Data and Cisco, India are supporting the summit as Premium Security Partners.India's most extensive marketplace for loans, credit card and other personal finance product, RupeePower is the Fintech Partner of the summit.
The Banking & Finance Post, Asia's premier bi-monthly magazine, published by Elets Technomedia Pvt Ltd, will be the print partner of the summit.
The exclusive videos of the Summit will be found at Elets TV, Asia's largest platform for videos in the Banking, Financial Services and Insurance (BFSI) domain.
For further details please visit: http://bfsi.eletsonline.com/NBFC100/2017/