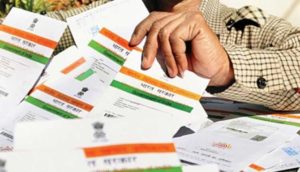 Showcasing a remarkable progress, 22 States/UTs have already completed 90 per cent of its Aadhaar enrolment target.
In addition to this, the Unique Identification Authority of India (UIDAI) has already completed 88.4 per cent of its total Aadhaar enrolment target.
As a matter of fact, eight out of the 36 States/UTs have surpassed the 100 per cent of saturation limit. Delhi followed by Goa, Himachal Pradesh, Haryana, Telangana, Punjab, Chandigarh and Kerala are amongst the top performers.
While 22 States/UTs have achieved more than 90 per cent of the projected target, six States/UTs are above 80 per cent of their target.
Further, Aadhaar Saturation in 0 < 5 Years Age band has crossed 43.1 per cent. Haryana, Himachal Pradesh, and Chandigarh are the top performers in this target.
According to UIDAI, in the overall category, Delhi showed the best performance at 116.4 per cent saturation level and Assam reported a grim performance at 7.3 per cent saturation level.
While Haryana became the best performer with 86.4 per cent saturation in 0 < 5 Years Age band, Meghalaya reported the least saturation at 0.1 per cent.
Aadhaar issuing authority UIDAI tweet this information recently.
22 States/UTs have more than 90% Aadhaar saturation. State wise Aadhaar saturation list – https://t.co/zNhDeNuPPP   #AadhaarFacts pic.twitter.com/XudbzYsnTa

— Aadhaar (@UIDAI) December 12, 2017