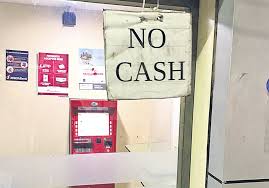 ATMs is some parts of the country are suffering from cash crunch for the past 10 days as currency supply in banks have witnessed a massive downfall across various parts of the country.
However, Union Finance Minister Arun Jaitley has defused the panic over cash shortage, saying that the availability of cash is more than enough in the system. His statement came amid reports claiming that the ATMs going dry in several states.
"Have reviewed the currency situation in the country. Overall there is more than the adequate currency in circulation and also available with the Banks," assured Jaitley.
Acknowledging the shortage, he said that the crunch is temporary and the cause is probably due to an unusual rise in demand for cash across some parts of the country.
According to Reserve Bank of India (RBI) as on April 6, currency worth Rs 18.17 lakh crore in the circulation, amount close to the number available at the time of demonetisation.