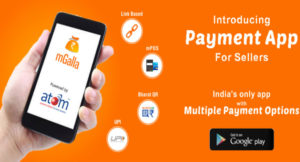 Payments service provider Atom Technologies has unveiled India's maiden multi acquiring Digital Point of Sale (POS) Payments App —'mGalla'.
The new app is offering a unique blend of different modes of payments namely Bharat QR, mPOS, Unified Payments Interface (UPI), Link Based payments and cash. It is expected to be beneficial for India's informal or unorganised sector. These sectors account for nearly 50 per cent of the country's Gross Development Product.
mGalla ensures seamless payment services and enables merchants to align with the Goods and Services Tax.
"Demonetisation led to a spurt in disaggregated digital payment methods and services leaving the businesses the complexity to grapple with these modes and their reconciliation, mGalla addresses this core issue and provides an integrated payment collection offering for merchants with very easy to use options," said Dewang Neralla, CEO, Atom Technologies.