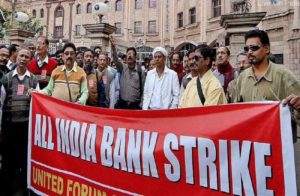 For protesting against the low wage hike offer decided by Indian Banks' Association, United Forum of Bank Unions (UFBU) has planning to go on two-day bank strike on May 30 and 31.
The bankers association is facing a lot of flak for offering an average pay increase of 2 per cent to employees amid rising controversies pertaining to Non-Performing Assets (NPAs).
UFBU has demanded adequate salary hike and also asked IBA to consider an improvement of the service conditions along with early wage revision settlement.
"We call upon all our unions and members to implement the agitation programme successfully," said Rajen Nagar, General Secretary, All India Bank Employees Association.
Unions have demanded wage revision and include all the officers upto scale VII into the updated wage.
Reportedly, some banks have asked IBA to hold the salary negotiations for only upto Scale III officers.