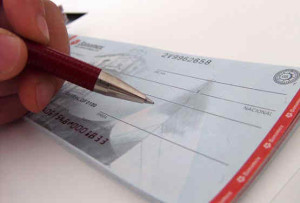 A new law has been proposed wherein people can now file cheque bounce cases at the place where the cheque is presented for clearance and not at the place of issue.
As per the new law which got President Pranab Mukherjee's assent recently, the Negotiable Instruments (Amendment) Act, 2015, states that cases of bouncing of cheques can be filed only in a court in whose jurisdiction the bank branch of the payee (person who receives the cheque) lies. It will also result in fast prosecution of offenders.
If a complaint against a person issuing a cheque has been filed in the court with the appropriate jurisdiction, then all subsequent complaints against that person will be filed in the same court, irrespective of the relevant jurisdiction area.Some litigants have to travel to different places from where the cheques were issued and not honoured.
"The clarity on jurisdictional issues for trying cases of cheque bouncing would increase the credibility of the cheque as a financial instrument. This would help trade and commerce in general and allow the lending institutions, including banks, to continue to extend financing to the economy, without the apprehension of loan default on account of bouncing of a cheque," a statement issued by the government said.
There are an estimated 18 lakh cheque bounce cases across the country, of which about 38,000 are pending in High Courts.
The Negotiable Instruments (Amendment) Bill, 2015 was passed by the Parliament in the recently concluded Winter Session.