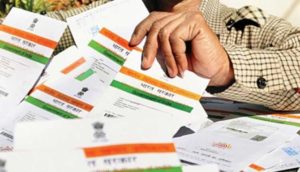 If you haven't linked your Aadhaar number with your Permanent Account Number (PAN), you still have more time in hand. According to the latest notification issued by Income Tax Department, the seeding can now be done till March 31, 2018.
"In view of the difficulties faced by some of the taxpayers, the date for linking of Aadhaar with PAN was initially extended till August 31, 2017, which was further extended to December 31, 2017," the I-T Department said.
"It has come to notice that some of the taxpayers have not yet completed the linking of PAN with Aadhaar. Therefore, to facilitate the process of linking, it has been decided to further extend the time for linking of Aadhaar with PAN till March 31, 2018," the statement added.
In adherence to the Section 139AA of the Income Tax Act, 1961, with effect from July 1, 2017, all tax payers mandatorily have to link their Aadhaar number with their PAN cards within the stipulated deadline.
While the deadline for PAN has been extended, the same for mobile phones remains unchanged February 6.
To link your PAN with Aadhaar, follow these simple steps
Deadline: March 31, 2018
Linking Aadhaar-PAN is a mandatory move for income tax returns (ITRs) for the assessment year 2017-18. While earlier the deadline for completion of this mandate was August 31, the Central Board of Direct Taxes (CBDT) has extended the last date to December 31, 2017. You can now link the PAN to Aadhaar by login to https://incometaxindiaefiling.gov.in/e-Filing/UserLogin/LoginHome.html by entering PAN (User ID), password and your date of birth.
Click on 'Profile Settings' tab and select the last option 'Link Aadhaar'. Enter details like name, date of birth and gender as per PAN records and also your Aadhaar number. Enter the captcha code and submit.
Also Read: Govt deactivates 11 lakh PAN: Find out how to check your PAN's status