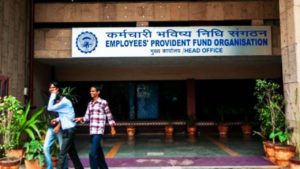 Employees Provident Fund Organisation (EPFO) has temporarily shut its Aadhaar seeding portal after getting complaints on the breach of confidential data.
The service is reportedly on halt for over a month after EPFO received a complaint of its data been stolen by the hackers.
The incident came into notice after the Intelligence Bureau (IB) notified Ministry of Labour and Employment in March regarding the data theft from the EPFO's web portal that enabled the subscribers to link their provident fund accounts with their Aadhaar numbers.
In its written communication to Dinesh Tyagi, Chief Executive Officer (CEO),Common Service Centre (CSC), firm managing Aadhaar-seeding application, V P Joy, Commissioner, Central Provident Fund said,"It has been intimated that the data has been stolen by hackers by exploiting the vulnerabilities in the website (aadhaar.epfoservices.com) of EPFO."