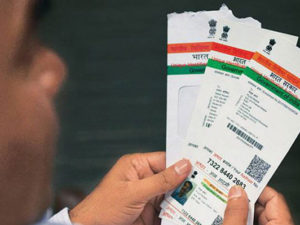 Are you planning to link  SIM with Aadhaar number, but don't have a retailer nearby? Don't worry. The hassles of visiting a telecom store will no longer be a hardship after December 1, 2017.
From December 1, users can easily link their Aadhaar number with their SIM/ Mobile number via One Time Password (OTP).
According to the UIDAI 's announcement, the users don't need to visit the retailer to provide their fingerprints. From December 1, people can sync their SIM with Aadhaar through an OTP received on the mobile number registered with Aadhaar.
OTP is a certified mode of authentication used by Unique Identification Authority of India (UIDAI). The validity of the OTP is applicable for a limited period.
"The Aadhaar number holder shall provide this OTP along with his Aadhaar number during authentication and the same shall be matched with the OTP generated by the Authority," according to the UIDAI website – uidai.gov.in .
In a bid to simplify the process of authentication, Department of Telecomm has recently introduced three ways to sync the Aadhaar with SIM. One can either do it through the authorised app, OTP or via IVRS.