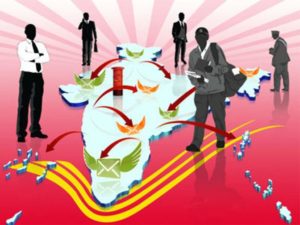 The Centre is planning to transform 1.55 lakh post offices after integrating them with 650 Payments Banks, in a bid to enable digital services as well as financial inclusion for 130 crore Indians.
"In 5-6 months, 1.5 lakh postal offices will function as Post Payments Banks. In a lesser time, nearly 32 crore have opened bank accounts, and hence the government decided to open Payments Banks to facilitate transactions for all citizens," said Manoj Sinha, Minister of Communications and Railways.
He further said that after the pilot launch in Raipur and Ranchi, Payments Banks will also be unveiled in rest of the 648 locations soon, and will be offering direct benefit to the consumers.
After receiving the final nod from the Reserve Bank of India (RBI) in 2015, India Post Payments Bank (IPPB) launched its pilot projects in Raipur and Ranchi in January 2017.
RBI approved 11 financial entities to launch Payments Banks. This list included the names of Department of Posts. RBI allowed these entities to accept deposits of up to Rs 1 lakh per individual or a small business.