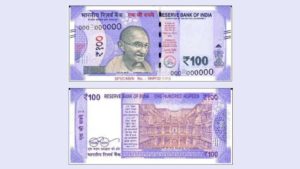 The Reserve Bank of India (RBI) will very soon be issuing Rs 100 banknotes of base colour Lavender. This will be a new addition to the Mahatma Gandhi series notes.
The announcement on the launch was communicated by the central bank of Thursday.
According to RBI, the new note will carry a motif of 'Rani ki vav' – a stepwell located on the banks of Saraswati river in Gujarat's Patan – on the reverse, as a sign of country's cultural heritage.
It will also have other designs as well as geometric patterns in sync with the overall colour scheme on both sides.
As compared to the currently circulated Rs 100 notes, this new note will be smaller in its dimensions (66 mm × 142 mm).
Furthermore, all the existing Rs 100 banknotes issues by the regulator will also be legal.
"As is normal, when a new design of banknote is introduced, printing and supply of these notes for distribution to public through the banking channel will gradually increase," said the RBI .
In October last year, RBI announced that after finishing the printing of Rs 200 notes, it would start printing new banknotes around April.