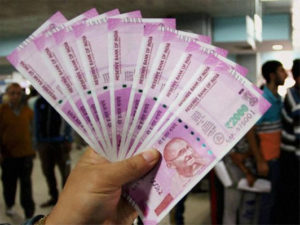 Slipping further by 28 paise, Indian Rupee on Thursday opened at Rs 68.89 against the $ Dollar. This is so far the lowest ever performance of Indian Rupee as compared to $ Dollar.
Reporting a biggest single session fall, Rupee closed at 19 month low record on Wednesday.
According to the sources, the inflation in crude oil prices and trade war concern between US and China are acting as a catalyst behind weakening of Indian Rupee.
The currency market is facing tremors post Reserve Bank of India's its bi-annual financial stability report, which portrayed a gloomy picture of the banking industry.
Rising inflation and concerns over fiscal deficit and hawkish stance from the RBI drove up the bond yields, hitting bond prices.
Reportedly, the currency traders are in a state of worry thinking about the future of global trade against the dismal backdrop of an escalating trade rhetoric between the US and China.
Experts are in a view that a massive selloff in domestic equities has fueled the pressure further escalating the fear of heavy capital outflows.
Investors are now awaiting the fiscal deficit data that is soon to be released on Friday. It is more likely to offer cues to the
investors.