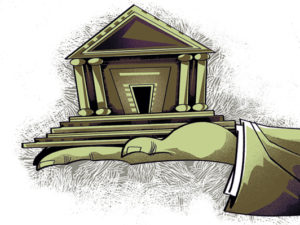 In a bid to initiate their overseas operations, Public Sector Banks (PSBs) have identified 41 units for rationalisation under their larger reform process, said a top official.
Rationalisation by banks could be done with regards to consolidation of operations, workforce layoffs, surrendering the non-productive activities and shutting down of some of the avoidable overseas offices.
"Many banks have invested in the overseas markets. This activity should be analysed properly. Banks have already started the process and they have decided to rationalise nearly 41 operations," said Rajiv Kumar, Financial Services Secretary.
The Centre has recently announced that it will invest a whopping Rs 88,139 crore capital in 20 PSBs before March 31 in order to boost lending scenario and revive growth.
It also talked about the steps it is going to inculcate for handling bad loan problem that has reached new highs projecting tougher times for the Indian banking sector.
According to the sources, initiation of recapitalisation would completely depend upon the performance and reforms.