Company Profile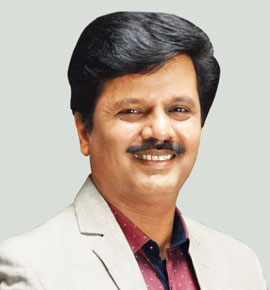 Quick Heal Technologies Limited is an Indian company pioneering in antivirus research and development, headquartered in Pune, Maharashtra. Founded in 1995, it started as CAT Computer Services (P) Ltd specializing in computer repairs and services. The Co-founders Kailash Katkar and Sanjay Katkar are one of the early pioneers in the Indian Software Products Industry. Under their leadership, Quick Heal soon began offering anti-virus solutions to a market that was still new to the term 'Computer Viruses'. 20 years later, Quick Heal Technologies Limited (renamed in 2007) has set the benchmark for computer security industry standards and has established itself as one of the leaders in IT Security Solutions in India. The Quick Heal portfolio includes solutions under the widely recognised brand names QUICK HEAL and SEQRITE. Seqrite is the Enterprise Security Brand of Quick Heal. The enterprise brand includes Endpoint Security, Gateway Security (UTM), Network Security, cloud-based Mobile Device Management systems.
Products
Quick Heal
http://www.quickheal.co.in/home-users
•

Quick Heal Total Security

•

Quick Heal Mobile Security

•

Quick Heal Internet Security

•

Fonetastic (Free/Pro)

•

Quick Heal Antivirus Pro

•

Quick Heal Antivirus for Server

•

Quick Heal Total Security for Mac

•

Quick Heal Optimizer

•

Quick Heal Tablet Security

•

Quick Heal PCTuner 3.0

•

Quick Heal Total Security for Android

•

Quick Heal Gadget Securance

Seqrite http://www.seqrite.com/
•

End Point Security (Total/Business/SME)

•

TERMINATOR (UTM)

•

Mobile Device Management

•

Antivirus for Server

•

Seqrite Cloud

•

Antivirus for Linux
Product And Services
Quick Heal Technologies Ltd is a leading IT security solutions provider in India. Over a span of 20 years the company has conducted focused research and development on computer and network security and has developed security software products and solutions for multiple platforms such as; Windows, Mac, Android, iOS and Linux and devices such as- desktops, laptops, mobiles and tablets. The products are indigenously developed in India. Since its incorporation, more than 24.5 million licenses of Quick Heal's products have been installed and Quick Heal has over 7.1 million active licenses spread across more than 80 countries.

Target Vertical
Quick Heal – Home Users, Small Offices and Home Offices (SOHOs), mobile users and enterprises
Seqrite – Manufacturing Companies, Banking Financial Services and Insurance (BFSI) Companies, Healthcare, Hospitality, Educational Institutions, Government Customers, e-Commerce firms
Achievements
12th Annual 2016 InfoSecurity Global Excellence Awards
Gold Winner: Sanjay Katkar, MD and CTO, for Product Development/ Management Executive of the Year
Silver Winner: Seqrite Endpoint Security v6.3
2015: Seqrite wins IMC Information Technology Award
2015: Mumbai Hot 50 Brands in the B2C category, awarded by OneIndia
2014 – 2015: DQ Channels India's Most Popular Vendor
2012: Maharashtra Corporate Excellence Awards, by Maxell Foundation
ORGANISATION


Email:

info@quickheal.com


Contact Number:

+91-20-66813232


Marvel Edge, Office No. 7010 C & D,




7th Floor, Viman Nagar, Pune 411014,




Maharashtra, India




Inception:

1995


Number of employees:

1,300

CONTACT PERSON FOR QUERY


Jyotish Werulkar




Country Manager-Enterprise & BFSI




Email:

jyotish.werulkar@seqrite.com


Mobile:

+91-9372047707