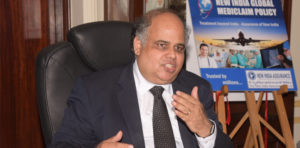 India's largest non-life insurance company, New India Assurance Company has launched an inclusive world-wide mediclaim policy named 'New India Global Mediclaim Policy'.
This policy will help the users in availing the benefits of insurance cover for claiming hospitalisation cover for treatments like cancer, neurosurgery, heart surgery, organ transplant and bone marrow transplant in hospitals outside India.
New India Global Mediclaim is an innovatory Critical Illness product that has two major offerings namely hospitalisation with medical centers in Asian countries and the same service, worldwide.
While the plan for Asian countries medical coverage offers a lifetime cover of $ 1 million and the worldwide lifetime coverage can help in availing insurance benefits for $ 2 million.
The policy offers a wide range of services such as medical second opinion for the covered illness of the insured to the expenses like travel, accommodation, and treatment in a foreign land.