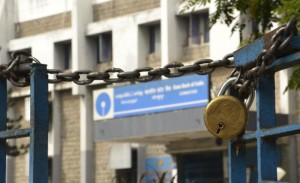 United Forum of Bank Unions (UFBU) has decided to go on a strike on March 15 in demand of early settlement of wage revision.
UFBU is body comprising of bank employees and officers unions. The forum has asked all the banks to ensure full mandate to Indian Banks' Association (IBA), enabling a better negotiation involving the complete spectrum of the employees.
The decision pertaining to strike call was taken during a meeting called on Tuesday by UFBU.
Reportedly, the wage settlement is due from November 1, 2017 and not been completed till date.
So far 20 banks have submitted their mandate to IBA only up to Scale III employees (up to middle management level).14 remaining banks are required to ensure their mandate to negotiate the wages pertaining to Scale VIII.