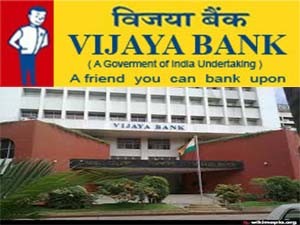 Public sector lender Vijaya Bank has appointed Sankara Narayanan as its Managing Director and Chief Executive Officer.
Narayanan has taken over the position from his predecessor Kishore Sansi, who retired on August 31.
Narayanan holds a post-graduate degree in Public Administration and has also done MBA in Finance, CAIIB, PGDPM, PGDFM, DTIRM, DCP and BRM.
He started his banking career as a joint recruit officer of Bank of India in 1983 and has supervised various branches, zones and national banking groups across the country.
He has headed several departments in the corporate offices, including treasury, retail, international banking, corporate credit, risk management, compliance, retail, marketing, recovery and human resources and had also been a part of overseas assignments in Tokyo and Singapore.
During his reign as Executive Director of Bank of India starting from May 2015, he had handled the treasury, corporate credit, recovery, risk management and compliance departments. He was also incharge of the departments namely international banking, retail, HR, IT, planning and finance.
Narayanan represented BoI at various platforms such as PT Bank of India Indonesia Tbk, Bank of India – Tanzania, Commonwealth Finance Corporation Ltd (CFCL-Hongkong), BoI New Zealand Ltd, BoI Shareholding and SUD Life Insurance.