Jan-Dhan – Aadhaar – Mobile (JAM) is on play to bring unbanked sections of the society to the financial network. The Government of India has embarked on a mission to make JAM an integral part of the social security programmes and create a universal social security system for all the citizens, especially the poor and the under-privileged. Jessy Iype of Elets News Network (ENN) delves into the JAM initiative with inputs from some stakeholders
The government is making all-out effort to ensure inclusive growth by walking some extra miles for bringing the underprivileged sections of the society in the financial mainstream and providing them with social security cover. However, it's not that similar efforts were not made in the past, but the kind of political will shown by the present dispensation was perhaps missing earlier.
The world's biggest-ever financial inclusion programme – Pradhan Mantri Jan-Dhan Yojana (PMJDY) – seeks to make Jan-Dhan an integral part of the various social security programmes by creating a unique technology-based triad of 'JAM' – Jan-Dhan, Aadhaar and Mobile. These are increasingly being used to transfer subsidies and benefits of other social welfare schemes and help plug leakages in reaching the benefits of government's programmes to the poor and marginalised lot.
The PMJDY is aimed to create a universal social security system for all citizens, especially the poor and the under  privileged. The bank accounts opened under the scheme w ould help in effective implementation of all such social security schemes. The idea is that linking these three would provide a solid authentication of a consumer and a payments account .
The National Payments Corporation of India (NPCI) will play a key role here, by enabling the faster payments infrastructure to allow payments to transfer among all banks. This step by the Government can cement the belief that the initiative holds promise for making electronic payment accounts work with minimal fraud, something that will become increasingly important as the use of electronic payments increases.
The main crux of the JAM includes providing technological cushion to fill the gaps in deploying basic access to financial services to all citizens optimally.
The ICT space is indeed fuelling a new pace of innovation. The Digital India vision has placed technology at the core of our lives. Speedy implementation of the National Fibre Optic Network will only enable more rural communities to benefit from the ecosystem of an effective governance.
Therefore, bringing every citizen on the digital platform will increase empowerment and inclusion. The target of reaching out to 2.5 lakh villages will require intent, innovation and in vestment. Increasing the pace of internet and broadband penetration, and adoption of the mobile in the socially-relevant services of education, healthcare, banking and finance, along with m-governance, will drive India a long way.
It is also vital to note that to achieve digital literacy for all citizens, there is a need to create a common definition of digital literacy for development of a digital workforce.
Mandating FI under JAM
India's financial inclusion indicators, particularly in banking, have put it below the median of countries, and generating bank accounts are the first step towards inclusion.
Thyagarajan Seshadri, Vice President at Electronic Payment and Services (P) Ltd, says, "If we look at the government's approach, they are trying to provide social benefit schemes with – out any intermediary. Its schemes define leakages in the financial system, which can be fixed. The benefits are looped in the system. Now, as a way out, the government is opting for schemes wherein technology can play a larger role. Through the use of technology, a beneficiary can be connected with the mainstream and given exposure to self services like ATM, RuPay card, through which they can do simple transactions. In other words, the aim is to ensure that the benefits reach the beneficiaries through technology without any leakage. This is where electronic payment services (EPS) come into play.
"EPS has played a role where beneficiaries are identified and included in the mainstream through bank accounts. We have got common procedures, where we have ensured installation of ATMs in rural banks that play a vital role in benefiting the customers through DBT. The JAM initiative is vying for bigger picture in India that is getting $20 trillion in the economy, which can thereby eradicate poverty. The concept of JAM is in itself a game changer, where the Pradhan Mantri Jan-Dhan Yojana (PJDY) and the Aadhaar schemes are a source of social benefit schemes for the citizens. As mobile is acquired by majority of the world today, mobile transactions are the in-thing now," Seshadri adds.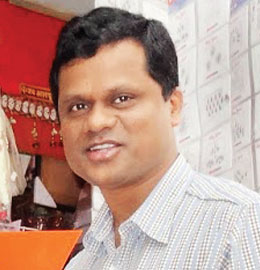 Talking about the use of technology in the financial sector and role played by his company, Ramesh Baswa, Founder, MD & CEO, Sollet Soft Solutions Pvt Ltd, says, "Sollet has been already tied up with State Bank of India (SBI) for Telangana and Andhra Pradesh for financial inclusion. We have tied up with Yes Bank for Pan India as a Business Correspondent (BC) in extending domestic remittance and prepaid card services across the corridors covering urban and rural areas. We have also tied up with the Bank of Maharashtra (BOM) as a BC for branch decon – gestion in Pune as a pilot. We will enable Aaadhar/RuPay based transactions for all BOM Customers through Agent/ CSP outlets.
"Further, we have tied up with the Bank of Baroda (BOB) as a BC in extending financial inclusion across UP, Gujarat, AP and Telangana involving Aadhar/RuPay-based transactions. In each case, Sollet CSP/Agent will use either web- based or Integ rated POS-based systems for serving the local customers. We have also the ability to extend banking services to the local customers through CSP/Agent Mobile, if the bank allows us to integrate. We have not come across any bank until today which is keen to explore mobile-based CSP/Agent options. Banks for sure have started working towards customer mobile banking service under financial inclusion," adds Baswa.
Speaking of the role SWIFT India plays in financial inclusion, Saqib Sheikh, COO, says, "To support the financial inclusion initiatives of the country, in consultation with the RBI and leading banks in India, SWIFT has established a national financial messaging platform based on proven SWIFT technology and expertise. The platform is designed to bring reliability, security and scalability in the exchange of payments, securities, trade finance and treasury transactions in India's domestic financial markets. This is enabled with the partnership of SWIFT and nine leading public sector and private banks of the country which guide its features and evolution."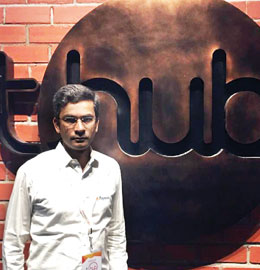 Anil Bhardwaj , the Paynear Co-Founder, says, "Paynear is the fastest growing payment solution provider with a goal of empowering digital payments not only to the urban but also to tier II and tier III cities as well as rural India. With our first flagship product mPay mPOS, we can play an integral part in the JAM framework by providing all types of merchants, small or big, facility to accept and manage their card payment needs. mPay facilitates payment acceptance 'anytime, anywhere' by transforming smartphone/tablet/PC into a card payment acceptance device. Merchants can effortlessly reconcile card and cash payments and capture their customer data for retention and reward programmes. We also educate merchants on the benefits of card acceptance and connect them with partner banks for availing loans. With ePay launch scheduled f or January 2016, we would be the only company offering online and offline payments across all industries and all categories of merchants."
Challenges in Deployment
Despite the government's efforts for digital financial inclusion through PMJDY scheme, which was launched last year, the World Bank estimates that over 230 million Indians still pay utility bills in cash. Moreover, close to 43 per cent of bank accounts remained inactive in 2014. Acknowledging the challenges faced by formal banks in driving financial inclusion, the RBI in August 2015 had granted in principle payment bank licence to 11 non-banking entities.
Seshadri says, "The big picture is there, but what is lacking is the last-mile connectivity. The government has, however, found way to issue numerous accounts and acces – sibility in the form of RuPay cards. This can be seen as a way to interact across multi-channels, but the challenge is that there is no proactive measure, and the availability of power and connectivity should be made 24X7."
Says Bhardwaj, "At present, our biggest challenge is generating the awareness anout the solutions we offer. As it is a relatively new technology, shift in merchants' mindset to accept cards versus cash will take a bit longer. Other challenges include low telecom signals in some locations, which make adoption slow. But we're confident that as the penetration and adoption of 3G/4G increases, we will soon overcome these challenges.
"Thanks to the government's Jan-Dhan Yojna, the number of debit cards will grow multifold and half of the population is expected to have a RuPay debit card by the end of 2015. With government initiatives of financial inclusion, incentivising card payments, reduction in cash trans – actions with rising transaction value and volumes, we are sure to see a big splurge . Innovative schemes, customer loyalty and retention programmes will further boost the development of this sector."
Baswa adds, "We, in general, rely on bank's technologies for extension of financial inclusion. Banks are struggling in resolving technical issues wherein a collaboration between their technology service providers (TSPs), NPCI and Aadhaar are involved. We believe that a better coordinated effort across the stakeholders will help speed up and scale up financial inclusion involving JAM. We have been facing challenges in integration with banks, especially wherein Aadhaar-based transactions are involved as we see lack of know-how across the stakeholders."
He adds, "We face problem of scalability where banks give us scattered mandate for implementation of financial inclusion. A densified and scalable approach will enable BCs like us to be more sustainable and enable us to reach more excluded social segments quickly."
Sheikh states, "With the Jan-Dhan Yojna, we have seen a 27 per cent increase in the number of bank accounts in a single year. Internet access has consistently been increasing 35 per cent each year and banking services now penetrate close to half of our geographically and demo – graphically diverse populace. While this is impressive in itself , only 15 per cent of those that are banked are active users of e-banking facilities."
Acknowledging the challenges faced by formal banks in driving financial inclusion, the RBI in August 2015 had granted in-principle payment bank licence to 11 non-banking entities
Technology availability
To facilitate technology solutions in rural areas, it is cru – cial for the licence holders to have accessible banking points. It includes availability of mobile phones, kiosks and internet-enabled outlets. On how his company is unique in delivering financial inclusion services, Seshadri says, "The concept can garner good ecosystem and simplification of treaties. We, in EPS, under-plan the requirement of the market and offer services as per its requirement. We built an entire setup and network and drive it at one point. We ensure there is availability of ATM services in rural belt 24X7. We do good packaging, and this differentiates us from others."
However, Baswa differs in defining his own technology, "Sollet has a unique approach in extending B2B & B2E through CSP/Agent outlets. We have plans to extend Social Commerce/Inclusion involving financial inclusion. This makes the entire ecosystem more sustainable, having longer business prospects. We enable each CSP/Agent as a low-cost franchise for banks, merchants etc, with exclusivity. This way we empower a bank, merchant, etc., whereby the y get an avenue to expand their businesses with low cost extension model and an Agent/CSP earns more while extending banking, non-banking services and e-commerce to the local customers."
For Bhardwaj of Paynear, it's all about mobile wallet. "mPay app stands out as the most user-friendly and easy to use mPOS app in the market. It is available in multiple languages and comes with a number of value-additions for merchants. The app is complemented with an internationally acclaimed and fully certified card reader to accept all major cards . Offering such a solution is a result of in depth research by our team, who designed and developed it after careful understanding of various business requirements."