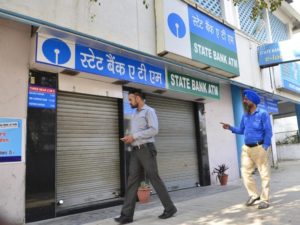 In a bid to tighten the cost cutting measures, banks have shut 2,000 ATMs in 10 months. According to the Reserve Bank of India (RBI), the total number of ATMs of banks as of May 2017 was close to 110,116 which dropped to 107,630 as on February 2018.
In between May 2017 and February 2018, banks have shut 2,486 ATMs.
However, India's largest public sector lender State Bank of India (SBI) reported a marginal increase in terms of its offsite ATMs.
The bank has reduced the number of its onsite ATMs from 29,150 to 26,505. On the other hand, the number of offsite ATMs increased from 29,917 to 32,680, between May 2017 and February 2018.
As per the official data, Bank of India shut 108 onsite and 100 offsite ATMs between May 2017 and February 2018.
While Canara Bank reduced 189 onsite and 808 offsite ATMs in the same time period, Central Bank of India shut 27 onsite and 317 offsite ATMs.
Punjab National Bank had to shut 655 onsite and 467 offsite ATMs, reveals the RBI data.