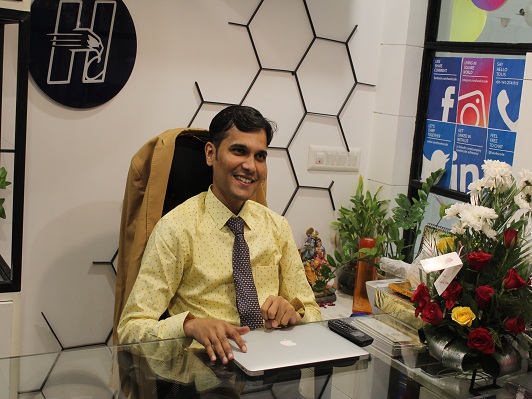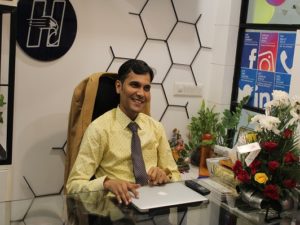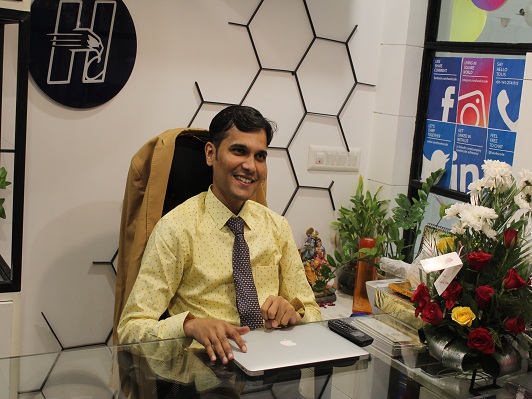 Our customers trust us with their acute business challenges, and it is Hawkscode's core responsibility to ensure the successful execution of our solutions. We believe in devising path-breaking software development solutions to help organisations meet their current and future needs to prepare them for tomorrow, says Sunil Sharma, CEO, Hawkscode, in conversation with Elets News Network (ENN).
Tell us about Hawkscode its products and services?
"HawksCode came into existence with the vision to make & bring technology and IT
solutions to everyone's reach effectively, efficiently and affordably with standardized
practices."
HawksCode was established in 2012. In the past 8 years, HawksCode has evolved and become a multi-national company in a very short time of period winning over 23 awards to honour our work from different organizations. Company has offices in India, Australia, USA & UK with 750+ customers spread across the Globe.

Our central goal is to empower organizations by providing benefit in their separate segments with the best possible utilization of IT solutions. We have built up our adjusting targets at all levels in order to instil the collaboration of official operations. Our aim is to help our clients in achieving their goals.
"HawksCode is an enthusiastic workforce trying to deliver quality output to clients/customers through our expertise and targeted services."
HawksCode is a global IT firm delivering solutions to enterprises/organizations worldwide. We have successfully established our prowess in Application Softwares and E-Business. We have inculcated advanced approaches of Project Management, Business Process, Analysis, Outsourcing, etc. in our world-class services.
HawksCode has a dominant standard in the IT industry. From scheming to venture dispensation, cross-examination and undertaking technological innovation, we have raised the bar of outsourcing and service providing IT firms/industries. Our Team of HawksCode has accurate expertise of all ventures and associative themes.
Our Services
We create the high-performance mobile app, website design, and custom development& product development for more than 8 years. As technologies are helping us in growing our expertise and exploring the way to target right market by developing the corporative web and mobile application. HawksCode uses the combination of marketing and brand strategy to serve mobile app and web services based on our research to refine user experience and relatively targeted audience. Our passion is to make the business grow using digital marketing campaign as well as highly functional and innovative design of a website and mobile application & other custom software. Following is a list of solutions/services as part of our offering:
Cloud Computing
Cryptocurrency and Blockchain
Payment Gateway Integration
SaaS
Database Management
ERP Software
API Integration
Off-Shore Development
IT Consulting
Digital Marketing
CRM
E-Commerce
Some of the Technologies we work on:
PHP
IOS
Android
Design & Development
IoT
PHP
Java
WordPress
Net
SQL
PhoneGap
Magento
Xamarin
Angular
Our Products
We're passionate about creative product design. Below is a comprehensive list of products designed and developed by HawksCode.
RTOMaster
A solution that was introduced for the students of Australia to make the education affordable and flexible at every point. This software has its own CRM system to organize students' task and work. This CRM Type Management software has served so many students and educational entities in Australia by promoting and offering distance education.
TheInterns
A Unit of HawksCode, is a portal to help Indian students with their training and internship program. To ensure that the students get the best of the Internship because it is the key for students as it opens doors of opportunity that will help him/ her in building their bright future.
HRCrux
It is another product of HawksCode that offers clients, good executives and professionals whose profiles are matched with the type of work hiring company does. The team has made all the hiring by manual interaction and intelligence test to ensure of best selection process is performed.
EasyShiksha
A way of Simple Learning, is one of the major product and most successful one. In the past 6 year since the day it became live EasyShiksha is changing the definition of education and helping Indian Society to get free from orthodox way of learning. It is been recognized in Top 25 startups in Rajasthan by Govt. of Rajasthan.
MoonDela
A magazine that covers the hidden stories of entrepreneurs. MoonDela believes that every story need to be told. It has been covering stories of these uncapped heroes who are living among us. Not just the story it is also filled up with amazing article that will push new and uprising entrepreneurs to do their best and not to stop in any condition.
HawksAMZ
HawksAMZ might be just a little browser plugin developed for Chrome browser but the functions it holds makes it more powerful. This plugin can track all the data of a product that is listed on amazon.com, an e-commerce giant platform. From big details like interest, profit, loss to small details like cut, original cost, extra pay and other, it shows you all.
CryptoLoins
CryptoLoins, a single place for all the cryptocurrecny. It is the hub that is actually a data sheet of all the activity that is happening into the market of blockchain or we can say digital currency. A person will have access to the data of all the coins traveling in the network and can also register new coin with all the required data. It have so many services that will prove itself very helpful to an investor.
What makes the offerings uncommon and affordable?
As the world's major economies have matured, they have become dominated by service-focused businesses.
Why choose us
HawksCode is well equipped and renowned Outsourcing Company in India which provides successful solutions for multifarious business problems of Information & technology with utmost professionalism. We have developed well coordination between developing external IT environment and our internal organizational environment, which have boosted our company to grow leaps & bounds since our inception.
Speciality
We, at HawksCode have introduced renovation in our administrative systems and technological services. We have re-engineered our approach with the end customers/clients. We have accepted computerized inclusion in our working professionalism too.
Customers
We offer consistent and secured services with our transparent support too. We have an integrated customer care/support assistance system for strong bonding between business hubs and client end.
Quality
We pay special and intricate emphasis on quality assurance of the Products and services we deliver to our customer/clients. Hence, Our clients can rely on our products and services in a hassle-free fashion.
Our Offering
To create a successful service offering, HawksCode optimizes specific aspects of its service offering to cater to its customers' priorities, and it refuses to overinvest in underappreciated attributes. The fact that it takes a drubbing from competitors on things its customers care less about drives its overall performance.
Once an attractive customer operating segment is found, the mission is clear:  HawkScode Management will design a new offering or tweak an existing one to line up with that Customer segment's preferences.
The Funding Mechanism
In a service business, HawkScode management gives careful thought to how excellence will be paid for. We treat customers as our partners and agree on a funding by having the customer pay, and cover the cost of excellence with operational savings. We charge the customer in a palatable way. We create a win-win between operational savings and value-added services.
Employee Management
Service businesses are typically people-intensive, a relative advantage in employee management has all the more impact there. HawksCode gives careful attention to recruiting and selection processes, training, job design, performance management, and other components that make up the employee management.
You have a global reach and operations. How challenges and growth opportunities due you see in India, specifically?
In Past decade, India has emerged as an 'IT Super power', especially in the field of software and related services. We have seen growing respect for Indian software industry in the international market, continued rise in the offshore services, quality services, timely delivery and entry into new markets.
Opportunities for Growth
Despite the commendable performance of the industry so far, it is estimated that there is still significant room for growth. As pointed out earlier, though India now accounts for fair amount of the software and related service market within India and globally, with farsighted policies it could become a major force of the software and related service market. It is expected that the rate of flow of work to India through offshoring  and within would increase considerably, in the context of Digital economy initiatives by the Government and mounting pressure on developed countries and global majors to resort to further cost cutting. It is in this context that lot of projections for the further growth of the software industry is made by industry association and committees and task forces appointed by the Government of India.
Challenges
Despite these bright and encouraging facets of the software industry there are certain areas of concern, which need to be given the desired attention and weightage. Some of these areas of concern or challenges are:
Shortage of skilled labour is a daunting problem affecting software industry. There is growing demand for skilled labour in software industry. Despite the fact that country is known for its human resource for IT industry world over, it has been struggling hard to meet the growing demand for IT professionals. Are our institutions capable of supplying such a large number of IT work force?
 The answer is staunt no. Further, there is not only shortage of skilled labour but also even a part of the skilled labour available is not fit for employment. Added to this, the problem of migration of knowledge workers to developed countries in search of greener pastures make things worse. Demand for Indian software professionals are increasing day by day in developed countries. They attract Indian professionals by paying higher salaries and providing them with Green cards.
Low diffusion of information technology in the domestic market i.e weak domestic software market is a matter of serious concern for India. While software export is growing very fast domestic software could not pace with software export.
However, domestic market is slated to grow faster with the rigorous enforcement of copyrights laws, increased government spending on IT, e- governance and e – schooling and also implementation of zero import duty on software (this would have buoyant effect on the market and the increasing trend of buying software through internet).
What measures are you taking to make your workspace safe in the wake of the recent coronavirus pandemic?
In wake of COVID-19 pandemic, we standby the Government announcement for complete lockdown with exception of essential services. IT Software development is an easy industry to adopt to work from policy during such intense critical situations. Health and Safety of our employees is of paramount importance for the company. Our employees have started working from home since the announcement of lockdown was made by Government of India. We have faced few challenges in the start but we are collectively helping the each other and our team is capable of managing through the whole process very efficiently. We have asked all our employees to follow the precautions as per the guidelines issued by the Government.
What is your vision for 2020?
Our Vision is unchanging:  HawksCode has a vision to be a global leader delivering software solution in every corner of the world, create Software that transform ideas into reality and make our customers fully satisfied with our exceptional quality work and delivering unprecedented Business Value with Custom Software solutions.
Technology adoption and market needs are changing how each industry and company works and at the same time creating an infinite stream of opportunities to be met through customization. As every company turns into a technology focussed one – software becomes the fabric to streamline existing business processes, offer new services, prepare for future growth, reduce operational overheads, lower costs and function more efficiently.
For companies to redefine what they create and deliver- customized software solutions is the need of the hour. A strong technology partner on your side helps to craft strategies to recognize opportunities.  It is imperative for companies to pay keen attention to these decisions as it can open avenues for better growth.'
Our customers trust us with their acute business challenges, and it is our core responsibility to ensure the successful execution of our solutions.
We believe in devising path breaking software development solutions to help organizations meet their current and future needs to prepare them for tomorrow.
The Banking & Finance Post is an initiative of Elets Technomedia Pvt Ltd, existing since 2003.
Now, Elets' YouTube channel, a treasure of premier innovation-oriented knowledge-conferences and awards, is also active. To Subscribe Free, Click Here.
Get a chance to meet the Who's who of the NBFCs and Insurance industry. Join Us for Upcoming Events and explore business opportunities. Like us on Facebook, connect with us on LinkedIn and follow us on Twitter, Instagram & Pinterest.