The Banking & Finance Post is a bi-monthly magazine published by Elets Technomedia Pvt Ltd and it prides itself in spotting and highlighting key trends in the BFSI sector.
Providing in-depth coverage about all aspects of the sector – from major challenges in the growth of BFSI sector to new technological advances, the magazine has acquired a distinct place in Asia.
The magazine serves as a bouquet of views of all stakeholders in BFSI domain – policy makers, bankers, experts, industry leaders, etc. Our experienced team of editors, researchers, and marketers takes a 360-degree approach for creating content – news, features, articles and interviews – keeping our steadily growing global audience well-informed about the latest and most important trends, challenges and solutions.
A special emphasis on the opinions and observations of who's who of the BFSI sector about the most happening trends helps us disseminate their ideas and innovations to generate a positive influence and effect change through our magazine.
Moreover, attending to the Who, What, When, Where, and How aspects of journalism, our online news portal – bfsi.eletsonline.com – serves as one-stop source of daily news, information and analysis.
Our Banking & Finance Post magazine strives to be your first stop for what's new and what's next in the BFSI sector. Our print and online platforms focus on financial inclusion, technology, challenges and latest trends in the BFSI sector.
About Elets Technomedia Pvt Ltd
Started in 1997, Elets is gradually acquiring the image of being the ultimate abode of India's most popular media brands (Print and Digital) and knowledge conferences. Besides 'The Banking & Finance Post' , a bi-monthly magazine, we also publish three highly popular monthly magazines — eGov, digitalLEARNING, and eHEALTH .
While promoting IT-driven developments, we intend to provide effective information on latest developments in different ICT tools, techniques and their applications.
Today, Elets has created a niche for itself by organising premier events, seminars, conferences and summits such us eUttarPradesh, eBihar, eIndia, SecureIT, Financial Inclusion & Payment system 2014, BFSI Leadership Summit 2015, CTO Summit 2016,Gujarat Co-operative Summit 2016 , Maharashtra Co-operative Summit 2016, etc.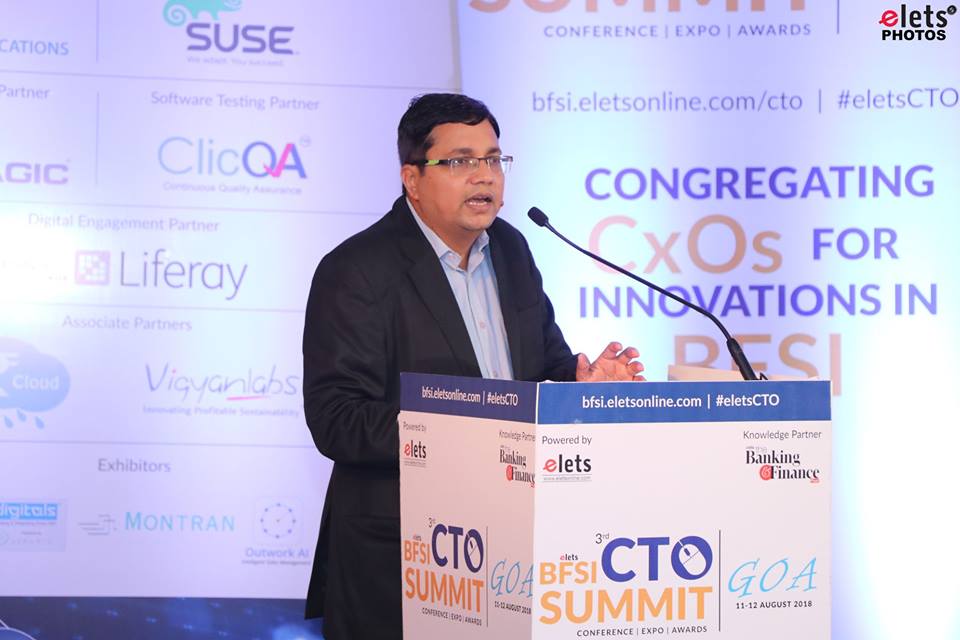 Dr Ravi Gupta  —  A Brief Profile
Founder Publisher, CEO and Editor-in-Chief, Elets Technomedia Pvt. Ltd.
Dr Ravi Gupta, a social entrepreneur, has been promoting innovations in various sectors for the development of society for two decades through research, advocacy, conferences, publications, and workshops in several countries including India, UK, USA, Tunisia, Geneva, Dubai, Bahrain, Bangladesh, Sri Lanka, Malaysia, and Thailand among others.
He is a Ph.D in Business Economics, from University of Delhi, and holds M. Tech from prestigious institution of Indian Institute of Technology (IIT) Roorkee, India, where he studied Applied Geophysics. He did another M. Tech from Indian Institute of Technology (IIT) Kanpur, India, studying Remote Sensing & Geographic Information System (GIS).
Dr Gupta's illustrious professional career encompasses various shades of rich experiences.
In 1997, he co-founded the Centre for Science Development and Media Studies (CSDMS) in 1997, and the Geospatial Media & Communications in 1999.
Dr Gupta was co-founder and Editor-in-Chief of the monthly magazine on geospatial technologies "GIS Development" from 1998 to 2008. He has been a Member of the Task Force on 'National Spatial Data Infrastructure' in 2001-03, by Department of Science and Technology, Government of India.
In Netherlands, he worked as a Member of Research on National Geographic Information Policy Initiatives of several developed and developing countries in 2003.
In 2009, Dr Gupta received "Community Builder of the Year" Award, given by UN Solution Exchange India.
He worked as member of UN GAID Strategy Council for two years (from 2009-2011 FY). During 2010-11, he worked as an Executive Director at "Global Knowledge Partnership Secretariat (GKPS)". He was also the Co-Chairman of the Education Committee at Ph.D Chambers of Commerce (2011-12).
He has also been a member of the "Expert Group on Digital Economy Strategy for the Arab World", which is led by Arab Federation for Digital Economy, League of Arab States.
Presently, Dr Gupta is the Founder Publisher, CEO, and Editor-in-Chief of Elets Techonmedia Pvt. Ltd., a media research and innovations advocacy organisation that he co-founded in 2003. The company, since 2004, has been publishing premier monthly print magazines such as "eGOV", "digitalLearning", and "eHEALTH". In 2015, another magazine "The Banking and Finance Post" was to the list. Today, these publications focus upon a variety of themes such as tourism, environment, housing, power, transport, waste management, digital learning, start-up, smart city, urban development, green building, Secure IT and Public Sector Undertakings (PSUs).
Through Elets Technomedia, Dr Gupta has conceptualised and organised several national and international conferences like eIndia, eAsia, and the World Education Summit in different parts of the world.