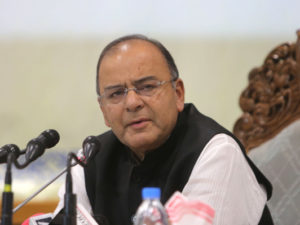 Union Finance Minister Arun Jaitley has asked the banking supervisory agencies to take preventive measures in a bid to avoid banking scams in future.
In his first statement, in the wake of Rs 11,400 crore scam detected at Punjab National Bank (PNB), Finance Minister Arun Jaitley directed the banking agencies to assess their new systems to avoid such scandals.
The minister, on a strict note, asked both the auditors and the management of Punjab National Bank to introspect and find out the reason for their failure in detecting the fraud. The statement from the minister came after he sent a letter to the Reserve Bank of India (RBI), asking if there were any lapses from the regulatory agency in the recent banking fraud.
"The first important question is with regard to lack of ethics that a section of Indian business follows and, therefore, it is incumbent on us as a state to chase these people to make sure the country is not cheated," Jaitley said.
Further, the minister said that the public sector banks should utilise the authority given to them, in response to the society's heavy investment in the banking system and the Prime Minister Narendra Modi's suggestion on making the Public sector banks autonomous, at the Gyan Sangam.
He also said that either the central bank's designed framework is inadequate or RBI is not able to ensure the effective implementation of its regulations.