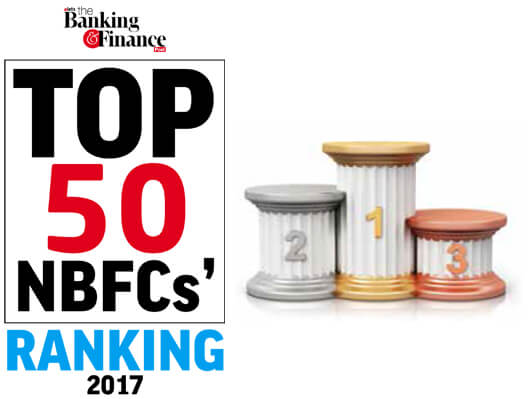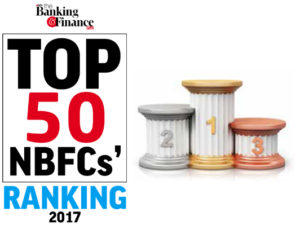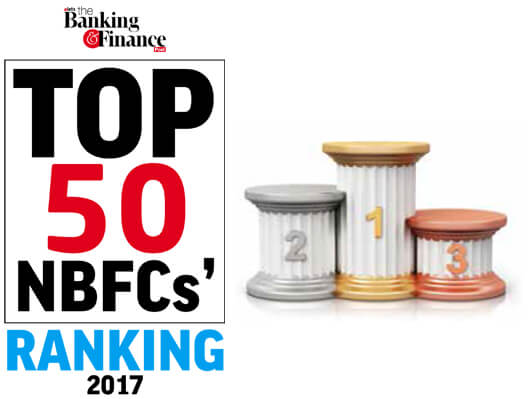 For the first time, The Banking and Finance Post, Asia and Middle East's premier magazine has come up with the ranking of India's top 50 Non-Banking Financial Companies (NBFCs). The "India's Top 50 NBFCs Ranking 2017" has been introduced with an aim to provide useful insights into this important segment of the economy, which is being streamlined to fund the unfunded.
NBFCs play a critical role in the Indian financial system. They provide services such as personal loans, housing loans, gold loans, insurance and loans for purchasing commercial vehicles, machinery, and farm equipment, among others. The ability of NBFCs to understand their customer profile, their credit portfolio and deliver customised products and services are driving their fast growth in India.

NBFCs are also crucial for achieving the 'Financial Inclusion' goals by offering lending services to the unbanked population in rural, semi-rural or few urban areas. These are also important source of financial services for the Micro, Small and Medium Enterprises (MSMEs) – the backbone of an economy like ours.
The experience of NBFCs in understanding the customers' profile and analysing their credit needs has been invaluable. Moreover, like most of the other segments of India's financial sector, NBFCs too are transforming rapidly by using digital technology to improve customer interface.
A recent report by the Microfinance Institutions Network focused on adoption of 'cash-lite' models among MFIs in the country revealed that over 60 per cent of the NBFC-MFIs have adopted cashless methods to disburse money.
All this guided us to carry out an objective ranking of NBFCs in the country. Through our methodologies, we have tried to break the barriers of demography. Our rankings, as you will find, are spread across the length and breadth of the country and not limited to the metros and big cities alone. It is hoped that the ranking will be equally beneficial for NBFCs and those touched by them.
Ranking Methodology:
"India's Top 50 NBFCs Ranking 2017" was carried out on the basis of three parameters: Annual turnover, social media engagement and customer satisfaction. As is evident by the name, under the annual turnover parameter, Non-banking financial companies were ranked based on their yearly turnover. Under the other two parameters – social engagement and customer satisfaction – the NBFCs were ranked on the basis of the result of our survey and the perception score.
Top 50 NBFCs ranking is a unique benchmark. Based on the scores secured by the NBFCs under the parameters, the cumulative score of all the institutions was calculated. The NBFC with highest cumulative score was ranked first, while the institution with lowest score was ranked last.
Ranking Parameter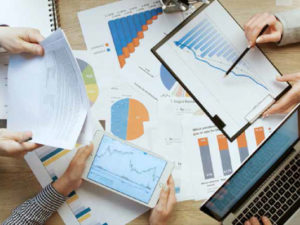 Annual Turnover
Non-Banking Financial Companies (NBFCs) are fast emerging as an alternative to mainstream banking. They are playing an integral part in the Indian Financial System and have immense potential to take forward the Central Government's agenda of financial inclusion.
Their contribution to the economy has grown exponentially over the years. As a matter of fact, the growth of NBFCs is not just driven by traditional products like commercial vehicle financing, but also financial products like personal and housing loans, etc.
The growth of the sector is accredited to cost efficiency, bad debt control, customised products and better customer services. In terms of annual turnover for financial year 2016-17, NBFCs have scripted a great success story. The financial assets of NBFCs have recorded a compound annual growth rate (CAGR) of 19 per cent over the past few years, comprising 13 per cent of the total credit which is expected to reach nearly 18 per cent by 2018-19.
Keeping the continual growth of NBFCs in mind, India's Top 50 NBFCs Ranking 2017 considered the annual turnover as one of the parameters in judging their level of excellence.
Top 50 NBFCs' Ranking Based on Annual Turnover*
NBFCs List
"Total Income (Rs mn)"
Rank
Power Finance Corporation Limited
270185.70
1
Rural Electrification Corporation Limited
240953.50
2
Shriram Transport Finance Company Limited
108306.10
3
Bajaj Finance Limited
100033.10
4
Indian Railway Finance Corporation Limited
90476.60
5
Mahindra & Mahindra Financial Services Limited
62375.40
6
Muthoot Finance Limited
57467.00
7
HDB Financial Services Limited
57145.40
8
Cholamandalam Investment and Finance Company Limited
46603.50
9
Shriram City Union Finance Limited
44345.30
10
Tata Capital Financial Services Limited
41924.00
11
Family Credit Limited
41449.70
12
IFCI Limited
40066.40
13
India Infrastructure Finance Company Limited
39026.40
14
Aditya Birla Finance Limited
34260.00
15
Manappuram Finance Limited
30084.30
16
Kotak Mahindra Prime Limited
29221.48
17
Capital First Limited
27268.50
18
L&T Infrastructure Finance Company Limited
26784.71
19
Religare Finvest Limited
25694.26
20
Sundaram Finance Limited
24582.90
21
IL&FS Financial Services Limited
23464.60
22
SREI Infrastructure Finance Limited
22996.20
23
India Infoline Finance Limited
22642.20
24
Reliance Capital Limited
20710.00
25
Magma Fincorp Limited
20220.50
26
Tata Motors Finance Limited
19006.15
27
ICICI Securities Primary Dealership Limited
16271.40
28
Hinduja Leyland Finance Limited
14863.10
29
Indian Renewable Energy Development Agency Limited
14816.71
30
Ujjivan Financial Services Limited
13976.00
31
PTC India Financial Services Limited
13518.80
32
Bajaj Holdings & Investment Limited
8884.30
33
JM Financial Credit Solutions Limited
7883.60
34
Satin Creditcare Network Limited
7766.70
35
Kotak Mahindra Investments Limited
7617.00
36
IndoStar Capital Finance Limited
7199.17
37
STCI Primary Dealer Limited
6026.60
38
SBI DFHI Limited
6025.54
39
Axis Finance Limited
5756.00
40
PNB Gilts Limited
5005.40
41
Edelweiss Finance & Investments Limited
4504.70
42
Tata Motors Finance Solutions Limited
4340.83
43
STCI Finance Limited
4219.60
44
Indiabulls Commercial Credit Limited
4085.98
45
Credila Financial Services Private Limited
3918.10
46
L&T Infra Debt Fund Limited
3462.35
47
Muthoot Capital Services Limited
2842.00
48
Tata Investment Corporation Limited
2713.70
49
Vistaar Financial Services Private Limited
2711.70
50
Customer Satisfaction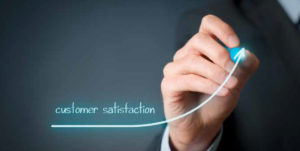 Banking operations are increasingly becoming customer dictated. As far as Indian finance sector is concerned, financial institutions offering one-stop integrated financial services are on the rise. There is an intense competition in the market to gain customers. Therefore, the leaders in Indian banking domain are not only competing with each on the price factor, but also how their customers feel about their services.
Realising the customer satisfaction as the most important factor to become a business leader, all Non-banking financial companies are focusing more on better services, improved financial plans for customers and more engagement with their clients. Perceptionbased ranking under this parameter helped us determine how satisfied the customers are with NBFCs' services
Customer Value Improved Service Quality:
In the current economic scenario, NBFCs are rendering efficient services to gain competitive advantage and, thereby, enhancing their customer relationship. The NBFCs are emphasising more on creating loyal customers by customising their services to serve their customers better as per their needs. This in turn is expected to pave the way for achieving greater customer satisfaction to a larger extent.
In the era of ICT (Information, Communication and Technology), the mode of direct pay, online financial services have gained value which leads to flexible hours of operation as per customers' needs. Increased market competition is resulting into higher defection rates of customers.
Thus, research on service quality and satisfaction of customers in finance sector is considered important.
Handling Customer Expectations:
Meeting customer expectations plays a central role resulting into higher satisfaction ratings for any service provided by NBFCs. However, the NBFCs also have to handle negative perception about their services and have to constantly make improvements to keep their customers satisfied. At the same time, it is also true that the nonbanking institutions can improve their ratings where customers have positive preconceptions and high expectations for the services.
Customer Satisfaction ☆ ☆ ☆ ☆ ☆
NBFCs List
Rank
Bajaj Finance Limited
1
Tata Capital Financial Services Limited
2
Kotak Mahindra Investments Limited
3
Cholamandalam Investment and Finance Company Limited
4
JM Financial Limited
5
JM Financial Credit Solutions Limited
6
Manappuram Finance Limited
7
Capital First Limited
8
Ujjivan Financial Services Limited
9
Indiabulls Commercial Credit Limited
10
Reliance Capital Limited
11
The National Small Industries Corporation Limited
12
Religare Enterprises Limited
13
LKP Finance Limited
14
HDB Financial Services Limited
15
Indian Renewable Energy Development Agency Limited
16
Rural Electrification Corporation Limited
17
Shriram Transport Finance Company Limited
18
Religare Finvest Limited
19
L&T Finance Limited
20
Nabard Financial Services Limited
21
Vistaar Financial Services Private Limited
22
Family Credit Limited
23
Balmer Lawrie Investments Limited
24
Hinduja Leyland Finance Limited
25
Muthoot Finance Limited
26
IL&FS Financial Services Limited
27
Power Finance Corporation Limited
28
IFCI Limited
29
IFCI Factors Limited
30
Sustainable Agro-Commercial Finance Limited
31
ICICI Securities Primary Dealership Limited
32
Intec Capital Limited
33
Motilal Oswal Financial Services Limited
34
Tata Motors Finance Limited
35
Shriram City Union Finance Limited
36
SICOM Limited
37
PTC India Financial Services Limited
38
Muthoot Capital Services Limited
39
ECL Finance Limited
40
CSL Finance Limited
41
Fullerton India Credit Company Limited
42
Satin Creditcare Network Limited
43
India Infoline Finance Limited
44
Edelweiss Retail Finance Limited
45
Tata Investment Corporation Limited
46
L&T Infrastructure Finance Company Limited
47
Magma Fincorp Limited
48
Muthoot Fincorp Limited
49
SREI Infrastructure Finance Limited
50
Social Media Engagement
In this digital era and consumption of information on the move, social media is playing a key role in social engagement not only in terms of communication with clients but also in building a brand value in the targeted domain.
Today, people and organisations remain connected and updated through various social media networks like Facebook, Twitter, Linkedin and others. The perception-based ranking under this parameter helped us determine how well Non-banking financial companies are socially engaged with their customers.
Digital assets across web, mobility and social media is also assisting nonbanking institutions to build customer advocacy and customer-centricity approach. Being an integral player in the financial segment, NBFCs, like their banking counterparts, are making optimum utilisation of social media in reaching out to their customers.
Connectivity: Social engagements through different social media channels help NBFCs enhance their connectivity with customers. As the target customers of NBFCs mainly are Micro, Small and Medium Enterprises (MSMEs), social media proves to be an excellent platform for them to connect with these enterprises. Moreover, various social media channels can also be used constantly by NBFCs for communicating with their clients by promoting and sharing relevant information.
Community Building: Social engagement is a great way to reach out to potential customers and enterprises. The community thus formed helps Non-banking financial companies to showcase their products and services even in remote locations of the country.
Stimulate Knowledge: Social media networks have wide reach and NBFCs are using these networks to keep their target audience updated. NBFCs also use social media as an opportunity to effectively fill knowledge gaps by sharing relevant information. Having an online presence helps strengthen connectivity without any limitations on proximity.
Social Engagement and Reach
NBFCs List
Rank
India Infoline Finance Limited
1
Edelweiss Retail Finance Limited
2
Reliance Capital Limited
3
Capital First Limited
4
Motilal Oswal Financial Services Limited
5
Tata Investment Corporation Limited
6
Tata Capital Financial Services Limited
7
Religare Enterprises Limited
8
Fullerton India Credit Company Limited
9
HDB Financial Services Limited
10
L&T Infrastructure Finance Company Limited
11
Magma Fincorp Limited
12
Shriram Transport Finance Company Limited
13
Muthoot Fincorp Limited
14
SREI Infrastructure Finance Limited
15
JM Financial Limited
16
JM Financial Credit Solutions Limited
17
Tata Motors Finance Limited
18
Shriram City Union Finance Limited
19
Bajaj Finance Limited
20
Cholamandalam Investment and Finance Company Limited
21
IL&FS Financial Services Limited
22
Hinduja Leyland Finance Limited
23
Aditya Birla Finance Limited
24
Mahindra & Mahindra Financial Services Limited
25
Religare Finvest Limited
26
IDFC Limited
27
Rural Electrification Corporation Limited
28
Power Finance Corporation Limited
29
Nabard Financial Services Limited
30
Manappuram Finance Limited
31
S. E. Investments Limited
32
Muthoot Finance Limited
33
Ujjivan Financial Services Limited
34
Satin Creditcare Network Limited
35
IFCI Limited
36
IFCI Factors Limited
37
Intec Capital Limited
38
Indiabulls Commercial Credit Limited
39
India Infrastructure Finance Company Limited
40
IndoStar Capital Finance Limited
41
Sakthi Finance Limited
42
SICOM Limited
43
Indian Railway Finance Corporation Limited
44
L&T Finance Limited
45
PNB Gilts Limited
46
Muthoot Capital Services Limited
47
Sundaram Finance Limited
48
STCI Primary Dealer Limited
49
Axis Finance Limited
50
Check out our latest NBFCs Ranking 2018

Elets The Banking and Finance Post Magazine has carved out a niche for itself in the crowded market with exclusive & unique content. Get in-depth insights on trend-setting innovations & transformation in the BFSI sector. Best offers for Print + Digital issues! Subscribe here➔ www.eletsonline.com/subscription/