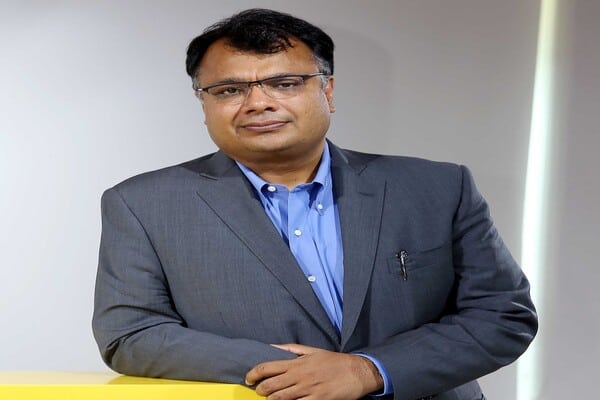 COVID-19 outbreak and its ongoing effects have accelerated digitization of banking as customers expectations are changing during the pandemic are changing dramatically. This potential digital change, brought forward by COVID-19, will also be helping the banks in coping with the tougher operating environment the pandemic has brought. To understand how important is digital transformation and disruptive technologies like cloud for financial institutions and what roles will the technology providers in ensuring it, Rashi Aditi Ghosh of Elets News Network (ENN) interacted with Gaurav Agarwal, Senior Director – Enterprise & Government Sales, VMware India.
He said, "The recent crisis has led banks to tailor the scaling up of capacity and make strategic collaborations in this ecosystem. So, taking a holistic approach of being future-ready, financial institutions need to work with a technology provider who can offer a digital foundation for scaling financial services, a digital foundation that can help banks to be more agile in the future while ensuring security and scalability."

1. The COVID-19 outbreak, and its ongoing impact has brought up several challenges. What challenges did you come across in your domain?
The COVID-19 pandemic has raised unexpected business demands, and the concept of work culture has undergone a massive shift. While India's IT service companies have been the bedrock of the economy during the crisis, they also faced their own set of challenges. This included increased security threats, difficulty in maintaining data center operations, reduced productivity, remote workforce management, increased outsourcing, postponed or canceled planned technical upgrades. Never have the organizations had to plan for such scale and agility.
At VMware, our business is built on building the infrastructure and solutions optimized for the workplace of the future that enables our customers to overcome the challenges and be future-ready. We were able to help our customers mitigate some of the challenges during these times such as re-purposing IT budgets, ensuring business continuity, quick migration of workloads, right skillsets for managing the cloud, supportingemployees, and securing end customer confidence. To meet these challenges, we were well equippedwith the capabilities to help our customers maintain productivity and connectivity in a secure environment as their employees continued to work from home.
2. Amid the bottlenecks, the pandemic has also presented several opportunities. Could you talk about some that you witnessed, being an enterprise like VMware?
The pandemic has pushed organizations worldwide towards massive digital transformation to the latest technologies, newer business functions, and enhanced customer engagement models. As India joins the world in the digital race, aspects like innovation, technology adoption, and customer readiness are catalyzing many industries at a faster rate. Cloud adoption in India has increased as organizations have prioritized spending on technology and services deemed 'mission-critical' for businesses across industries. This has enabled CIOs to make decisions with confidence, reshape long-term customer engagement models, enhance employee productivity, and redefine their industries to be digital-first.
Also Read: Risk-calibrated growth, redefining future work strategy are priorities for banks: Sonali Kulkarni, Lead – Financial Services, Accenture in India
At VMware, we have witnessed increased uptake in multi-cloud as customers realize the unique benefits of both private and public cloud. One of the key challenges we have been able to address is to deliver consume- simple and enterprise-grade secure access to all apps and data on any device delivered through our digital workspace solutions.
3. Several sectors have moved to the hybrid work model in the last two years. What are your views from a security standpoint?
Remote work in the pandemic era has introduced its own set of challenges, security being one of the topmost ones. A highly recommended approach is to implement unified endpoint management that can help ensure access to all resources from a broad range of end-users and IoT devices across global networks. Only by deploying a full array of security technologies designed to work together in an integrated framework, can an organization embark on the journey of digital business with confidence. As organizations accelerate their digital transformation journeys, they must identify the best way to digitize without disrupting their ongoing business or affecting critical systems, including customer data. Organizations must also prioritize improving visibility into all endpoints and workloads, responding to the resurgence of ransomware, delivering security as a distributed service, and adopting an intrinsic approach to cloud-first security.
VMware's security offerings establish security as an intrinsic component that traverses from endpoint to cloud, leveraging the infrastructure to provide visibility for apps, users, and devices. Combined with advanced threat detection and response capabilities, we are able to deliver a unique and more effective approach to security.
According to you, did cloud computing get its due diligence during the pandemic?
During the pandemic, the cloud market has been remarkably resilient. The pandemic has accelerated the growth in flexible consumption models, and post-pandemic, this cloud-driven shift will bring greater financial predictability, lower unit costs, and a change in mindset around the usage of cloud services. The cloud is poised to become a standard operating procedure for all types of businesses. Undoubtedly, cloud has already reshaped many business models, and we are yet to see the full extent of its influence as it matures and intersects with other emerging technologies. It is an opportunity for cloud providers to capitalize on increased usage to grow and flourish, while cloud users can seek to explore new ways for the cloud to create value.
At VMware, we are seeing customers evolve their strategy from 'cloud-first to cloud smart'. Our customers are living in a multi-cloud environment that's more diverse and complex than anything we've managed in the past. And it's only getting more complex and distributed all the time. We are uniquely positioned to deliver the multi-cloud platform for all of an organization's applications – wherever they want to deploy them.
Tell us about VMware's 2021 Global Security Insights Report. What are the current trends in cybersecurity, mentioned in the report?
The VMware's 2021 Global Security Insights Report was conducted to identify the challenges and concerns businesses face globally and trends in hacking and other cyber-attacks. We wanted toexplorethe way forward for securing new technology, adopting a cloud-first security strategy, and dealing with the complexity of the current cybersecurity management environment.
The study highlighted how senior cybersecurity professionals plan to adapt to the security challenges of the distributed workplace and evolve defenses to make security intrinsic to infrastructure and operations[1]. And how organizations need to combine advanced ransomware protection with robust postattack remediation that detects the continued presence of adversaries in their environment.
Also Read: We are leveraging power of digital to help SMEs combat Covid-19 challenges: Sudarshan Chari, Head- Business Banking, DBS Bank India
The rapid pivot to work from anywhere has exposed organizations that lapsed in security hygiene and failed to implement multifactor authentication, while process weaknesses and OS vulnerabilities were also common breach causes. Ransomware has been a top breach cause as attackers launch sophisticated and lucrative multistage campaigns. Almost all the CISOs we surveyed either already follow a cloud-first security strategy or plan to do so very soon. This is a considerable shift and shows that organizations are accelerating their cloud security roadmap in response to the challenges of COVID-19. It may be a road they were already traveling, but they are putting their foot on the gas in recognition of the imperative for comprehensive cloud-first security for a cloud-first world.
How important are collaborations with tech-solution providers for financial institutions? How significant is choosing a right technology partner providing integrated solutions?
With IT as the backbone for banking operations, cloud computing enhances the digital economy of financial institutions and seamlessly connects banks with other financial institutions, customers and FinTech Financial institutions are rapidly accelerating innovation and delivering new customer experiences in a digital-first banking innovators era. This collaboration is helping them modernize their banking IT infrastructure through agile and secure solutions.
The recent crisis has led banks to tailor the scaling up of capacity and make strategic collaborations in this ecosystem. So, taking a holistic approach of being future-ready emphasizesthe need to work with a technology provider who can offer a digital foundation for scaling financial services. A digital foundation that can help banks to be more agile in the future while ensuring security and scalability. Cloud adoption and overall digital transformation are no longer optional, they are business-critical investments necessary for business continuity even in times of disruption. Therefore, it is important and much more convenient to work with a technology partner who understands the demands and works with the enterprise's current infrastructure to provide relevant solutions.
Last year, IndusInd Bank partnered with us to accelerate innovation and deliver new customer experiences for them. By using VMware's hybrid cloud solution as the foundation, IndusInd Bank gained the flexibility to build and run apps on any cloud—on-premises or in-public cloud environments. Today, IndusInd Bank is reaping the benefits of VMware Cloud on AWS. In partnership with VMware, IndusInd has evolved from basic compute virtualization to Software-Defined Datacenter, topped off with a very comprehensive cloud management software that today powers their cloud, i-Megh.

Elets The Banking and Finance Post Magazine has carved out a niche for itself in the crowded market with exclusive & unique content. Get in-depth insights on trend-setting innovations & transformation in the BFSI sector. Best offers for Print + Digital issues! Subscribe here➔ www.eletsonline.com/subscription/