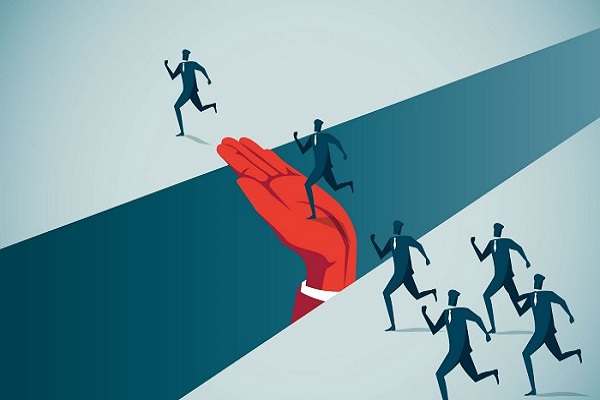 The uncertainty that Covid outbreak brought with itself places a big responsibility on banking & financial organisations to recognise and name leaders who can help the institutions explore new and innovative ways of working during and after the pandemic, maintaining business continuity. While the wave of positivity is slowly making its way to human lives with the vaccination drive, India inc too is getting ready for 2021 with new challenges and innovations in mind. To understand the frequently changing roles of leaders amid change in management insights due to digitisation and the pandemic outbreak, Rashi Aditi Ghosh of Elets News Network (ENN) speaks to decision-makers from across BFSI institutions.
Impact of COVID-19 on people, operations, and businesses

On 30 January 2020, the Director-General of the World Health Organization (WHO) declared the outbreak of COVID-19 to be a Public Health Emergency of International Concern and issued a set of Temporary Recommendations.  
Spread of the deadly virus: The coronavirus, first started in China and was reported in January. It is still spreading around the world, with more than 100 million confirmed cases and 2.2 million deaths across nearly 200 countries. Source: BBC
Economic uncertainty:  According to IMF, Global growth is projected at –4.9 percent in 2020, 1.9 percentage points below the April 2020 World Economic Outlook (WEO) forecast. The COVID-19 pandemic has had a more negative impact on activity in the first half of 2020 than anticipated, and the recovery is projected to be more gradual than previously forecast. IMF projects that in 2021 global growth is projected at 5.4 percent. Overall, this would leave 2021 GDP some 6½ percentage points lower than in the pre-COVID-19 projections of January 2020.
HP Singh, Chairman & MD, Satin Creditcare Network Limited said, "The abrupt halt of economic activities during the COVID-19 crisis, has had a major impact on businesses across economies and sectors. Barring few essential services, all commercial activities stood at complete halt due to imposition of nationwide lockdown, until May-2020 when things started to stabilize with staggered lifting of lockdown restrictions. Satin Creditcare Network Limited has a very diversified geographical presence. 97% of districts have less than 1% exposure. ~80% of the Company's portfolio is in rural areas where there is no major impact of the pandemic. Majority of the Company's portfolio has not been impacted as it is lent to borrowers engaged into activities of animal husbandry and agriculture allied services. As a strategy, Satin Creditcare Network Limited focused on cashless collection and quickly launched digital collections which witnessed a good traction and scale. The company also launched customer service app to connect with clients and for cashless collection."
Leadership Challenges Amid Covid and Beyond
Mathew Chacko, Founder Director & CEO, Precision Infomatic (M) Pvt Ltd said, "The leadership responsibilities expanded to increasing the levels of engagement with employees and customers. Considering the sudden change of workplace – the shift from office to home – the social element of interactions with colleagues was severely impaired. Recognizing this change, the leadership initiated intense remote engagement programmes with employees, reaching out through calls, emails and group communications, as well as regular one-on-one conversations by the various leaders with their individual teams."
"Additionally, group participatory exercises such as brainstorming meetings and refresher training sessions were brought in as a strategy to improve the interaction and engagement levels, while providing opportunities to learn alongside. The leadership also had to focus more on cash-flows and optimizing liquidity management so that employees and suppliers would not have more difficulties thrust upon them. Cross-functional virtual meetings on a regular basis helped bring in new ideas and methodologies to advance business that had been impacted in the early stages of the lockdown."
"Several initiatives were commenced on the product development front too, while being closely reviewed and continually improved upon," he added.
What the Fact!
Hand sanitiser demand grows 1425%, face-mask 408% in February-March 2020: Nielsen Report
Daily downloads of the Zoom app have increased 30x year-over-year and the app has been the top free app for iPhones in the United States since March 18, according to Bernstein Research and Apptopia. Zoom said daily users spiked to 200 million in March, up from 10 million in December. (Source: CNBC)
Video-chat service Zoom beat its own revenue guidance as well as analysts' forecasts, reporting a 169% year-on-year growth in its April quarter (Q1) revenues to $328.2 million from $122 million in the year-ago period. Both estimates were pegged at around $200 million. (Source: livemint.com)
Dealing with the Deadly Virus: Lockdowns, Social Distancing, Work from Home and More
To deal with the adversities and to fight against the spread of the deadly COVID-19, governments across the globe implemented several restrictions. India, in particular, started with a 21-day lockdown effective from 25 March 2020, the lockdown was extended several times with different levels of relaxations and restrictions. Quarantine and social distancing came up as key solutions during the initial phase of the outbreak and continue to be amongst the most practiced solutions to avoid the spread.
 "The crisis created by Covid-19 can be seen in three layers. One is adaptability which tells you how well can you adapt to the situation that we were all thrown into, which is quite a difficult challenge because arguably this crisis never featured or does not feature in anyone's Business Continuity Plans.  If at all it might have featured in somewhere in some powerpoint presentation. There's no playbook to look at it," said Sreeram Iyer, Chief Operating Officer, ANZ Bank.
Also Read: We are Ensuring Hasslefree Digital Transformation, Accelerated by Covid: Sunil Thakur, Country Director, India, BMC
"So, there is the adaptability challenge that we had to respond to. Then there is the sustainability which puts up the question that can you sustain this and for how long, which is what we are currently going through as different countries are showing better recovery with respect to Covid and some slip back in wave.  So it's been a mixed uh response," he stated.
However, to navigate through the situation organisations and leaderships across the sectors special the BFSI sector which had to function to meet the financial demands of the people on regular basis activated their business continuity plans and brought several innovative ways to help their employees remain functional.  Work from Home, work from remote locations, provision of VPNs, secured network solutions, employee insurance plans, virtual mental training programmes and several innovative practices were brought into action, to help organisations to enable their employees to adapt to the new working environment.
Suresh Shankar, CEO and Founder, Crayon Data said, "Start-ups are fundamentally driven by people and depend heavily on interaction. The need for clear communication and collaboration is now higher than ever before. And remote working makes all of this more difficult."
"While aspiration and ambition are great, in a crisis execution and speed take precedence. Survival becomes the most important priority. As leaders of the company, we changed our frame-of-mind and had to think long term. We asked ourselves, how can we thrive in the new world? What will change and how should we adapt as a result of that?  We conducted an exercise we called "Re-imagine Crayon" to analyze how we can better position ourselves in a post-pandemic world. And with that came a slew of activities and a strategic refocus of our product and propositions."
Also Read: Innovation in Payments and Rise of Fintech, Digital to Lead 2021: Suresh Shankar, founder and CEO, Crayon Data
"Back in April 2020, I wrote a blog about a piece of advice I've tried to follow since: character is destiny. In a world where there is no playbook to follow, one's future, or destiny, is determined by one's own inner character. Living by that advice, I have sworn to lead by example; to be out in frontline of everything, right beside my employees," he added.
Sunil Thakur, Country Director, India, BMC said, "Back in March, when the severity of the COVID-19 outbreak became apparent, BMC quickly pivoted its entire global workforce to work-from-home status. Two of our core values are to prioritize people and do the right thing. Ensuring employees have the right resources and support is critical as we continue to navigate the pandemic. We empower and encourage our managers to lead with empathy to ensure the health and wellness of our teams. The vast majority of employees are still working from home as we wait for the virus to abate and it's safe for us all to return to the office, and we are making decisions on when, where, and how to return with the guidance of our local officials."
"It's a credit to the BMC team that we made this rapid transition smoothly and have adapted well to working from home. We continue to be productive, drive innovation and help our customers on their journey to becoming an Autonomous Digital Enterprise," he added.
Digital to lead the way: The New Leadership Focus
Elets Technomedia had been organising knowledge sharing platforms for more than 17 years, we won't shy away from accepting that covid outbreak affected our operations too but then we took the challenge sportingly and shifted our vision towards the virtual medium. We organised several virtual conferences and webinar and spoke to hundreds of experts from across the BFSI sector, Governance, Education and Health domain and majority cited the significance of digital transformation and its role in helping deal with the adversities of covid.
Experts suggested that training to enhance the digital knowledge in important for business continuity and understand the business change. It is during this time, leaders underlining the need to be more vigilant towards digital training, ethos of leadership in the times of disruption, leading virtual teams, Cybersecurity awareness trainings, adopting the new normal, need to reframe the business continuity plan and more to ensure an effective learning strategy.
"Leaders have had to pivot their styles to a new way of working. Production houses have gone virtual. Customer, partner and employee interactions have become digital. So, across the sector, there is a strong accent on a digital way of life at every stage of the lifecycle – be it product launches, customer acquisition, policy issuance, customer servicing, claim processing et al," said KV Dipu, President & Head of Operations, Communities & Customer Experience, India, Bajaj Allianz General Insurance.
Rise and Rise of Work From Home
A March 30 survey of 317 CFOs and business finance leaders that found 74 percent of those surveyed expect at least 5 percent of their workforce who previously worked in company offices will become permanent work-from-home employees after the pandemic ends.(Source: Gartner)
COVID-19-triggered 'work from home' norm has increased residential demand in suburbs in Bangaluru, Chennai, Hyderabad, Delhi-NCR and Pune(Source: NoBroker.com)
Suresh Iyer, CEO & Co-Founder at CyRAACS said, "CyRAACS launched a relevant Work From Home Assessment, to focus and provide a maturity report on the enterprise's preparedness to handle cybersecurity threats from Work From Home. We also launched our own home-grown Malware Analysis tool to identify the active and residual malware in the endpoints. Both these were received well by our clients and we started getting back to normal by September- 2020. This quarter October to December has been just fabulous, we have made 300-400% growth over the previous Q3's."
Mental Health-New Normal and the New Concern
A recently concluded systematic review and meta-analysis on the prevalence of psychological morbidities among the general population, health-care workers, and COVID-19 patients amidst the COVID-19 pandemic reported that about half of the population faced psychological impacts of the COVID-19 pandemic. (Source: Krishnamoorthy Y, Nagarajan R, Saya GK, Menon V. Prevalence of psychological morbidities among general population, healthcare workers and COVID-19 patients amidst the COVID-19 pandemic: A systematic review and meta-analysis [published online ahead of print, 2020 Aug 11)
Poor sleep quality (40%), stress (34%), and psychological distress (34%) were the most commonly reported problems across various studies. (Source: Li Z, Ge J, Yang M, Feng J, Qiao M, Jiang R, et al. Vicarious traumatization in the general public, members, and non-members of medical teams aiding in COVID-19 control. Brain Behav Immun 2020)
An online Indian survey has reported that about 40.5% of the participants reported anxiety or depressive symptoms. About three-fourth (74.1%) of the participants reported a moderate level of stress, and 71.7% reported poor well-being. (Source: Grover S, Sahoo S, Mehra A, Avasthi A, Tripathi A, Subramanyan A, et al. Psychological impact of COVID-19 lockdown: An online survey from India. Indian J Psychiatry 2020)
"Mental health of employees is something that needs to be taken care of. Sadly, sometimes it is taken as a weak point to talk about and makes it even more difficult to raise the topic. When someone says I am finding it difficult to handle my stress, our upbringing is so, that the person is judged for saying so, which is very unfortunate. Just because you don't understand something, you don't count it important," said Vishakha R M, Managing Director & Chief Executive Officer, IndiaFirst Life Insurance Co. Ltd, during Elets BFSI NextGen Virtual Summit.
Leading the New Normal-Time to Recover and Respond
The sudden outbreak of covid brought several changes in the business models, new ways of working in the virtual environment emerged and the digital culture mindset in organisations as a response to the uncertain situation and it is believed to stay as stated by experts. It is therefore, important that with the changing times, leadership across industries too change and help their employees understand the new ways to remain functional and help the economy run and recover. To make it easy, various training, mental health support and other social innovations can be practiced. It's 2021 and the time has come to Recover and Respond.
Elets The Banking and Finance Post Magazine has carved out a niche for itself in the crowded market with exclusive & unique content. Get in-depth insights on trend-setting innovations & transformation in the BFSI sector. Best offers for Print + Digital issues! Subscribe here➔ www.eletsonline.com/subscription/