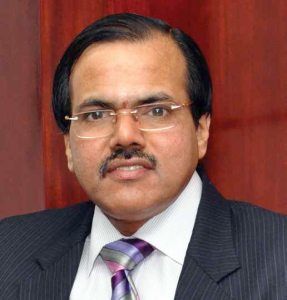 M Narendra
Chairman & Managing Director
Indian Overseas Bank
"We are happy to be contributing in the rural sector, as it leads to upliftment of the rural economy by creating banking opportunities for a larger section of the community," says M Narendra. In Conversation with Kartik Sharma

Please give us an overview of how the Indian Overseas Bank has grown over the years?
Indian Overseas Bank was established in 1937 by the eminent visionary Shri M Ct. M Chidambaram Chettyar. IOB became an International Bank on the first day of opening itself. It has expanded the operations across India and beyond the shores. The Bank was the 14th and youngest nationalised bank at the time of nationalization in 1969. From a modest beginning, now the Bank has risen to the 7th position among the 19 nationalised banks. Bank's business has improved from `113 crores with 195 branches at the time of nationalisation, to the present business level of `3,88,000 crores. Our 3027 branches demonstrate the strength and commitment to the sector. The compounded annualised growth in business (CAGR) over this period is significant at more than 20 percent. In overseas front, as of March 2013, the bank had 14 establishments, which include seven full-fledged branches (2 branches each in Hong Kong and Colombo and 1 branch each in Singapore, Bangkok and Seoul), 1 Offshore Banking Unit in Colombo, 3 Representative offices, 2 Remittance Centres, and 1 Joint Venture Subsidiary. The Bank has crossed a significant milestone with the opening of 3000th Branch in August 2013. It is noteworthy to mention that we have opened nearly 1,000 branches over the lastthree years. Bank crossed the 1,000 branch mark in Tamil Nadu, when it celebrated the Platinum Jubilee on 10th February 2012. As of now, we have 1067 branches in Tamil Nadu and 3027 branches Pan India.
Please tell us about the expansion that is happening in the rural and semi-urban areas?
Out of 273 branches opened during 2012- 13, 188 branches (68.86 percent) are located in Rural and Semi Urban centres, of which 92 branches are located in Unbanked Rural centres. As a matter of fact, our share of rural branches to total branches has significantly increased from 26.37 percent in March 2011 to 27.40 percent in March 2012 and further to 29.26 percent In March 2013. The share of Semi urban and Rural Branches to Total Branches increased to 57.10 percent in March 2013 from the earlier level of 55.25 percent (March 2012) and 51.66 percent (March 2011). This is as against nationalised banks average of 56 percent and New Private Banks average of 42 percent and Foreign Banks average of five percent. Our idea is to give more importance to the branch expansion in the rural and semi urban centres than giving merit to the business potential and profitability at rural centres. Though the Rural/Semi Urban braches contribute around 21 percent to our total business (rural at percent, Semi Urban at 12 percent) compared to business share of Urban at 22 percent and Metro at 57 percent, we are happy with the rural business because it uplifts the rural economy by creating more banking opportunities to a larger community.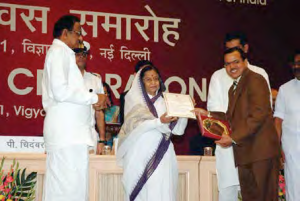 In 2011, the then President of India presented the award 
to M Narendra,Chairman & Managing Director,IOB,in the
presence of the then Union Home Minister,and present 
Finance Minister,P Chidambaram
What steps is IOB taking to extend banking services to villages and accelerate the pace of Financial Inclusion in the country?
IOB implemented Financial Inclusion (FI) to provide access to financial services at an affordable cost to the vast sections of the disadvantaged and low-income groups who are hitherto excluded. IOB is also facilitating availability of easy savings, payments, credit, insurance and remittance related facilities. We have extended timely and adequate credit for both entrepreneurial and emergency needs which attempts to lift the poor out of the poverty.
The whole process of taking Financial Inclusion initiative started in our Bank in 2007, when we started offering the No-Frill accounts, which can be opened easily and enjoy an easy credit of up to `25,000/- under General Credit Card (GCC). Despite these were available with restriction, we observed that geographical barrier of distance to the branch was the major constraint for the villages to reach out.
In order to deliver the services, we introduced Smart Card Banking in Kuthambakkam village (Thiruvallur Dist) of our Nazratpet Branch in February 2008. A Business Correspondent (BC) was identified and Hand Held Device (HHD) was given to him to provide services. This methodology has helped to serve the people in a better way. Our Bank has conducted seminars on financial literacy in 25 centres in Tamil Nadu, Kerala and Karnataka States in association with knowledge partner namely NITTE Education Trust, Mangalore.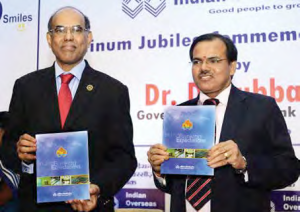 Dr D Subbarao
,
ex-Governor RBI, releasing a book
on "Indian Banking
Expectations" at the IOB Platinum
Jubilee Commemorative Oration in Chennai.Looking on is
M Narendra,
Chairman & Managing Director, IOB
RBI Outreach Programme
Indian Overseas Bank is implementing RBI Outreach programme in the following 6
villages of Tamil Nadu State, for the total development of the villages:
 S.No
 Name of the village
 Name of the District
 1
 Vadagudi
 Nagapattinam
 2
 Andarkulam
 Kanyakumari
 3
 Thiruvalanthurai
 Perambalur
 4
 Servaikaranpatti
 Tirunelveli
 5
 Paluvanji
 Trichy
 6
 Mookaiyur
 Ramanathapuram
What steps has IOB taken in the areas of Mobile Banking and Internet Banking?
Mobile Banking was launched in our Bank in the year 2009 with a few services. During the course of the last four years, more features have been added to Mobile Banking. The functionalities have been incorporated in both the Java enabled mobiles as well as primary ones. Our Bank has also launched internet banking services in the year 2000. Many products have been made online in our journey during the last thirteen years. A year back, Internet bank ing has been revamped in the latest Struts platform technology, which has some of the latest security features.
Tell us about your schemes such as the New Kisan Credit Card. How are they contributing in the agriculture development of the country?
The New Kisan Credit Card Scheme has emerged as an innovative credit delivery mechanism for meeting both the production and investment credit requirements of the farmers. The scheme provides credit facilities to farmers in a timely and hassle-free manner. As per the extant guidelines of the scheme, the Kisan Credit Cards are given as ATM enabled RuPay Kisan Cards to farmers. RuPay KCC is actually a smart card that can be used at the nearest ATM/PoS for withdrawing cash. It removes the necessity of going to a bank branch to operate the account.
I would also like to tell you that agricultural and rural development is one of the thrust areas of the Bank. IOB's portfolio size in agriculture is growing every year in line with the target of Government of India. IOB is always contributing for the rural development by its policies, programmes and schemes. To meet the specific credit requirement of the farming community, IOB has developed many rural special credit products. IOB Green Credit is a scheme to meet both, short term production credit and long term investment credit, needs of the farming community. Any farmer owning cultivable land in his own name will be eligible for the facility. This scheme allows farmers to have flexibility and choice in regard to the amount and use of finance with a suitable repayment schedule. The quantum of loan is 50 percent of the value of land given under mortgage. The maximum loan limit under the scheme is `25 Lakhs.
---
The compounded annualised growth in business (CAGR ) over this period is significant at more than 20 percent
---
Best practices in IOB for implementing Financial Inclusion
• Identification of BCs by Branches after conducting due diligence rather than employing a BC Network company.
• BCs are loyal to the Bank as they are local people and are selected by the Branch itself which creates a sense of belongingness.
• Transactions are on real time basis which eliminates the need for reconciliation of accounts.
• Availability of more products at the smart card terminal will increase the volume of transactions ( we have operations in Savings Bank Accounts, Recurring Deposit, remittance to loan accounts and funds transfer etc)
• The viability of BC plays a crucial role in successful implementation of F I projects. IOB facilitates more revenue stream for the BC to earn and remain in the job. Commission for opening new accounts, recovery and paying pension are being paid to them.
• Training is provided in handling Hand Held Devices and providing service to bank customers
Please tell us about any specific products that you have launched with the idea of empowering women?
With a view to empower women by providing credit facilities to women farmers, a new scheme called "Bhoomisakthi" was launched by our Bank in September 2011. The scheme is formulated to provide financial assistance to women for all activities under Agriculture. Women farmers having farm land in their own name and tenant farmers, if the tenant is a woman are eligible for loan under this scheme. A concessionary interest rate of 0.5 percent less than the applicable rate for limits up to `50000/- and 0.25 percent less than the applicable rate for limits above `50000/- is offered under the scheme. In addition to that, processing charges, upfront fee and mortgage charges are waived for all loans under the scheme.

Elets The Banking and Finance Post Magazine has carved out a niche for itself in the crowded market with exclusive & unique content. Get in-depth insights on trend-setting innovations & transformation in the BFSI sector. Best offers for Print + Digital issues! Subscribe here➔ www.eletsonline.com/subscription/