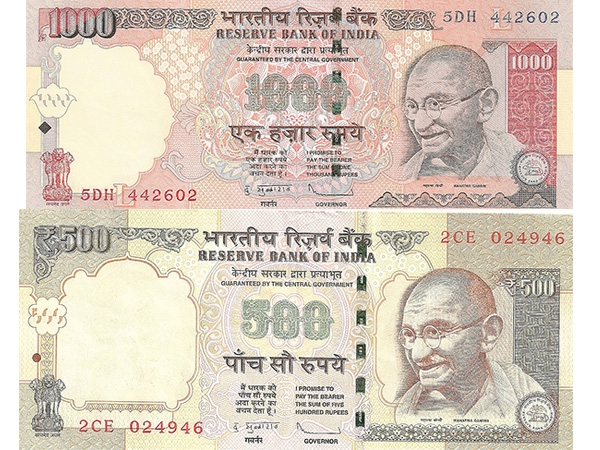 The recent announcement by Prime Minister Narendra Modi on scrapping of Rs 500 and Rs 1,000 currency notes might have sent shockwaves across the nation, but a recall of this sort has not happened for the first time. In fact, this is for the third time this has happened in modern India.
According to Reserve Bank of India, the central bank which controls the monetary policy of the Indian rupee, demonetisation of higher denomination notes was first done in 1946 when India was still under British rule, and the decision was once again taken in 1978.
Prior to the Independence, Rs 1,000, Rs 5,000, and Rs 10, 000 currency notes were taken out of circulation in January 1946. The Rs 10, 000 notes were the largest currency denomination ever printed by the RBI, introduced for the first time in 1938. All three notes were reintroduced in 1954.
After the demonetisation of notes in 1978, the Rs 500 note was introduced in October 1987 with the portrait of Mahatma Gandhi. The water mark on the note continued to be the Lion Capital, Ashoka Pillar.
After Independence, the first spark for demonetisation of higher currency evoked as per the recommendations made by Wanchoo committee.
The Wanchoo committee was constituted by the Central government in 1971, under the leadership of Justice Wanchoo. This panel recommended setting up of Income Tax Settlement Commission to serve as an alternative dispute resolution body.
In 1978, one year after the Janata Party coalition government came into power, party leader Morarji Desai initiated the cracking down on counterfeits and black money. The High Denomination Bank Notes (Demonetisation) Act, instated by the ruling party on January 16, 1978, deemed the Rs 1,000, Rs 5,000 and Rs 10,000 notes illegal for the second time.
The demonetisation call made on November 8, 2016, by Prime Minister Narendra Modi is third call of this sort in the modern Indian history.