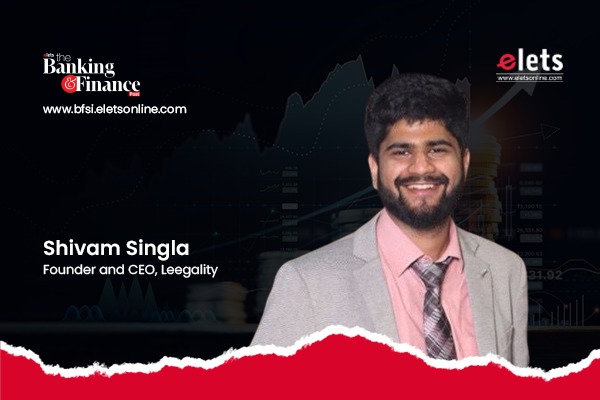 The pandemic brought significant changes across industries and the most prominent changes amongst all has been increased inclination towards digitisation. While digital mode of work became quickly popular during covid outbreak, industries, specially BFSI sector had to face challenges due to the mammoth paper work that had to be digitised in no time to ensure continuity of the operations. To understand how adoption of digital documentation infrastructure can help organisations in today's era, Elets News Network (ENN) interacted with Shivam Singla, Founder and CEO of Leegality. Leegality is India's first unified Document Infrastructure Platform. 1000+ Indian businesses use our comprehensive set of eSign, eStamp, Compliance Logistics, Document Security and Document Automation tools to digitize their paperwork processes – and drive fantastic business results
Technology is reinventing every industry, especially the BFSI sector. How is Leegality ensuring this transition? ls physical paperwork creating challenges for the BFSI Industry?

COVID-19 and lockdowns have accelerated the pace of tech driven change. People who shied away from adopting technology now jumped onto the digital bandwagon without a second thought. This was especially true for businesses. Organisations moved critical business functions to the digital realm to enable business continuity and continue operations uninterrupted. And this was a tremendous opportunity for us.
Signing paperwork (agreements, forms, declarations, etc.) between companies, partners, vendors and business correspondents is crucial to creating long-term, successful partnerships in the BFSI industry. Despite FIs and banks having digitalized most processes (KYC, Origination, Payment, Customer Support and more) – digital journeys hit a snag when paperwork needs to be signed!
The process for getting paperwork done is a multi-layered logistics, operations and compliance exercise for companies – procuring the right stationary, printing out the paperwork, filling it in, verifying that information filled in is correct, obtaining stamp paper, affixing stamp paper, coordinating with signer for getting it signed, collecting supporting documents, transporting it to head office, inventorising it and then securely storing it.
BFSI organisations repeat this process countless times each day in order to ensure smooth operations. Depending on the size and the nature of the organization, this can easily mean hundreds, thousands and even lakhs of documents a year! Paperwork moves from being a mere annoyance – to a terrible drag on business. The physical process causes delays, inconvenience and a bad customer experience for critical business functions and product lines. Our main aim is to solve for this digital final frontier.
Leveraging the IT Act, we have built a "made for India" SaaS solution that offers businesses a unified platform to digitize each and every layer of the paperwork journey – across verticals and use cases. This means things like electronic signatures, electronic stamp duty, document automation, document assembly and more – all under one roof. Companies get a one stop solution to digitally transform their paperwork processes across verticals and use cases.
Would you like to tell us about your solution that is helping MFIs in streamlining their tasks through paperless mode?
Microfinance in India is adapting quickly to technological shifts in the financial sector. Increased connectivity and technological innovations can boost growth, expand opportunities, and improve service delivery. Microfinance has the potential to be a key driver of financial inclusion and development in rural and Tier 3/4 urban areas in India. Microfinance operations, however, pose logistical and operational challenges due to their nature – in particular, the disbursement and processing of paperwork. Technology can help reduce these challenges – and make microfinance easier to manage.
The problem with a lot of technology in the financial sector today is that it is optimized for a small 50 million customer affluent customer base. MFI customers are not in this segment.
So, to make our solution actually usable for MFIs – we had to solve for accessibility from the ground up – with customized tools specifically designed to meet accessibility goals.
A few examples of these tools:
India's first Fingerprint eSign: Lot of the MFI customer base does not know how to sign or doesn't have Aadhaar linkage for Aadhaar eSign. With Fingerprint eSign, organizations can replicate the "thumbprint affixture" flow digitally.
2G/3G connectivity: Many areas that MFIs operate in are without 4G connectivity. So our product would have been useless if it was just 4G optimized. Hence we specifically built "low connectivity" capabilities to enable uptime in all areas of India.
Multiple signers on one smartphone: Modern day electronic signing operates on the assumption that each signer has their own smartphone. Now for the MFI customer base – often a smartphone is shared between family members – this flips the whole situation on its head! Seeing this reality, we were the first (and to the best of my knowledge are currently the only ones) who allow multiple electronic signatures through one smartphone.
What level of convenience is your solution offering specially during the pandemic outbreak? Would you like to share some use cases?
COVID-19 and lockdowns have accelerated the pace of tech driven change. People who shied away from adopting technology now jumped onto the digital bandwagon without a second thought. This was especially true for businesses. Organisations moved critical business functions to the digital realm to enable business continuity and continue operations uninterrupted. And this was a tremendous opportunity for us.
As companies saw the benefits going digital (cost savings, operational efficiency, wider reach etc.), they understood that digitizing documentation was key to smooth business operations. This made it significantly easier for organisations to understand the advantages of using our solution.
Last year, we partnered with Arohan Financial Services Limited to digitally transform JLG loan paperwork processes for its customers. Arohan – a leading NBFC-MFI with operations in financially under-penetrated Low-Income States of India – views this partnership as a natural continuation in its mission for 'Cashless at the front and Paperless at the back.' By using Leegality's customised solution, Arohan Financial Services Limited has seen a savings of 300+ man-hours PER DAY across 700 plus branches through the Zero Paper JLG Loan process.
We also partnered with the NeSL to offer Banks and NBFCs a "one-stop integration" that gives them access to the entire NeSL Digital Document Execution (DDE) and Information Utility Service Ecosystem. NeSL is India's first Information Utility. Under the Insolvency and Bankruptcy Code – it is mandatory for all financial creditors (i.e lenders) to submit their debt information and documentation to an Information Utility in order to invoke the IBC. The NeSL ecosystem provides a neutral digital infrastructure to execute and store documents in line with the expectations of the insolvency system. This has the potential to make IBC proceedings much quicker – which, in turn, helps creditors resolve bad debt faster. This will have positive spill-over effects on the corporate debt crisis in India.Our integration allows Banks and NBFCs to:
Plug into the NeSL IU and DDE ecosystem in a fast and easy manner – with minimal tech effort required
Provide a one-stop solution for both debt and non-debt documents.Businesses can digitize all their paperwork in one go
Comply quickly with the regulatory mandates that necessitate an NeSL integration
Adapt NeSL with a customised service and support team guiding them through the entire process
What are your growth plans for 2022?
We see a tremendous business opportunity in India. As per our estimates, the market size for digital paperwork is approximately USD 5bn. And so, there is ample opportunity for growth.
Our aim is to grow the business by 10x over the next 2 years, by catering to organisations across different industries. We are strengthening our teams accordingly. In fact, by the end of this year, we are looking to double our workforce to meet the increasing demand among Indian enterprises and businesses for digitizing their documentation processes.
Unlike other tech companies – we have more than 7 former lawyers with prior experience at top Indian law firms (AZB, Trilegal, SAM, Keystone, JSA) working across our sales, marketing and product teams. Given that our product is a "legal-tech" product that solves a uniquely legal problem – the legal experience helps in many ways.
Our solutions are applicable to organisations across any industry, looking to streamline business operations and enhance customer experience – real estate, manufacturing, technology, retail, insurance etc. However, we find that organisations in the Banking, Financial Services and Insurance (BFSI) sector use our services the most owing to the sheer volume of paper-based transactions that they process as part of their daily business transactions. Depending on the size and the nature of the institution, the average number of documents processed can run into hundreds, thousands and even lakhs a year. Our digital paperwork infrastructure makes this process much easier and faster – and more secure!


Elets The Banking and Finance Post Magazine has carved out a niche for itself in the crowded market with exclusive & unique content. Get in-depth insights on trend-setting innovations & transformation in the BFSI sector. Best offers for Print + Digital issues! Subscribe here➔ www.eletsonline.com/subscription/