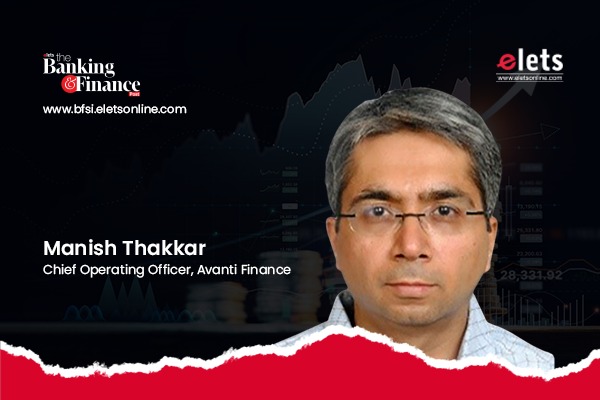 Technology is dramatically changing lives in more ways than we can imagine and some significant impacts are increased usage of the digital mediums, for communicating and ensuring continuity. Covid -19 pandemic has gas not only impacted our day-to-day lives but the financial sector went through several transformations during this period. Non-Banking Finance Corporations (NBFCs), particularly, are showing progressive interest in adopting technology to develop innovative products that can cater to all segments of society and keep their operational costs in the budget. To understand how the uncertainty is reshaping the NBFCs and how technology is channeling the growth, Rashi Aditi Ghosh of Elets News Network (ENN) integrated with Manish Thakkar, Chief Operating Officer, Avanti Finance.
1) Business operations across the industry have gone under major transformation lately. How is Avanti coping with the change?

If I speak specifically, in terms of uncertainty, especially for the borrower or user base that we are catering to, the livelihood of a lot of people and a lot of borrowers are impacted. While Covid's wave one, comparatively, wasn't too tough on the health side but it created economic problems, because of the lockdown, wave two caused major loss of lives and created challenges for the healthcare system. Wave three, initially, appeared to be a matter of scare for people and everyone was thinking whether it will as tough as wave two.
So, what happened was that the livelihood of lot of people got impacted continuously and affected the confidence of lenders whether to provide further debt to the people. So, because of the entire uncertainty, there were challenging circumstances. However, the government was encouraging or putting in a lot of liquidity and enabling banks and NBFCs to lend more especially to the MSME sector through guarantee and to set up liquidity schemes that we came up with. Yet not a lot of smaller MFIs were not able to access those kinds of funds. So on the capital side, there was liquidity and on the business side, was delinquencies. So, one of the immediate defense mechanisms was to slow down disbursements and focus more on the collection and that was the first reaction that we had. Over the period, when we saw that people are coming back out of it slowly and restructuring, helped us, to a certain extent, in easing the burden on people. We gradually started seeing collection efficiency increasing and that's when we started disbursement. So the way of really coping with this was to first at more look at self-preservation and then really once we saw the green shoots, we became regressive on the lending & especially lending to rebuild livelihoods, we also through one of the capital pulls that we got. We lend money purely for people to come out or people who have been affected through covid, whose livelihood has been affected at a lower interest rate and we focus more on financing livelihoods which have linkages to income generation. So that was the way we looked at it. So the focus started on really partnering with people who could help communities build livelihoods.
2) What challenges are you witnessing in imparting affordable financial services post-Covid? How are you strategising to fill the liquidity gap?
There are a lot of challenges in terms of reaching the bottom of the user pyramid with affordable financial services. The cost of reaching that customer is high, the size of the loans are small and the delinquencies against the uncertainty is less. Therefore, there could be a lot of volatility in terms of the business and predictability, especially during these times. So, the way we have designed our business model in a financial system, there are three major costs of funding, cost of population & cost of losses and delinquency. What we are trying to do, is to show the entire digital medium as well as work with partners who are already present with those communities to try and reduce the cost of operation.
Also Read: Besides framework rethinking, BFSI sector needs advanced operating models: Dr Amitabh Rajan, Chairman, RBI Services Board
We are partnering with various social organizations and those networks on the ground, we are trying to reduce our credit losses because we do not have a lot of verifiable information from our kind of borrowers such as they hardly operate bank accounts, and have no verifiable source of Data, there is no income tax link, there is no PNL, there is no balance sheet and given that context; one it is self-disclosed information, second is the bureau report of the borrower and third is the additional information, be it in terms of financial information which our partners can share and which is more as to if they are working with the communitary on livestock through selling milk. They know that the cow is going to cost 80 thousand and the milk the cow will be able to give 12 to 13 liters per day and this is the profit that the person/borrower will make. Therefore, this amount of loan and this period of loan is something that they will be able to pay easily so they have feasibility on end to end ecosystem which helps and this is the information that we capture and use for underwriting.
So, we capture additional information, like what typically fintech calls an alternative source of information which is, mobile SMS, that's not something that we can rely on our user base because we are not working with people who have smartphones. Close to about 60 to 70% of our user base work on feature phones and they have feature phones that are household level may not be even at an individual level. So we have to try and get alternative information through social means via our partners. The other part is trying to reduce to focusing on the entire digital process flow: Right from user onboarding known application, underwriting disbursement, everything happens there is no paper used in that entire process and we heavily work on the various government infrastructure which has been creating KYCd, be it payments, be it disbursements, be it e-signing of contracts the entire thing is done in a digital way that reduces our operating cost. We encourage digital repayments, we do NACH, E-NACH, ecosystems kind of repayments that reduces the entire cost in terms of cash management. That's on the cost part of it, losses through additional information we try and reduce and the cost of funds is reduced through partnering with more efficient capital sources like banks. We are launching a couple of partnerships with banks that will deploy its capital directly to our borrowers. So, we have the ability to work as a platform where for instance ABC bank can give a loan directly to our borrowers, so the agreement is directly between ABC bank and the borrower and we sit between managing the risk and managing the entire loan by setup. So that way we can reach the most efficient cost of capital in an economical way to the user through the digital operations and manage to return it through our partner ecosystem in a digital way again with lower losses. Thereby creating an ecosystem for affordable financial services. So according to me, that is the model that we have built and after covid this has found a lot more acceptance because of the digital characteristics of this entire model. We are bridging the liquidity gap through raising equity as well as raising debt directly on the balance sheet, as well as the capital partnerships that we have with banks or even philanthropic organizations or even various multilateral organizations, who are guaranteeing some parts of our loans given to our borrower therefore further reducing our losses. So the multiple the capital strategy is multilayered in terms of direct fundraising on our balance sheet to partnering to work with other fund sources as well.
3) How are government initiatives ensuring continuity to the NBFC-MFI sector?
The government has taken a lot of steps, especially the guarantee schemes launched after covid wave one. as well as wave two, to infuse more liquidity into the sector. While it could have been limited to larger NBFC MFIs and will not flow in an efficient way to the smaller MFIs but in general, all NBFC MFIs have been benefited with the large liquidity that has been pumped by the government into the system. Furthermore, the fact that after the first phase of restructuring, the repayments are coming back very well, also it is helping the confidence of both equity debt investors is to NBFC MFIs. Wherever the processes were strong and the processes were followed, I think we have seen that they have grown during the covid times and they have been able to attract liquidity So it's just the initial liquidity that government put in through NABARD, SIDBI, through various RBI initiatives and through the banking system, has created a lot of confidence within the NBFC MFIs. Besides, the government continued through the priority sector lending that helped on-lending MFI as well as direct lending for agri-direct lending, to the kind of customers that we provide smaller loans, direct lending through MSMEs and on-lending to NBFCs for MSME lending. All that created a larger pool of a priority sector commitment of the banks, which ensures that the liquidity continues to come into the sector. So, those are the measures that the government has taken and supported the NBFC and the NBFC MFIs sector during this pandemic.
Also Read: Customers today look for personalized options, innovative products and flexibility: Rahul Agarwal, Chief Distribution Officer, Exide Life Insurance
4) What initiatives are you taking to make lending affordable? How is technology helping you proceed?
Technology has helped us in terms of creating a collaborative platform where banks, larger banks, governments, multilateral institutions, philanthropic organizations can participate on the supply side of capital through our platform. So the technology helped us in creating the platform to pull multiple sources of capital and reduce the cost of capital, which is one of the largest components of the ultimate cost to the borrower. Besides, the entire digital pathways, in terms of user service and how you use the local network to onboard the users and give them loans further reduces our cost of operations. As I said, using alternative means of information through which we acquire customers and our partners help us in managing delinquencies within tolerance limits further reduces the cost. Plus the kind of partnership we create on the guarantee side in terms of philanthropic organizations, multilateral institutions, further enables us to create new use cases, create financial products which a conventional NBFC or a bank find it difficult to work with, create a pool of data to start lending to some of these use cases, and attracts the larger pool of capital and therefore reduces the cost of funds. So these are multiple strategies we follow for delivering affordable financial services.
5) What are your growth plans for 2022?
Like, I mentioned, we have grown during the covid pandemic and we tend to continue that performance. We aim at expanding our progress by almost two to three times what we are today. And, the target that we have set per se, we are growing our partners, today, we work with close to 45 plus partners and we want to double it. But we will deepen our relationship with the partners and grow each of the partners in terms of the quantum of lending that we do. Our focus for 2022 is to leverage technology and to create not a linear kind of growth but more of an exponential kind of growth at later stages. So for 2022, we are focusing on being three times what we are today. And of course, we are targeting EPT raising during 2022 to help us manage that growth and execute various bank partnerships, from the capital perspective. So that's broadly the kind of plan that we have from 2022.


Elets The Banking and Finance Post Magazine has carved out a niche for itself in the crowded market with exclusive & unique content. Get in-depth insights on trend-setting innovations & transformation in the BFSI sector. Best offers for Print + Digital issues! Subscribe here➔ www.eletsonline.com/subscription/