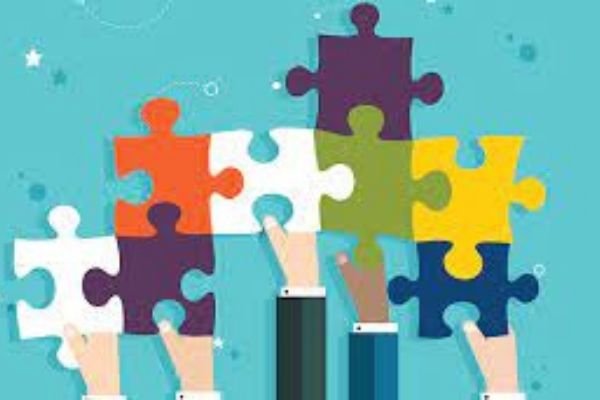 In December 2019, when the reports pertaining to Covid-19 first started surfacing from Wuhan, China, the world around us was a different place. From then to now, it's December 2021 and after two complete years, the virus outbreak has made significant changes and led to several impactful transitions in the way we live, businesses operate, and so on. While uncertainty continues to be a part of our lives as the new variant Omicron brought back the worrisome circumstances, the lesson learned from wave one and two, somehow successfully instigated the preparedness and motivation across the industries to take lead, ensure resilience and navigate through the crisis with innovation and technology. The banking and financial sector, in particular, underwent several transformations, made tech deployments to ensure continuity. As it is evident that the COVID-19 pandemic is a health and humanitarian crisis, as well as an economic shock, financial institutions have a pivotal role to play.
Moreover, the banking and financial industry, all throughout the crisis period, continued to fill an enormous credit gap: offering forbearance and giving customers greater access to loan facilities. The banking sector has also played a crucial role in distributing various governments' fiscal packages. The banking industry remained unstoppable during both the waves and it continues to remain hyperactive even amidst the scare of the third wave, and a significant amount of credit for this spirit goes to qualities of resilient leadership that guide their enterprises through the COVID-19 crisis.
To underline the importance of futuristic strategies and leadership, especially during the pandemic, Rashi Aditi Ghosh of Elets News Network (ENN) interacted with the CXOs representing the BFSI sector and on the basis of the exclusive interactions that were collected throughout the year; we present to you the approaches that actually worked.
Envisioning Life Beyond the Pandemic: Leaders' Perspective
To begin with, leadership is important and a lot of it depends upon business management strategies, which decides the survival or failure of an organisation, during the crisis.
To highlight this, we would quote Shaktikanta Das, Governor, Reserve Bank of India, from his Keynote Address delivered at the 48th National Management Convention of the All India Management Association (AIMA), September 22, 2021.
He said, "In normal times and even more in times of severe stress, it is the quality and capacity of management that makes the critical difference and enables businesses to not only survive but come out stronger. After an eighteen-month long battle, there are signs – and I repeat signs – that the world is emerging from the shadow of coronavirus. As we emerge from the present crisis and look beyond, this is the right time to step back a little and plan for an economy which is stronger, more inclusive and sustainable. I propose to highlight the contours of such an economy in my remarks today."
Talking about the opportunities induced by Covid, he added, "The pandemic has induced several structural changes which have significantly altered the way we work, live and organize businesses. With greater shift to work from home, technology has gained potential to boost productivity, by saving on travel time, boosting sales on online platforms and accelerating the pace of automation. As a result, consumption pattern is changing and companies are resetting their supply chains both globally as well as locally. These changes will have wider ramifications for the economy."
"While the pandemic has created enormous challenges, it can also act as an inflection point to alter the course of development. Enhanced adoption of technology will give impetus to productivity, growth and income. Leveraging technology in implementing government schemes, training and skill development programme for the unemployed, promoting women friendly work atmosphere and supporting education of the poor and marginalized sections would be areas of focus as we embark on our journey beyond COVID-19. Income and job creation with digitalisation and innovation can bring about a new age of prosperity for a large number of people," he added.
The Indian Scenario: How the Financial Institutions Navigate Through the Crisis
Digital Becomes Priority
Talking about opportunities in disguise, several experts across the BFSI industry believe that Covid has accelerated their digital journey by multiple folds. According to PWC, the pace of change is increasing and shows no sign of slowing across the BFSI industry. Financial institutions are looking to the IT organisation to do more to help make sure they are well-positioned to succeed in the future. There are macroeconomic trends sweeping the world, and technology-driven influences buffeting the industry.
HP Singh, Chairman & MD, Satin Creditcare Network, India's largest NBFC-MFI in terms of the number of customers, said, "At Satin, we were able to continue to leverage our operational strengths to adapt to the future and overcome the disruptions caused by the second wave during 2021. Our technology enabled infrastructure – digital platforms and centralized processes enabled us to quickly respond to the liquidity needs of individuals as well as MSMEs during the year."
"As a leading microfinance entity, we remained focused on our strategic priorities to ensure seamless business operations, deliver sustainable products to customers and create value for our stakeholders. The biggest learning was to ensure that the business has to go on evolving amidst the crisis, and we have to take care of our people.
Also Read: Transformation will remain as our key focus in 2022: HP Singh, Chairman & MD, Satin Creditcare Network
We were able to launch Customer Service App and website payment gateway during lockdown in order to provide all means of repayment to our clients. We also remained committed to our legacy of consistently being a future ready workplace, continuing to train our people to bring the best microfinance offerings to millions of customers," he added.
Decision Making During Uncertainty and Meeting the Customer Needs
According to EY's consumer financial research, for truly connecting with and gain the trust of consumers in a fully digital world, banks must shadow the evolution of the online e-commerce giants that have now built out entire connected ecosystem experiences and value propositions. To create this, banks need a sophisticated understanding of their customers' context and needs.
Ravi Subramanian, MD and CEO, Shriram Housing Finance said, "The pandemic changed the game for every organisation and pushed us to think differently. We are now more agile than ever before. We are also constantly thinking of ways to enhance customer experience remotely. The pandemic, in more than one way, has helped us fasten our technology capability. Now, more than 90% of our customer acquisition journey is digitally enabled. We just need to meet the customer for a physical signature as a regulatory requirement. Further, we have upgraded our Customer mobile App and Website portal to ensure we offer more information to the customer at a click.The role of financial institutions like Shriram became more important than ever — where possible, providing liquidity, support and necessary forbearance to customers undergoing temporary difficulties. The sensitivity shown to customers in times of stress has led to higher brand loyalty today."
"On the funding side, we better understand our available capital and liquidity resources and assess the resilience of these in times of stress and account for capital buffers at all times. We are using scenario modeling and contingency planning expertise to help us and our customers to make good decisions in the face of a highly volatile operating environment."
Also Read: Pandemic made us more agile than ever before: Ravi Subramanian, MD and CEO, Shriram Housing Finance
"We have incorporated new analytical indicators, prioritized by the COVID-19 outbreak, into our decision-making activities. Overall, we are being driven more by data at the backend, and continue to strengthen our relationship with our customer at the front end," he adds.
Banks now have an opportunity, as they enhance their digital capabilities to adapt during this crisis, to systematically collect relevant data and create connected experiences. This will provide a more personalized and intuitive relationship through all channels, EY reveals.
Talking about digital preparedness, Vijay Kumar, CEO and principal officer, Go Digit General Insurance said, "The pandemic did not have that big an impact on our processes as our entire tech ecosystem is built on the cloud. This ensured that our customers were being served without any disruption. We also focused on self-service to empower our customers. Our turnaround time for motor claims, for example, improved as we set up an automated process to click photographs and submit claims instead of someone visiting you for inspection. We seamlessly settled close to 80,000 claims in FY22 till September 2021."
"Our 'zero touch' service ensured that the entire customer journey is paperless and happens completely online. We managed to reduce our overall call volumes by using other channels such as WhatsApp where we have serviced over 6 lakh requests so far. We also understood the needs of our customers during the pandemic and introduced wellness benefits like Doctor on Call, Tele-medicine, Lab diagnostics & more for our GMC customers," he added.
Technology that Matters
In its report titled, Financial Services Technology 2020 and Beyond, PwC writes, there are many large forces sweeping society, from demographic and social changes to shifts in global economic power. But one force in particular – namely, technological breakthroughs – is having a disproportionate affect on financial services.
Avinash Raghavendra, Executive Vice President and Head – IT, Axis Bank said, "Axis Bank has always considered technology as a critical enabler to distinguish itself from its peers. The success of a digital transformation and agile way of working requires the whole organization to understand and appreciate technology. Meaningful engagement on the digital channels requires a strong technology backbone, something that the Bank had already envisaged and keeps reviewing. At Axis Bank, we have a program called "Technology Masterclass" that focuses on driving technology as a culture across the organisation including the senior management. So essentially, the idea is to make a Tech leader out of everybody!"
Talking about the tech-driven deployments,Raghavendra stated, "The bank started the process of building capabilities about 3+ years back, with pilot projects in the areas of RPA, AI, and Cloud. We are the first Bank to create 3 landing zones (AWS, Azure and GCP) to support our multi-cloud strategy The Bank has built the necessary foundation for large scale migration which will help achieve the FY target of 25% applications on Cloud, currently we have ~50 applications on Cloud. In line with the vision, most of our newer initiatives are on cloud or are cloud ready."
"Similarly, on AI Bank has deployed 100+ AI Use cases and is working on deploying AI at scale. Some interesting use cases have been explored here like for example, AI based scrutiny of Bank Guarantee clauses. This has helped us to improve the turn-around- time around Bank Guarantee issuance and improved the capability to identify and scrutinize onerous clauses in BG issuance requests, thereby improving the quality and adherence to guidelines. We run a unit within our Tech department to focus on various opportunities using Blockchain. An example of the same is Remittances on Ripple, which was implemented couple of years back," he added.
Also Read: At Axis, we pursue a holistic cyber security program: Avinash Raghavendra, EVP and Head – IT, Axis Bank
During his address RBI's Governor at 48th National Management Convention of the All India Management Association (AIMA), September 22, 2021, he said, "Information technology (IT) services and information technology-enabled services (ITES) backed by entrepreneurial capabilities and innovative solutions have emerged as key strength of the Indian economy over the years. There is a growing league of Unicorns in India reflecting its potential for technology-led growth. The country has added several unicorns over the last year to become the third-largest start-up ecosystem in the world. Underpenetrated Indian markets and large IT talent pool provide an unprecedented growth opportunity for new-age firms. Further, the COVID pandemic has provided a new impetus to technology-driven companies such as fintech, edtech and healthtech which are likely to see increased funding activity in the coming years. India's digital momentum is expected to continue with a strong demand in areas such as cloud computing, customer troubleshooting, data analytics, work place transformation, supply chain automation, 5G modernisation and cyber security capabilities. India has the natural advantage to benefit from the emerging trends in these areas. The drive towards full fiberisation of the economy has to go hand in hand with the establishment of data centres across the nation for data storage and processing."
Speaking about the insurance industry, Indraneel Chatterjee, Co-founder of RenewBuy said, "The pandemic was a turning point for the entire insurance industry, as consumers understood the significance of insurance, especially in the health and life category. RenewBuy too witnessed consumer demand during the pandemic, and due to its digital-led insurance advisor (Point of Sale Person) model, RenewBuyhas been able to cater to the growing consumer demand in Tier 2, 3 and beyond cities. More than 60% of RenewBuy's business is from semi-urban and rural areas in India, with a focus on addressing an under-insured population."
"RenewBuy has reached out to more than 3 million consumers, with 60,000 plus insurance (POSP) advisors, across 750 plus cities in the last six years. RenewBuy has been upgrading its technology constantly to increase the insurance penetration; the company wants to take insurance to the remotest part of the country, to more and more such consumers, who have been traditionally under-served. RenewBuybelieves that the next 5 years will be a phase of exponential growth for the company, with an aim to reach 25 million customers through over 200,000 POSP advisors in India and beyond."
Conclusion
To conclude, while the pandemic has put forward enormous challenges but it can opened up opportunities for course of development. Enhanced adoption of technology will be giving impetus to productivity, growth and income. Leveraging technology in implementing government schemes, training and skill development programme for the unemployed, promoting women friendly work atmosphere and supporting education of the poor and marginalized sections would be areas of focus as we embark on our journey beyond COVID-19. Income and job creation with digitalisation and innovation can bring about a new age of prosperity for a large number of people.
"Exciting news! Elets Banking & Finance Post is now on WhatsApp Channels Subscribe today by clicking the link and stay updated with the latest insights!"
Click here!
Elets The Banking and Finance Post Magazine has carved out a niche for itself in the crowded market with exclusive & unique content. Get in-depth insights on trend-setting innovations & transformation in the BFSI sector. Best offers for Print + Digital issues! Subscribe here➔ www.eletsonline.com/subscription/