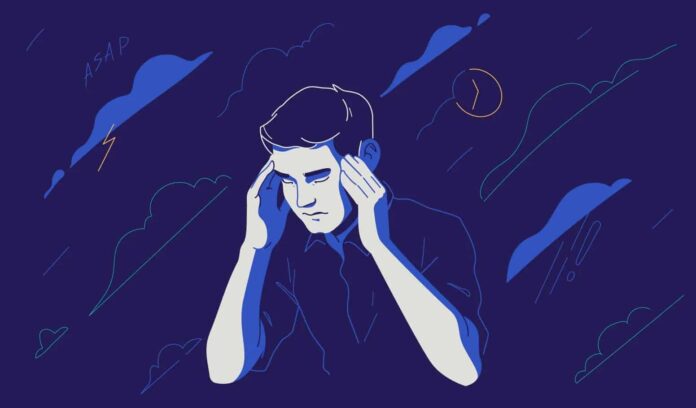 In the age of coronavirus, when every industry around us is affected and a sense of uncertainty is prevailing encircling the business continuity and economic slowdown, matters pertaining work and personal life balance and sudden loss of loved ones is adding to the mental health concerns of many executives. Several C-Suite officers and employees are juggling health concerns and mounting anxiety alongside their jobs and families, pushing themselves towards the risk for stress, loneliness, burnout, isolation, and depression. In a bid to understand the rising concerns relating to the mental well being of the CXOs especially in the BFSI sector that is continuing its operations even during the pandemic, Rashi Aditi Ghosh of Elets News Network spoke to several top-level executives across the sector.
How Covid-19 is affecting the mental health
According to the World Health Organization (WHO), the COVID-19 pandemic has disrupted or halted critical mental health services in 93% of countries worldwide while the demand for mental health is increasing, according to a new WHO survey. The survey of 130 countries provides the first global data showing the devastating impact of COVID-19 on access to mental health services and underscores the urgent need for increased funding.
The survey was published ahead of WHO's Big Event for Mental Health ̶ a global online advocacy event on 10 October that will bring together world leaders, celebrities, and advocates to call for increased mental health investments in the wake of COVID-19.
WHO has previously highlighted the chronic underfunding of mental health: prior to the pandemic, countries were spending less than 2 per cent of their national health budgets on mental health, and struggling to meet their populations' needs.
Also Read: Health and finance listed as top priorities for young Indians in 2021: Survey
Rising Uncertainty and Health Concerns Amid the Second Wave
The second wave of covid-19 pandemic intensified the existing challenges of the deadly virus, infecting many and causing loss of several lives across the country. The lockdown lives that kept people close to creativity, spending lives with the family with no office commutes gradually started creating a sense of loneliness, anxiety and behavioral change specially amongst the working-class who had to sit in front of their laptops for long hours and their weekends too getting included in the work days.
Durgaprasad Swaminathan, Senior Vice President & Chief Information Officer, Cholamandalam Investment and Finance Company said," We need to focus on the mental health of our employees. Initially, there was a lot of excitement like no commute, they can spend their time with family, do other things but after a long span people realised long working hours, work stretched into weekends. We need to tackle the problem to make sure the mental well being, physical, social and emotional well-being is taken care of. For that what we did we have started online sessions like kids art session, yoga sessions with family interactions for mental and social well being".
A systematic review and meta-analysis on the prevalence of psychological morbidities among the general population, health-care workers, and COVID-19 patients amidst the COVID-19 pandemic reported that about half of the population faced psychological impacts of the COVID-19 pandemic. (Source: Krishnamoorthy Y, Nagarajan R, Saya GK, Menon V. Prevalence of psychological morbidities among general population, healthcare workers and COVID-19 patients amidst the COVID-19 pandemic: A systematic review and meta-analysis [published online ahead of print, 2020 Aug 11)
Poor sleep quality (40%), stress (34%), and psychological distress (34%) were the most commonly reported problems across various studies. (Source: Li Z, Ge J, Yang M, Feng J, Qiao M, Jiang R, et al. Vicarious traumatization in the general public, members, and non-members of medical teams aiding in COVID-19 control. Brain Behav Immun 2020)
"It is very unfortunate that our part of the world is facing the peak of the pandemic again. As we navigate through the second wave of Covid-19 crisis, Aeris Communications continues to focus towards employee safety and everyone's well-being. To ensure resilience and readiness, we have launched a single app-based support window for covid-19 medical care in association with our healthcare provider. In addition to using the app, our employees can avail any kind of medical support needed at this time on call as well as on WhatsApp. Through this app our employees can avail services like – audio/ video doctor's consultation, ambulance on call, support in getting hospital bed, covid test booking, home isolation packages and home delivery of medicines. In our fight against covid-19, we have also decided to conduct the vaccination drive for our employees and their family members, which will be executed as soon as the lockdown is relaxed," said Dr Rishi Mohan Bhatnagar, President, Aeris Communications.
An online Indian survey has reported that about 40.5% of the participants reported anxiety or depressive symptoms. About three-fourth (74.1%) of the participants reported a moderate level of stress, and 71.7% reported poor well-being. (Source: Grover S, Sahoo S, Mehra A, Avasthi A, Tripathi A, Subramanyan A, et al. Psychological impact of COVID-19 lockdown: An online survey from India. Indian J Psychiatry 2020)
"Mental health of employees is something that needs to be taken care of. Sadly, sometimes it is taken as a weak point to talk about and makes it even more difficult to raise the topic. When someone says I am finding it difficult to handle my stress, our upbringing is so, that the person is judged for saying so, which is very unfortunate. Just because you don't understand something, you don't count it important," said Vishakha R M, Managing Director & Chief Executive Officer, IndiaFirst Life Insurance Co. Ltd, during Elets BFSI NextGen Virtual Summit.
Negative Impact of Work From Home
Work from home (WFH) can negatively impact workers' mental and physical health according to a new study by researchers at the University of Southern California published in the Journal of Occupational and Environmental Medicine.
According to the study, working from home "increased work expectations and distractions, reduced our communications with co-workers, and ultimately lessened our productivity."
For working parents, those with infants had a higher chance of reporting a new mental health issue despite the tendency of having better mental well-being. "Having toddlers was affiliated with physical well-being but it was also associated with more physical and mental health issues," the report said.
Further, professionals who adjusted their work hours around others were also more likely to report a new health issue. More than one-third of the respondents in the report by University of Southern California published in the Journal of Occupational and Environmental Medicine spoke about scheduling their work hours around others.
Tushar Drolia, Chief Business Officer, SMEcorner said, "To understand the mental health on CXOs in pandemic, we would first need to appreciate the difference between managing pandemic vs any other crisis situation. For example, lets take the 2007 subprime crisis. As the situation unfolded, the executives had to assess the situation, understand the implications, make new business plans, & finally execute them. In comparison, a pandemic situation is multiple times more uncertain. It brings in new information sets everyday. This implies recalibration of the business decisions on a daily basis. Handling a pandemic is like handling any other crisis situation on a daily/ weekly basis constantly for months."
Also Read: How COVID-19 is accelerating adoption of new tech in Banking

"Covid-19 pandemic brings in a wide range of challenges for BFSI companies & its senior executives. Some big issues that CXOs grapple with are recalibration of business plans, cost rationalization, compliances etc. A lot of time is spent on taking some tough, unpleasant decisions. The workload increases manifold & handling the uncertainty results in stress. One of the key challenges is to deal with team motivation. They face a wide range of questions from the team members. Most of the times they don't have answers for them, considering the unpredictable environment. Still, their job is to keep the morale high and handle the anxiety. The CXOs must constantly put up a strong, unwavering & confident face to the team, which takes a toll on their mental health. "
"Other important aspects to deal with are, safety of the employees, survival in this uncertainty, evaluation of the risk aspects etc. There is no time to sit back and unwind. Their current decisions will have irreversible impact on the future of the company & the employees.In summary, it's a test of their mental strength, which they can't afford to fail," said Drolia.
New Normal and Work From Home
A March 30 survey of 317 CFOs and business finance leaders that found 74 percent of those surveyed expect at least 5 percent of their workforce who previously worked in company offices will become permanent work-from-home employees after the pandemic ends. (Source: Gartner)
COVID-19-triggered 'work from home' norm has increased residential demand in suburbs in Bangaluru, Chennai, Hyderabad, Delhi-NCR and Pune (Source: NoBroker.com)
While the concept of complete digitisation and work from home is fast gaining popularity, the question is are people really interested in doing it forever or they still want to go to office because they feel isolated and lonely at home?
According to an article published in The Guardian, a survey by the global financial services company Jefferies, 61% of more than 1,500 UK respondents said they would return to work immediately if they could. Facebook says half of its employees will work from home by 2030, but Mark Zuckerberg said only one in five were enthusiastic about doing so. More than half "really want to get back to the office as soon as possible", he told the Wall Street Journal.
Sharing her point of view in how Fintechs are dealing with the situation, Sucheta Mahapatra, MD India, Branch Personal Finance App said, "The second wave and the widespread impact it is causing is indeed a tragedy. As an early stage Fintech, we are meeting a critical financial services need especially for the under-banked in these challenging times. These needs for our customers will only get amplified due to the pandemic. Our customers and our team remain our top priorities. For the well being of our teams we have launched unlimited paid leave policy and monthly mental wellness days off. In addition to this, we have launched Covid Taskforce to help all members to find resources through our collective effort be it vaccines, beds or oxygen cylinders. This is over and above the efforts we have taken in terms of extending work from home indefinitely and absorbing all hospitalisation and vaccination costs. I am proud of our team members who are working relentlessly to help the community in these times."
"As a business leader, my bias is to lead with empathy, objectivity and agility – in these times. As a caregiver with young kids and elderly parents at home, their health, safety and mental well-being is also a priority for me. As a family, we are trying to eat healthy, stay fit, and most importantly, avoid doom-scrolling," added Mahapatra.
So, what can be done to help make the executives feel better about the situation? How can the organisations step in to ensure respite?
Amol Gupta, Chief Human Resources Officer – India & Philippines, FIS said, "We may experience increased feelings of anxiety, powerlessness, impatience, irritability or frustration. And I can say this as I get to hear from many of my team members, family members who are going through the same feelings. And so you are not alone if you feel the same."
Gupta shared the following tips that can help the employees feel better:
While there are many tips – I will just share my Top key points
1. Take care of your body and mind
Follow some form of fitness regime consistently. It could be Yoga or indoor workouts. For those of us who are working from home, it is certainly not easy and I can understand that. Virtual meetings have increased significantly and that leaves us exhausted at times. Initially it was tough for me as well, however now I make it a point to use my Bluetooth for meetings that doesn't really require laptop interface and walk instead. Take breaks and stretch yourself. It helps!
2. Stay connected with your family, friends and loved ones – Pick up the phone and check if your family members who are not staying with you need support. Or simply 'connect'. Its become more important than ever.
Lastly – This is an extraordinary year and we need to be realistic and so be kind to Yourself! Very important
Conclusion:
While the first outbreak and now the second wave is inducing situations that were never faced before challenges pertaining to the loss of near and dear ones is something adding to the already existing mental health related crisis of the CXOs who are accountable for profitability and losses even during the uncertain times. Experts representing the financial sector believe that it is important for organisations to show empathy towards their employees and start building up strategies that will help make the virtual work environment and physically and mentally healthier one.
Also Read: How should you insure yourself amid Covid-19?
The Banking & Finance Post is an initiative of Elets Technomedia Pvt Ltd, existing since 2003.
Now, Elets' YouTube channel, a treasure of premier innovation-oriented knowledge-conferences and awards, is also active. To Subscribe Free, Click Here.
Get a chance to meet the Who's who of the NBFCs and Insurance industry. Join Us for Upcoming Events and explore business opportunities. Like us on Facebook, connect with us on LinkedIn and follow us on Twitter, Instagram & Pinterest.