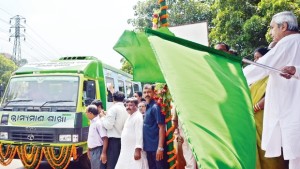 In its bid to provide banking services in the unbanked gram panchayats, Odisha government is contemplating to join hands with the banks operating in the state to roll out around 100 mobile vans in the current fiscal. The move is said to be first of its kind initiative in the country.
For this, Odisha government may provide subsidy to banks to render banking services on wheels in the remote Gram Panchayats which lack basic banking services.
At present, Odisha State Co-operative Bank has deployed 20 vans in the said areas to provide banking services. Similarly, state-run UCO Bank and private lender ICICI Bank are providing banking services on wheels with two vans each, from their own coffers.
An official who wished not to be named said that discussions are in progress and the state finance department in coordination with Union Ministry of Finance's department of financial services would decide the cost sharing pattern along with the respective chairmen of the banks.
The capital cost per van is around Rs 30 lakh per annum. The vans are designed to render services like ATM and facilitate withdrawals, deposits and remittances.
If sources are to be believed, weekly six gram panchayats can be covered while major thrust will be the markets where huge number of people converge.
Notably, Odisha government is also supporting banks for setting up new branches in the un-banked gram panchayats in backward and LWE (Left Wing Extremism) affected districts -Malkangiri, Nuapada, Nabarangpur and Kandhamal.