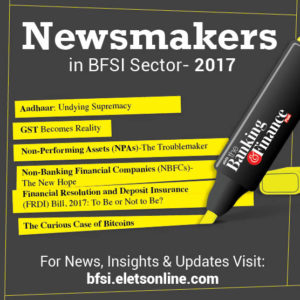 As the year draws to a close, The Banking & Finance Post presents a look back at some of the crucial events and decisions in the Banking, Financial Services and Insurance (BFSI) industry.
This year, the sector witnessed several highs and lows. While the Non-Performing Assets (NPAs) emerged as the biggest problem, Non-Banking Financial Companies (NBFCs) kept the growth prospects high.
Several reforms namely the Goods and Services Tax (GST), Aadhaar linkage, push to digital payments helped in boosting the economy in a big way. This year India's reforms were praised by the World Bank and its ranking in terms of "Ease of Doing Business" improved.
Following are some of the most discussed issues in the BFSI sector during 2017:
Aadhaar: Undying Supremacy
This biometric identification and its linkage with bank accounts, PAN Cards, mobile phones and social welfare services remained in news all throughout the year. Be it the changing of deadlines, discrepancies over the leakage of personal data or objections over its mandatory supremacy over the BFSI sector made it the most talked about issue of 2017.
GST Becomes Reality
The much-awaited Goods and Services Tax came into effect from July 1, 2017. Rolled-out with an aim to initiate "One nation, one tax", this historic tax reform aligned India with the global regimes.
Non-Performing Assets (NPAs)-The Troublemaker
Bad loans emerged as the biggest troublemaker in the BFSI industry. The Reserve Bank of India (RBI) reported NPAs at 15-year high and also predicted its further rise. This led RBI to tighten the function areas of several public sector as well as private sector banks.
Non-Banking Financial Companies (NBFCs)-The New Hope
The banking and financial sector underwent a lot of trouble due to the Non- Performing Assets (NPAs). Rendering a lot of support, Non-Banking Financial Companies (NBFCs) emerged as the true savior in the credit lending domain. NBFCs gained a lot of popularity due to its wide range of services and loan offerings.
Financial Resolution and Deposit Insurance (FRDI) Bill, 2017: To Be or Not to Be?
The Financial Resolution and Deposit Insurance Bill (FRDI) that aims to set up a resolution corporation to monitor financial companies, categorise them as per their risk profiles and step in to prevent them from going bankrupts by writing down their liabilities became the most speculated topic because of its stand on the depositors savings.
The Curious Case of Bitcoins
Bitcoin recently witnessed a significant rise and emerged as a trendsetter in the banking industry. The currency nearly touched $1,000 in January 2017 and rose to over $19,000 in the second week of December. After gaining an unbelievable price rise this Cryptocurrency reported a 30 per cent fall in the last week of December.