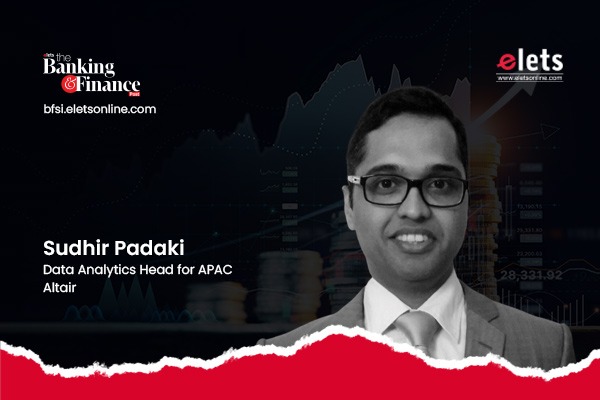 As the machine learning (ML) community continues to accumulate years of experience with live systems, a widespread and uncomfortable trend has emerged: developing and deploying ML systems is relatively fast and inexpensive, but maintaining them over time is difficult and expensive. To know more about the recent innovations in the data analytics space in India, Srajan Agarwal of Elets News Network (ENN), had a conversation with Sudhir Padaki, Data Analytics Head for APAC, Altair.
What have been the key tech adaptations and digital solutions offered to gain a competitive advantage in the digital banking ecosystem?

Cloud, high-performance computing & Artificial Intelligence are the natural technology choices for leading a transformative change in the digital banking ecosystem. The last few years have seen phenomenal implementation & discovery of new areas & use cases where such technologies are driving change for the better.
New generation computing technologies powered by GPUs are allowing us to leverage vast amounts of data (both structured & unstructured) in ways never seen before.
The ever-expanding ecosystem of open- source frameworks and integration of these frameworks into various digital processes has provided the possibility of exploring use cases in digital banking, which have never been thought of before. The decision to leverage these technologies across multiple areas is no longer optional, but has become the norm to stay competitive.
How do you rate the current technology standards followed in the Indian BFSI Sector?
Modern Banking started in India in the 18th century in an unregulated environment and has come a long way since then. India is undergoing a transformative change in banking and is well poised to become a global leader in the Fintech space. We have seen unprecedented change in the way we have enhanced customer experience through multiple digital channels or by providing enhanced risk control by leveraging AI & hyper-automation.
With a high adoption rate of 87 per cent in the Fintech space, we truly lead this space both in terms of technological innovation & adoption. The last mile access to credit has thrown many challenges to the Indian lending space, but also offers a great possibility to bring millions of customers to access credit. We stand tall in terms of meeting these challenges through the use of alternate data such as e-payments history or social media footprint.
How are you leading the data analytics space in India, could you share your experiences around the evolution of the usage of data in the industry?
Altair has a long legacy of over 25 years in India. We have been a leading technology provider & a 'thinking" partner for our customers keeping "innovation at the heart" for everything we do. Our technology is leveraged by large private banks, NBFCs & Fintech's for developing innovations leveraging AI, Cloud & HPC. From creating risk models and collections optimisations to building strong campaigns, our customers leverage Altair's platform to innovate everyday.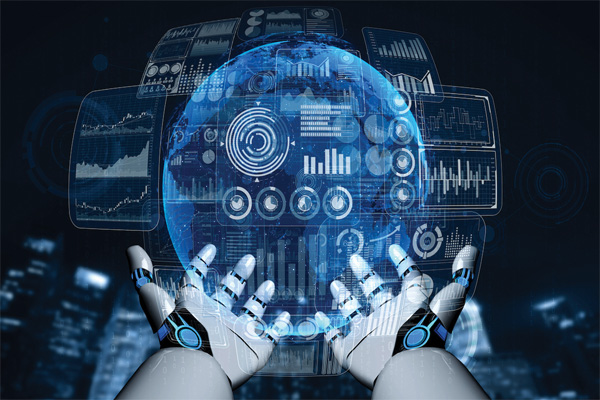 The adaptation of open-source frameworks for AI has seen exponential growth in India. We strongly believe that the future is an integrated environment of Low-Code & Open-source to bring the best of both the worlds to solve tomorrow's challenges in the banking space. Keeping that in mind, we are constantly innovating to integrate open-source frameworks into our technology and provide a seamless experience for the users. The concept of self-service analytics which we have been driving for more than two decades helps truly democratise analytics and is a growing trend in the industry.
Also Read | AI/ML & IoT strengthen SaaS platforms
Tell us about Altair and its recent innovations. How are the offerings unique?
As the machine learning (ML) community continues to accumulate years of experience with live systems, a wide-spread and uncomfortable trend has emerged: developing and deploying ML systems is relatively fast and inexpensive, but maintaining them over time is difficult and expensive. Technical debt, a metaphor introduced by Ward Cunningham in 1992 to help reason about the long-term costs incurred by moving quickly in software engineering is slowing us down in the deployment of AI.
Altair is constantly innovating in reducing the "Technical Debt" for our customers. One key technology is the ability to leverage the SAS Language & Open-source frameworks in a single platform. Banks & Financial Institutions have invested in the SAS language for many years and as new age methods using open source are taking shape, it is challenging for customers to migrate to these newer frameworks. Altair's SLC® provides a seamless path to both preservings & migrating from the SAS Language. This is truly unique to Altair.
Data science is a team sport and enterprises need their skilled individuals collaborating efficiently. Altair's RapidMiner eliminates the inherent tension between code-based data science and code-free visual approaches. The RapidMiner platform integrates with coding languages, Machine Learning libraries, and deep learning environments. By supporting the ability to create and orchestrate containerised solutions, Altair's RapidMiner helps you ensure that models can run wherever they can gather the strongest insight. Deploy solutions like Docker & Kubernetes, various cloud platforms, and more.
What role does Altair play in High- Performance Computing & Cloud for AI/ML workloads?
Clouds are natural to Altair. Altair's cloud computing & infrastructure management solution for High-Performance Computing has been around for more than two decades. We see a perfect convergence happening between HPC in the Cloud & AI in the future and we are very glad to be at the forefront of this convergence Hybrid Cloud & bursting; Scale-up & access anywhere, virtual & physical Data appliances are some of the solutions that are unique to Altair. With over 1M users of Altair Data & Analytics platform & state-of-the-art solutions to scale & manage cloud, we put us in a unique spot to create a strong community of users globally.
Also Read | "Banks are leveraging the power of data immensely to serve customer better"
A disciplined data strategy requires HPC tools to orchestrate, visualise, optimise, and analyse demanding workloads, especially the computationally intensive jobs required of some ML workloads.
Altair's comprehensive enterprise computing tools help product developers easily access the HPC power they need, migrate to the cloud, and eliminate I/O bottlenecks. Many organisations struggle to manage and mine data that comes from modern technology platforms. The data arriving into the organisation may be in the form of a small amount of very large files, or in the form of millions of very small files arriving every day, or even every minute.
Platforms such as Apache Spark are seen by data scientists as preferred solutions to manage and process these vast amounts of data to quickly generate insight from data found in distributed file systems. Its ability to work in memory with extremely large datasets is in part why Spark is included in big data architectures. Altair's workload management tools such as Altair® PBS Professional® enable organisations to work efficiently with big data in high-performance computing, modern processing and storage platforms, and cloud environments.

Elets The Banking and Finance Post Magazine has carved out a niche for itself in the crowded market with exclusive & unique content. Get in-depth insights on trend-setting innovations & transformation in the BFSI sector. Best offers for Print + Digital issues! Subscribe here➔ www.eletsonline.com/subscription/