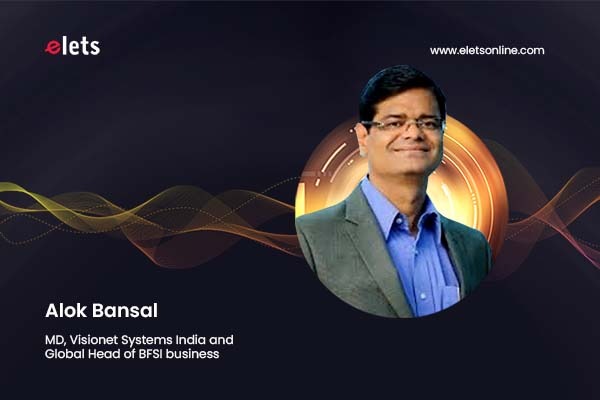 Digital transformation is not a new word for the banking and financial industry but it definitely has become the buzz world keeping the current challenges and business continuity in mind. Besides, disruptive innovation are gaining significance and making it pivotal for the financial industry to collaborate with the solution providers to stay relevant and agile. In the process to understand the changing sustenance, Rashi Aditi Ghosh of Elets News Network (ENN) interacted with Alok Bansal, MD, Visionet Systems India and Global Head of BFSI business.
Excerpts of the conversation

1. COVID brought several challenges but it also paved the way for digital transformation. How did Visionet leverage this opportunity?
The way Covid-19 affected the economy, health and lives in the last couple of years is beyond comprehension. Confining people to their houses, the pandemic forced everyone to work and transact digitally. The world has been moving towards digitisation, albeit at different speeds across companies, and countries. But with COVID-19 on the scene, companies and countries were forced to speed up their digitalisation plans. In fact, but for COVID-19, these plans would have taken another one to three years.
During the pandemic, we also saw significant cuts in home loan rates, triggering a boom in the mortgage segment. To scale up their business opportunities, companies in the banking and financial sector are swiftly optimizing their technical proficiency, especially in Artificial Intelligence (AI). With AI already taking a center stage in highly digitized financial systems, BSFI sector is further exploring this technology to accelerate the mortgage process, which is key to accelerate revenue generation.
To process lengthy paperwork, lenders are opting for advanced digital Business Process Management (BPM) solutions. As an experienced provider of BPM solutions, Visionet has recently also developed a future ready Intelligent Document Processing solution called DocVu.AI, which helps lenders to quickly and accurately process large volume of data.
By using a combination of Optical Character Recognition (OCR), Intelligent Character Recognition (ICR) and machine learning algorithms, the solution takes document processing, classification and data extraction to another level. With features like fully integrated workflow engine with automatic task assignment and centralized QA checklists fired by rules for manual or automated action, DocVu accelerates the meticulous processes of mortgage closing.
Also Read: Simplifai helps businesses integrate Intelligent Process Automation at their workplace: Daniel Kohn, Chief Commercial Officer, Simplifai
Along with facilitating remote work, DocVu.AI also ensures regulatory compliance, which increases efficacy, improves loss mitigation and eventually revenue opportunities for the companies. The fast and safe procedure also builds customer relationships and increases customer satisfaction.
With perfect combination of digitally optimized operations and a customer-centric approach, we are looking forward to building synergies and support the companies to lead the way in a pandemic-ridden economy.
2. In your view, how are disruptive technologies redefining the BFSI sector? Which segments within the industry are witnessing major changes?
With developments in areas such as artificial intelligence, cloud, blockchain, and micro-services-based architecture, the BFSI sector is transforming swiftly.
Artificial Intelligence driven technologies have transformed the BFSI sector.
While there is hardly any segment in BFSI sector which remained untouched by AI, its effects are more pronounced in services involved in massive data management, like mortgage industry.
Bringing efficacy and speed in data management, advanced AI tools like Intelligent Document Processing (IDP) solutions have revolutionised the way unstructured and semi-structured information is transferred into consumable data. Hand-written, email, PDF or structured- irrespective of the source and the format, IDP solution extracts data and processes them at the speed and cost which is impossible manually.
By reducing human interventions, IDP also improves compliance. Such end-to-end automated data extraction and their exportation in workflow bring unimaginable efficacy and pace in business operations. Another advantage of using computer trained algorithms for data analysis and extraction is that they also ensure robust security. By minimizing fraud risks and enhancing reliability, they help to create a secure transaction platform for businesses as well as customers.
Also Read: Pandemic made us more agile than ever before: Ravi Subramanian, MD and CEO, Shriram Housing Finance
Cloud is big at this point in time. And greater adoption of Cloud, will usher in big changes. Hybrid cloud comes at a lower CAPEX. It can also be set up on the customer's premises. That adds to the ease of doing business. New players are coming into the field, lowering costs even more. And with better security for cloud, BFSI players, especially banks, can adopt cloud as long-term options.
The banking sector, globally, is moving away from a monolithic set-up to a more fluid and highly responsive entity. Customer experience will be key. Next-gen banks will achieve this through architectural transformation. The adoption of a lighter and flexible micro-services architecture will aid in this process.
Blockchain and data security are talked of in the same breath. While its adoption has been slow to take off, blockchain is adding robustness to the BFSI sector's (including banks) data security needs. Blockchain also brings with it the benefits of reliability of information, rendering remote the risk of frauds. Last but not the least is that blockchain also helps cut costs.
Such high-end technologies are now imperative to streamline business operations, improve compliance, reduce cost and improve the output. To survive in this competitive market, where customer satisfaction is the key, BSFI players are reinventing themselves with such light and flexible micro-service architecture.
3. In the COVID-induced world, what new trends do you project for the BFSI industry? Will the current deployments be relevant in the next five years?
The BFSI industry is witnessing some interesting new trends. These include digitalising, omni-channel banking, use of artificial intelligence, robotic process automation (RPA) and blockchain-led services. The focus of these trends is putting customers at the centre of the industry's actions, and making life easier for them.
Also Read: Key Forces Disrupting the Onboarding Process in the BFSI Industry
In India, there are currently over 330 million internet users and 240 million smartphones. With data available at among the cheapest rates in the world, demand for financial services is on the rise even in the hinterlands. But in these smaller towns and villages, it is not the bigger banks, but Payments Banks that are driving financial inclusion activities. In the coming times, we will see more of these Payments Banks spreading across the country's smaller towns and rural areas.
4. What are the unique solutions that set you apart from the competition?
Amid the increasing relevance of data integration and analysis and pressure to accelerate the processes without any gap or fraud, the DocVu.AI technology is a clear winner. The technology gives the business a unique ability to extract, process, analyse and interpret data within seconds, regardless of their source and formats. The advanced white-glove service that we provide further accelerates and improves the process. Such intelligent automated data capturing, extraction, and processing solution provided by Visionet brings transparency, convenience, security and unmatched speed in business proceedings, making us an inevitable choice for sustained growth.
Our widening presence among mid-size banks, credit unions and other mortgage service providers reflects our credibility and positioning in the industry. Our go-to-market strategies are focused on entering new markets and industries and carving a niche as experts in these industries.

Elets The Banking and Finance Post Magazine has carved out a niche for itself in the crowded market with exclusive & unique content. Get in-depth insights on trend-setting innovations & transformation in the BFSI sector. Best offers for Print + Digital issues! Subscribe here➔ www.eletsonline.com/subscription/