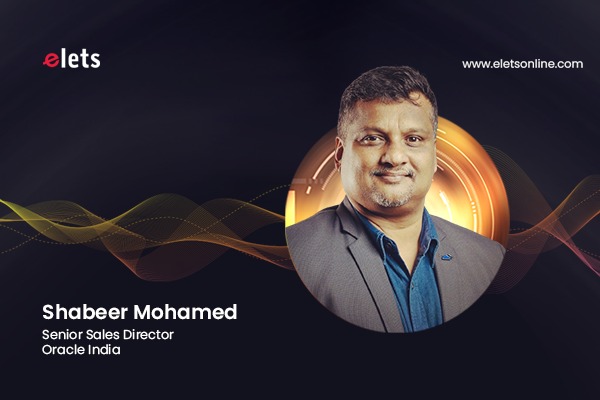 The BFSI industry have always been enthusiastic to technology driven changes however, the last two years but accelerated the process by multiple folds. Playing a significant role in this transformation, cloud along with other disruptive technologies have helped the industry navigate through the crisis. To understand the role of cloud and other emerging technologies, Rashi Aditi Ghosh interacted with Shabeer Mohamed, Senior Sales Director, Oracle India.
1. What are the latest trends shaping the rise of small finance banks in India?

With the enormous amount of disruption caused by the pandemic in 2021, many institutions in the BFSI space have stepped up and dealt with the paradigm shift brought by the COVID-19. Amongst this, especially the Small Finance Bank (SFB) sector in India had to row against the winds to ensure continuity. Despite of these hurdles, the SFB sector has been able to help the underserved in the society and this has largely been possible because of the big support from the government in terms of setting required regulations. Reserve Bank of India (RBI) has recently allowed scheduled payments institutions as well as small finance lending bodies to conduct government business. In addition to that digital banking has shaped up the sector well and is ensuring the delivery of transactions are seamless for its banking customers.
Also Read: The Indian Banking Opportunity – Transforming the Business of Banking
India had the world's second-largest internet population at over 749 million users in 2020 which is rapidly growing year after year. This penetration proves that users can easily tap into the banking space using the internet.
The last two years have really transformed the sector and we saw a significant trend in 2021 when digital banking services got extremely popular amongst people and made customer experience seamless. The mass digitisation is absolutely helping SFBs to reach a large base of customers and offering a facility to open and operate bank accounts in remote parts of the country with a simple tap on their smartphones.
Apart from this, cloud and other emerging technologies like AI, ML and RPA are assisting SFBs in modernizing the delivery, enhancing their customer experience in addition to saving costs and removing inefficiencies. Acceptance of these technologies will help SFBs penetrate and serve the underprivileged parts of the society.
2. What is the role of SFBs in leading the next banking revolution?
The Covid-19 pandemic has accelerated the rate of digital adoption in the banking space and this is especially true for those people who were trying to sustain and secure their timely credit. 35% of users increased their use of Internet banking, during the pandemic, says Deloitte. Banks today have a digital-first approach. SFBs are one of the most important entities to ensure the creation of profound ways for them to be more financially inclusive and allow individuals and small businesses to avail credit that could be pivotal for them.
SFBs are allowing the users to manage their transactions and get basic account details on mobile applications. Beyond allowing microloans, SFBs are also offering services including opening accounts, online payments, money transfers, etc. which are truly beneficial to the rural population and can further totally change the banking ecosystem in India.
Their major role is to closely navigate the financial activities of the deprived and help them get financially educated. This aspect will be able to create a new generation of financial literates who will have much more to offer to society at large. In fact, the recent policy of RBI will certainly make them grow further in the coming year. As per the new policy, RBI has allowed scheduled payments institutions as well as small finance lending bodies to conduct government business. This means that can participate in government and other large corporations issued request for proposals (RFP), primary auctions, fixed rate and variable rate repos, and reverse repos, along with participation in marginal standing facility.
3. How are SFBs helping India bank the unbanked?
Rural area is the most unbanked part of our country, constitutes for about 65% of the total population. The needs of rural people are gradually evolving but still there is some level of reluctance in accepting financial institutions and therefore it is extremely vital to simplify the banking experience for them. At present, SFBs are completely dedicated towards resolving these issues.
A prime example is of AU Small Finance Bank where they're ensuring that financial services are well received by small businesses & entrepreneurs using Oracle Cloud technology. They are ensuring that even the customers who lack financial records, established histories, and credit ratings are banked and can easily leverage any banking service.
Also Read: BFSI sector embracing digital-first mindset to excel: Raphael T J, CIO, South Indian Bank
Thus, by leveraging modern technologies, SFBs are simplifying banking and making it more accessible for the unbanked.
4. How cloud and emerging technologies such as AI/ML are transforming the BFSI space?
Modern technologies like cloud, AI and ML have become imperative across the world today. Industries across sectors are leveraging these technologies to empower their businesses. In fact, BFSI industry has been one of the early adopters of modern technologies.
A report by McKinsey estimates that AI technologies could potentially unlock $1 trillion of incremental value for banks every year. Meanwhile, Cloud too is a great source for optimising costs, ensuring scaling and data security. Cloud has been a great equalizer of sorts, with BFSI gaining access to the very same enterprise-grade, secure, modern technologies that are available to a large enterprise. It also holds a great potential to streamline all types of business processes and ensure efficiencies across the landscape. We are seeing a significant increase in the number of Indian SFBs turning to cloud for accelerating innovation, improving process efficiencies, reducing operational costs, and enhancing customer service. With cloud, banks today are focussing on more mission-critical tasks. The increasing adoption and implementation of these technologies will boost the sector's overall growth leading to move towards a cashless economy.
Going forward, we see an uptake of 'Phygital' Banking as around 90 per cent of the banking transactions in India have now started moving into the non-branch channel such as internet banking, mobile banking or ATM.
5. How SFBs are strengthening their cyber-defense, while taking advantage of cloud-led innovation?
As digitalisation and automation have taken over the banking segment, the growth in digital transactions increases and at the same time it is creating more chance of cyber threats. This translates to a growing opportunity for providers of cybersecurity products and services. Further to fend off cybercriminals, SFBs are also looking to utilise newer and more advanced security infrastructure and services with the help of emerging technologies. The pandemic has urged financial services organisations as well to accelerate their cloud migrations and digitisation initiatives.
Also Read: At VMware, we have seen customers evolve from 'cloud-first to cloud smart': Gaurav Agarwal, Senior Director – Enterprise & Government Sales, VMware India

We have a proven track record of securely managing the bulk of the world's data for over four decades. For us, security is integrated in everything we do. Ultimately, we want our customers to spend less time and efforts on IT management and instead focus more on core business growth. Further, our second-generation cloud infrastructure is the most secure cloud platform in the market today. We have made available two second generation cloud regions in India, spread across two different seismic zones (in Mumbai and Hyderabad) to help SFBs fully adhere to data residency norms as well as aid better disaster recovery.
6. Why more and more SFBs and cooperative banks are building their future on Oracle Cloud Infrastructure? How is it impacting the end consumers?
Oracle has decades of experience in securely managing mission-critical data for some of the top banks in India and several large institutions in the BFSI space are already leveraging Oracle's solutions and services in the segment. Out of the total 12 SFBs in India, 2 renowned ones, Shivalik Small Finance Bank and ESAF Small Finance Bank are leveraging Oracle Autonomous Data Warehouse and Oracle Analytics Cloud services. For example, Shivalik is expecting a 25 to 30 percent reduction in the total cost of ownership in the long run and nearly 10-15 percent efficiency improvements with Oracle. Not just that, they are serving over 4.5 lakh customers in tier 2 and 3 cities and 65 percent of their overall customers transact through digital channels.
Whereas ESAF Small Finance Bank is leveraging Oracle's Autonomous Data Warehouse and Oracle Analytics Cloud services and they have created a segmented view of the database and extracted useful insights. With that, the bank is also aiming towards inculcating industry data which will help them derive deeper insights. They will also be able to navigate through customer behaviour better and offer relevant services.

Elets The Banking and Finance Post Magazine has carved out a niche for itself in the crowded market with exclusive & unique content. Get in-depth insights on trend-setting innovations & transformation in the BFSI sector. Best offers for Print + Digital issues! Subscribe here➔ www.eletsonline.com/subscription/