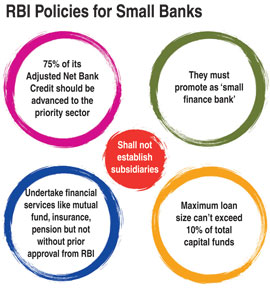 In order to assess the purpose of issuing licences to small banks by the banking regulator RBI and find out how successful these banks would be in near future, Poulami Chakraborty of Elets News Network (ENN) gives an insight and throws light on the concept behind introducing new payment and small finance banks
Much earlier, in February 2013, the Reserve Bank of India (RBI) came out with a set of guidelines for licensing, new banks in private sector. The process of licensing culminated with the announcement by the RBI via a press release in April 2014 citing it would grant 'in-principle' approval who would set up new banks in the private sector, within next eighteen months. In his budget speech in 2014, Finance Minister Arun Jaitley mentioned that RBI will be creating a framework of licensing small banks and other differentiated banks; which will be serving the niche interests, local area banks, payment banks etc.; which in return are contemplated to meet credit and remittance needs of small businesses, unorganised sector, low income households, famers and migrant work force.

RBI approved ten entities 'in-principle' – out of the 72 applicants to float as small finance banks in September, 2015—which in a way changed the dynamics of the entire Indian banking landscape. In fact, the measure ensured that the Pradhan Mantri Jan Dhan Yojana (PMJDY) is taken a step further ahead through this, with the RBI banking on small banks to take up charges of basic banking services- including, acceptance of deposits and lending to the underserved sections of the population.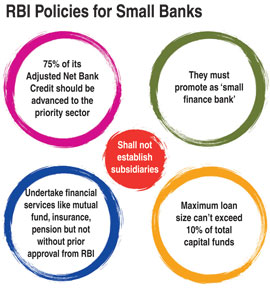 The inherent concept behind introducing new payment and small finance banks is to bring more competition in the banking sector, in furtherance of Financial Inclusion; besides they being complementing the existing system by transacting with the last mile. The chosen entities are mainly microfinance and small finance companies, including— Au financiers (Jaipur), Capital Local Area Bank (Jalandhar), Disha Microfin (Ahmedabad), Equitas Holdings (Chennai), ESAF Microfinance and Investments (Chennai), Janalakshmi Financial Services (Bengaluru), RGVN (Northeast) Microfinance (Guwahati), Suryoday Micro Finance (Navi Mumbai), Ujjivan Financial Services (Bengaluru) and Utkarsh Micro Finance (Varanasi).
Evidently, the question now arises in the mind is that what are small banks and why are they being introduced? Aren't we having enough financial infrastructure for streamlining and channelising the existing overdrive of PMJDY accounts (the reason, we call it an overdrive is that the target set for PMJDY accounts was 7.5 crores which by the present day has crossed the benchmark of 20 crore accounts)? Well, small banks will primarily undertake the basic banking activities of acceptance of deposits and lending the underserved and untouched segments of the society – including small business units, small marginal farmers, micro and small industries and unorganised business sectors and entities. Most obviously, this measure and the tool will definitely help the government monitor on the revenue that can be contributed to the economy from the unorganised sectors.
Here, again, an assumption— most entities which had received the 'in-principle' nod to float as a small bank are micro-finance institution; which implies that most customers will account for small and medium enterprises or businesses; thus, able to provide secured and legal loans to MSMEs and SME's. With this, these institutions doing small and medium businesses will fall under the gamut of financial system, thus coming out of the ambit of gluttonous business money lenders.
The key differentiation
So, what strikes at the moment is how the small banks have been different from commercial banks, when both the entities are playing the same role. None but the catch lies in the set of regulations being formulated by RBI for small banks to operate. According to the RBI framework and policies they must promote themselves as 'small finance bank', should prevent themselves from setting up subsidiaries to undertake non-banking financial service activities, 75 per cent of its Adjusted Net Bank Credit (ANBC) should be advanced to the priority sector as categorised by RBI, maximum loan size to a single person cannot exceed 10 per cent of total capital funds; cannot exceed 15 per cent in the case of a group, at least 50 per cent of its loans should constitute loans and advances of up to 25 lakh, they can undertake financial services like distribution of mutual fund units, insurance products, pension products, and so on but not without prior approval from the RBI, they will be subjected to all prudential norms and regulations of the RBI as applicable to existing commercial banks. This will include maintaining cash reserve ratio (CRR) or the percentage of deposits that must be kept aside as a reserve and statutory liquid ratio (SLR) or the percentage of deposits that must be invested in government securities, minimum paid-up equity capital requirement of Rs 100 crore, the promoter's minimum initial contribution to the paid-up equity capital of such small finance bank shall at least be 40 per cent which can be gradually brought down to 26 per cent within 12 years from the date of commencement of operations, a small bank can transform into a full-fledged bank, but only after RBI's approval and it must have 25 per cent of its branches set up in unbanked areas.
What excites the entire ambience, is that just when PMJDY was about to saturate with the overwhelming responses and an overdriven number of bank accounts, most aware citizen got curious about its future. The RBI's nod to this small banks in-way cleared all doubts
Now, here there is a need to define their activities arena clearly based on the RBI guidelines. As evident from the definition, a small bank can undertake all operations performed by any commercial bank, albeit on a smaller scale. They can take small deposits and disburse loans; distribute mutual funds, insurance products and other simple third party financial products. Here, again we can foresee introduction of some more new brands for these products which will again generate a stiff new competition among the lot, leaving customers with ample of choices for their benefit. They can also lend 75 per cent of their total adjusted net bank credit to priority sector. The maximum loan size would be 10 per cent of capital funds to single borrower and 15 per cent to a group. Minimum 50 per cent of loans should be up to 25 lakhs. So with all defined outlines of a small bank, it becomes essential to know what makes them termed as 'small banks'. The several aspects which a small bank cannot do unlike any corporate bank are precisely as they cannot lend money to big corporate and groups, cannot open branches with prior RBI approval for first five years, other financial activities of the promoter must not mingle with the bank, cannot set up subsidiaries to undertake non-banking financial services activities and can't be a business correspondent of any bank.
What excites the entire ambience, is that just when PMJDY was about to saturate with the overwhelming responses and an overdriven number of bank accounts, most aware citizen got curious about its future. The RBI's nod to the small banks cleared all doubts. With the entry of new age banks and payment banks, the Indian banking sector witnessed one of the biggest revolutions after nationalisation of financial institutions. The completion is just about to take off to the level next with affordable solutions to the last mile.

Elets The Banking and Finance Post Magazine has carved out a niche for itself in the crowded market with exclusive & unique content. Get in-depth insights on trend-setting innovations & transformation in the BFSI sector. Best offers for Print + Digital issues! Subscribe here➔ www.eletsonline.com/subscription/