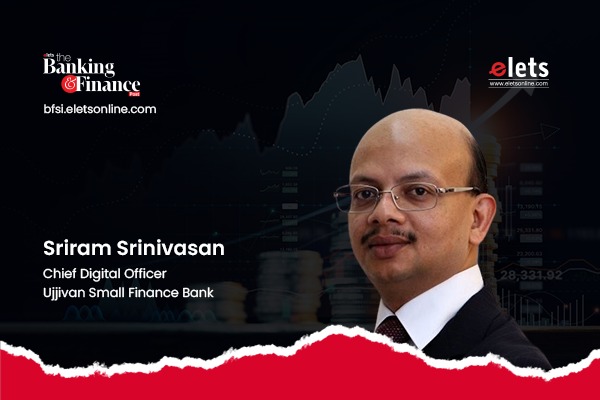 Information Security is the foundation of banking. To maintain a robust information security framework, Ujjivan SFB has defined a comprehensive approach that encompasses various aspects writes Sriram Srinivasan, Chief Digital Officer, Ujjivan Small Finance Bank, in an interaction with Shruti Jain of Elets News Network (ENN)
How has Ujjivan Small Finance Bank embraced digital transformation, and what roles does it play in the overall growth strategy of the bank?
Ujjivan SFB is on a mission to serve the unserved and under-served masses at scale. This mission is aimed at providing financial services and products to individuals and communities who have traditionally been excluded from mainstream banking services. Digital transformation enables us to effectively carry out this mission at scale, on a nationwide basis. Digital is key to the growth strategy of the bank, on both sides of the business- asset and liability. By leveraging digital technologies, the bank can overcome traditional barriers of physical infrastructure and geographical limitations, allowing them to expand their services to even remote areas.
On the customer-facing side, digital channels provide convenient and accessible banking services, allowing customers to open accounts, apply for loans, make transactions, and access a wide range of financial products from the comfort of their homes. One of the key advantages of digital transformation for Ujjivan SFB is the ability to reach customers at scale. Scalability is essential in serving the unserved and under-served masses efficiently and cost-effectively.
At, Ujjivan SFB we are exploring partnerships with fintech companies and other digital platforms to expand its service offerings and provide value-added services to customers. This collaborative approach helps stay at the forefront of technological advancements and adapt to changing customer needs.
Can you highlight some of the key digital initiatives or projects led by you that Ujjivan Small Finance Bank has undertaken to enhance the customer experience and streamline banking operations?
In pursuit of our mission, Ujjivan SFB has launched "Hello Ujjivan" an innovative app that provides digital banking for semi-literate customers. This app utilises cutting-edge AI / ML technology to serve customers via Voice Prompts, Visual Cues, and Voice recognition in several Vernacular languages. This vastly improves the customer experience and enables us to extend from financial inclusion to Digital Inclusion.
The technology platform has eight regional languages and English – empowering customers to speak their native language to perform banking transactions and access services. Customers can use the app in their native language to perform banking transactions and accessing services like loan EMI payments, opening FD and RD accounts, transferring funds, checking account balance, and viewing and downloading passbooks, among others. Ujjivan SFB is utilising its over 640 branches and close to 9000 Micro Banking and Rural Banking employees to educate customers on the Hello Ujjivan application.
The launch of the mobile app represents a major step forward in our efforts to provide Micro Banking and Rural customers with cutting-edge technology and a high level of convenience and security. Post the launch of the Hello Ujjivan app in November 2022, the bank has witnessed close to 2,00,000 customer downloads out of which 95% are women customers. Moreover, 20,000+ customers have used the app for loan repayment and over 1000 customers opened FD & RD accounts.
Other initiatives include launching video banking capabilities that enable customers everywhere to bank at any time via their app without requiring a visit to the branch.
With the rapid advancement of technology, how important is it for banks to adopt emerging technologies such as artificial intelligence, blockchain, and biometrics?
Ujjivan SFB has been a rapid and leading proponent of utilising the power of technology to efficiently serve customers with an enhanced experience and reduced cost. The latest wave of technologies, such as AI and biometric technology, are being utilised heavily. Examples of this include Voice recognition in Indian Vernacular, Biometric recognition via face-matching to Aadhar images during video sessions as well as cutting-edge modelling and simulation of very large datasets to provide next-level credit scoring models. Recognising the linguistic diversity in India, the bank has incorporated voice recognition systems that can understand and process customer queries and commands in various regional languages. This empowers customers to interact with the bank's digital channels using their preferred language, enabling a more personalised and inclusive banking experience.
Also Read | SFBs are leveraging technology in making financial services more accessible for customers: Ashwin Khorana, CIO, Ujjivan Small Finance Bank
By incorporating AI and biometric technologies into its operations, Ujjivan SFB demonstrates its commitment to leveraging cutting-edge solutions to enhance the customer experience, reduce costs, and mitigate risks. These technological advancements enable the bank to deliver personalised and secure services while efficiently processing a large volume of customer transactions. Ujjivan SFB adoption of technology-driven credit scoring models further improves access to financial services and promotes financial inclusion by enabling the bank to extend credit to individuals and businesses that may have been overlooked by traditional lending practices.
Data security and privacy have become critical concerns in the digital era. How do you ensure the security and privacy of customer data in its digital operations? With the increasing popularity of mobile banking and digital wallets, how does Ujjivan Small Finance Bank ensure a seamless and secure mobile banking experience for its customers?
Information Security is the foundation of banking. To maintain a robust information security framework, Ujjivan SFB has defined a comprehensive approach that encompasses various aspects. One crucial aspect is the implementation of 360-degree surveillance of customer data and applications. This entails constant monitoring and analysis of data and applications to detect any potential vulnerabilities or security breaches. By employing advanced monitoring tools and technologies, Ujjivan SFB can promptly identify and respond to any security threats, thereby ensuring the integrity and confidentiality of customer information.
Security is implemented at multiple layers to ensure defense in depth. In addition to technical measures, Ujjivan SFB places significant emphasis on the human element of information security. The bank understands the importance of customer education and staff training in maintaining a secure environment. Customers are educated about best practices for online security and fraud prevention through various channels, such as regular communication, informative materials, and awareness campaigns. This empowers customers to take proactive measures to protect their personal and financial information.
The banking apps of Ujjivan SFB are secure and are managed by a technology expert who prioritises security. The app is compliant with all the privacy and security standards of a standard banking app.
"Exciting news! Elets Banking & Finance Post is now on WhatsApp Channels Subscribe today by clicking the link and stay updated with the latest insights!"
Click here!
Elets The Banking and Finance Post Magazine has carved out a niche for itself in the crowded market with exclusive & unique content. Get in-depth insights on trend-setting innovations & transformation in the BFSI sector. Best offers for Print + Digital issues! Subscribe here➔ www.eletsonline.com/subscription/