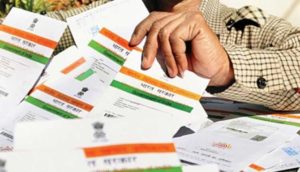 A month prior to the deadline of Aadhaar linkage, nearly 80 per cent of the bank accounts and 60 per cent of the mobile connections have been seeded with biometric identification entity, said a senior official.
According to Centre's mandate, March 31 2018 was marked as the last date to link Aadhaar number with bank accounts and mobile numbers. This move was initiated to put a check on unaccounted wealth.
Linking of Aadhaar with income-tax permanent account number (PAN) was also made mandatory to curb the menace of black money.
Reportedly, out of the 109.9 crore banks accounts, nearly 87 crore have been linked with Aadhaar, said the official. Out of the total number, final verification of 58 crore is pending.
Furthermore, out of 142.9 crore active mobile connections, 85.7 crore have already seeded with  Aadhaar.