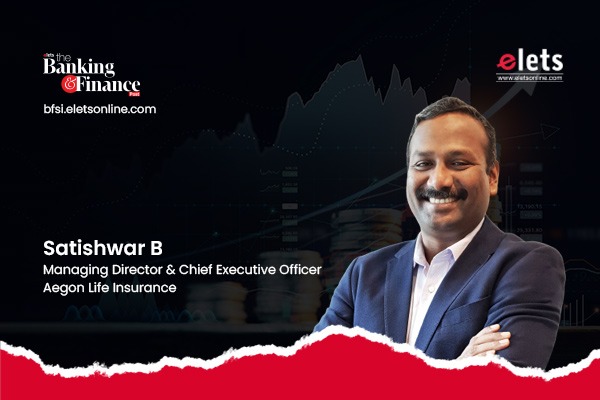 In the past 20 years, the pace and dynamics of doing business have changed with the expansion of wireless high-speed internet. We have come a long way from the dial-up connections of the late 90s. Just a month ago, we were living in the 4G era, a time when revolutionary technologies like IoT, ML, robots, AI, and big data came to the fore. Now 5G technology will take them to the next level.
With the launch of 5G, Aegon Life and other insurtech players are already innovating ways to leverage this opportunity. 5G or fifth generation cellular technology promises high speed internet connectivity with fewer latency issues. Ericsson predicts that 56 per cent of data traffic in India will be on 5G networks. Another report says that by 2027, 5G-enabled phones will likely get cheaper, reaching over 500 million mobile phone users. The "everything connected" era of 5G will replace the "everyone connected" era of 4G.

This holds multiple possibilities for digital insurers hoping to unlock new markets with innovative customer-centric products. 5G can solve some of the biggest challenges insurers have faced so far. An entire network of intelligent IoT sensors and linked devices may be strengthened by 5G to communicate and share crucial data. Let us see how:
Simple customised products
Today's customers are savvy and want everything to be available at the click of a button. They expect faster and more personalised services that make their lives easier. The last thing that they want is complex products that require time and effort to understand.
By combining emergent digital behaviours with consumer insights, businesses can design more relevant products. Insurtechs are increasingly using these insights to design products that are easier to understand and buy.
Influencing a customer's purchase decisions is both an art and a science, and a lot of work still needs to be done to understand how insurance purchases can be made as easy as adding a T-shirt to your e-shopping cart. And that's where Artificial Intelligence (AI) will play a role. AI engines get smarter the more they have access to information about consumer behaviour. Data is the oil that keeps AI engines happy and greased. 5G technology will give AI engines access to a high volume of data, making them smarter and more accurate.
For instance, complex and time-consuming processes like insurance underwriting, which evaluates the risk associated with the issuance of a policy, are now being augmented with the help of AI. A McKinsey report has marked the trajectory underwriting is going to follow in the next couple of years.
The first phase (current phase) looks at automating underwriting, which will improve efficiency; the second phase accelerates automation dramatically reducing the time taken for the process. Digital insurers are making substantial progress in these areas.
The third phase will emphasise offering individualised insurance products, and finally, the last phase will see the emergence of 'one- touch' underwriting. This means the AI engines will be able to process consumer data, not just at the time of policy issuance, but continuously throughout the consumer's journey, and up sell personalised products. 5G networks will ensure this evolution of underwriting as they will be able to deliver and process consumer data at higher speeds (20 times faster than 4G). This high volume of data will help AI tools provide actionable consumer insights.
Faster and better consumer journeys
The buying journeys for insurance customers are often riddled with speed-breakers, starting from policy issuance and servicing to issuing claims and policy closure.
Consumers have a tough time understanding the features and benefits of the insurance product in the beginning. Later when it comes to policy servicing, a consumer might face delays in the redressal of his/her query, which also impacts the timely renewal of the policy. When it comes to filing claims, it becomes a painful uphill task, marred with paperwork.
Already, digital technology is helping address these challenges with creativity and innovation, ensuring a hiccup-free consumer journey. It begins with simplified content to educate consumers, delivered through a website or mobile app. An API-based architecture then helps onboard customers, ensuring a hassle free, paperless experience.
With the adoption of 5G, customer journeys will be enhanced further, allowing even better consumer interactions. For example, companies have been providing support over the phone using 4G connections and Voice over Internet Protocol (VoIP), which ensures good quality calls. With 5G's high-speed connections and fewer latency issues, the call quality will improve drastically, and customer support can also be provided over video calls. The COVID pandemic initiated the process, and in the next decade, 5G will do wonders to improve the quality.
Additionally, customer-support reps can service their customers while working remotely, as 5G will be able to support a more significant number of connected devices.
Smart Living with Smart Insurance
Insurance is getting smarter. It is no longer just a thing that protects against any eventuality – it will be powered by the 'Internet of Things (IoT).
IoT is smart devices connected to the Internet. They can range from wearable devices, drones, and CCTV cameras, to smoke alarms, thermostats, and home repair detection devices. By 2025, the world will have more than 50 billion connected devices. In India alone, the IoT market is poised to reach $9.28 billion by 2025. Insurers are using this opportunity and extending their role not just to protect, but to predict, prevent and assist in case of any eventuality.
For instance, companies can use health data from wearable devices to calculate the premiums for both life and health insurance policies. That is not all; they can also provide timely reminders and notifications on health check-ups, dietary tips, disease management, and doctor appointments.
Telematic devices installed in cars can track driving patterns. Insurers can use this data to calculate premiums and reward good drivers with lower premiums. These devices also notify the drivers if they are driving too fast or if the engine needs a repair.
Insurers are partnering with smart-home device manufacturers to help secure homes against fires and burglaries. They are using drones to inspect the site of an accident for processing claims.
This is just the beginning of the revolution. 5G-powered networks will be able to support more such devices, helping insurers access heaps of data and develop better products and services.
Less paperwork to help tap newer markets
Insurtechs are working towards minimising and eventually eliminating any kind of paperwork, with API-driven tech that works seamlessly within the existing financial services ecosystem. Lengthy application forms are being replaced by digital inputs that require only a few taps on a screen. Underwriting recommendations are being made based on a consumer's Aadhar or PAN.
With the implementation of 5G, we will leverage consumers' socio-economic and transactional data and provide product and pricing-based recommendations tailored to them.
Such methods will not only help insurers provide a hassle-free experience to their customers but also reach the under-penetrated market of self-employed people in small town India, many of which come under the government of India's Smart City plan.
The government of India has identified 13 smart cities, which will have 5G internet at their disposal. The number will increase as 5G is essential for cities to grow and become smarter in terms of connectivity.
There is still a lot of ground that needs to be covered to pave the way for the effective rollout of 5G which will eventually help digital insurers reach remote areas through online channels. Till now, 5G has been found to be most effective in densely populated urban areas through high frequency bands. But it is in the small towns and rural heartlands where it can really make a difference. 5G connectivity in rural areas still seems distant. Besides this, India's fiber-optic footprint needs to increase considerably.
There are hurdles and challenges, but nothing surpasses the optimism and hope digitally-driven industries have with 5G.
Views expressed by Satishwar B, MD & CEO, Aegon Life Insurance


Elets The Banking and Finance Post Magazine has carved out a niche for itself in the crowded market with exclusive & unique content. Get in-depth insights on trend-setting innovations & transformation in the BFSI sector. Best offers for Print + Digital issues! Subscribe here➔ www.eletsonline.com/subscription/