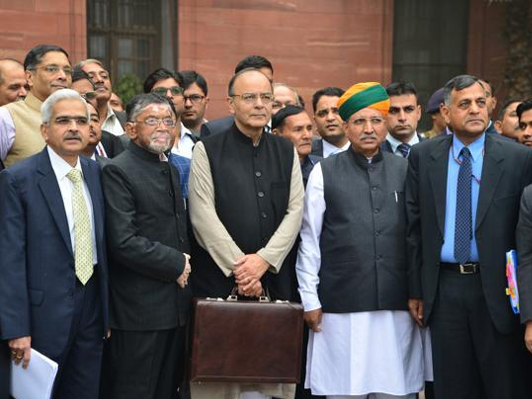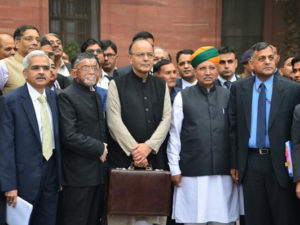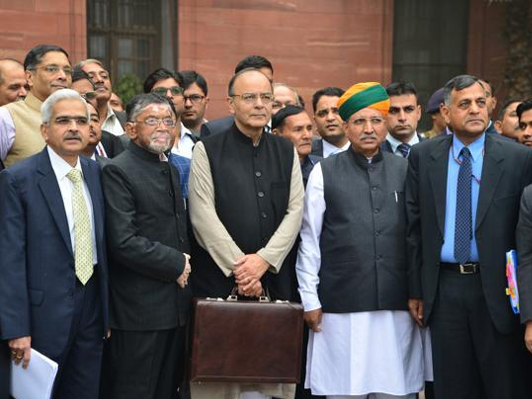 Finance Minister Arun Jaitely presented the Union Budget 2017-2018 in the Lok Sabha on Wednesday bringing some sense of relief for a big section of taxpayers while laying focus on the healthcare of the poor and the marginalised section of society.
The annual budget, hailed by a section of various industries, broadly focussed on the farming sector, the rural population, the youth, the poor people's health care, infrastructure, the financial sector for stronger institutions, speedy accountability, public services, prudent fiscal management and tax administration.

Though Jaitley gave marginal relief to the country's taxpayers in his 2017 budget, there are various aspects that were worth taking note of.
Elets Technomedia brings to you the highlights and an exclusive industry perspective on the Union Budget- 2017:
Healthcare
The latest annual budget has laid a lot of emphasis on the health care for the poor, under which Rs. 6,000 will be transferred to each person.
Announcements for setting up of two AIIMS in Jharkhand and Gujarat were also made during the budget. For monitoring the health of the senior citizens, Aadhaar-based smartcards will be issued to senior citizens to monitor health.
The budget also talked about elimination of tuberculosis by 2025.
Talking about the healthcare facilities announced for the poor and under privileged in the lates budget, Rajat Goel, Co-founder and CEO- Eye-Q Super Speciality Eye Hospitals said, "The Proposal to amend Drug and Cosmetics Rules to ensure availability of drugs at reasonable prices will be hugely beneficial to the people. The most significant announcement in this Budget for healthcare is the conversion of 1.5 lakh health sub centres to Health Wellness Centres. Proposed action plans to eliminate Kala Azar and Filariasis, leprosy, measles, TB and to bring down the Maternal Mortality Rate were encouraging."
Skill Development
The 2017-2018 budget contained several announcements pertaining to skill development. The allocation for Prime Minister's Employment Generation Programme (PMEGP) and credit support schemes have been increased over three times. In addition to this, mason training will be provided to 5 lakh persons by 2022, with an immediate target of training at least 20,000 persons by 2017-18.
Furthermore, the budget allocation for Ministry of Skill Development and Entrepreneurship for 2017-18 is Rs 3,016 crores as against a budget estimate for 2016-17 of Rs. 1,804 crores the revised estimate for 2016-17 is Rs 2,173 crores. The total budgeted expenditure for Employment Generation, Skill and Livelihood in the budget is Rs. 17,273 crores.
Commenting on the announcements made in the Union Budget with respect to skill development, Siddharth Chaturvedi, Director, AISECT, said, "I hail the Government's decision of opening 100 international skill centres. Work is already in progress to map India skills sector to international skills sector. For example, there is already equivalence in skills in India and the UK. These 100 international skills centres will go a long way towards providing skilled manpower for the international skills market. The launch of these centres will be a good step to make sure that all the labour going out of the country will be certified labour."
E -Governance
E-Governance domain saw several announcements in the budget. While merchant version of Aadhaar-enabled payment system for those without debit card, mobiles was announced, high speed broadband connectivity on optic fibres will be available in more than 1,50,000 gram panchayats by the end of 2017-18 were also made. In addition to this, Rs. 10,000 crores were allocated for BharatNet.
"Union budget 2017-18 laid much emphasis on ushering in digitally enabled transparency measures in the governance system, skilling the youth, creating more jobs, encouraging and enabling innovation and quality within the education and business sector and reviving the financial sector," said Ankit Agrawal , Managing Director, Alankit Limited.
Banking and Finance
During Wednesday's  union budget, it was announced that two schemes will be introduced to promote BHIM App. Referral bonus will be given to the users and cash back for the traders.  Foreign Investment Promotion Board will be abolished.
Mentioning about the emphasis laid on digitisation during  budget, Kunal Bahl, Co-founder and CEO, Snapdeal, said,  "We commend the focus on growing the digital footprint in the country  –  enhancing digital infrastructure, capping cash transactions, reducing cash donations, using Adhaar Pay to enable more digital payments are significant measures.
"Initiatives make an impact when there is continued attention and the announcement of today builds on the demonetisation efforts of last few weeks," he added.
"GST is a paradigm shift in recent history of Indian policy framework and a definitive implementation roadmap would boost adoption across sectors. Short term exemption on CVD (countervailing duties), SAD (special additional duty) on POS would aid seamless transition.
Measures like tax exemption for startups with less than 25 crore turnover working towards innovation, development, deployment or commercialization of new products, processes or services, driven by technology or intellectual property would encourage a culture of entrepreneurialism within the business economy," he added.
 Government's move around making Aadhar cards the nodal point of digital empowerment by launching Aadhaar Enabled Payment System (AEPS), Adhaar-pay, encouraging banks to introduce 20 lakh Aadhaar-based PoS, schemes to promote the usage of BHIM and introducing Adhaar based health cards to senior citizens will encourage adoption and accelerate conversations across all consumer sets.
Launch of health cards and extending 8% interest on savings through LIC is a welcome move as it would offer additional financial security and independence to a large senior populace in the nation.
According to Vidushi Daga, an Indian businesswoman, Founder and Director of Clone Futura Education, although the focus on skill development and implementation of quality education parameters by introducing the practise of measuring annual learning outcome in schools is a very good move by the government, but the main concern is that the entire focus was only on higher education.
"The base of having a systematic and future oriented education system can only be implemented by building a good platform for teachers to learn. Next is if the primary education system is not moulded, eventually it is going to affect the higher education sector as well. There should have been focus on how digital education can be provided to the primary school students and teachers."
Budget's Special features included:
Existing rate of tax for individuals between Rs.  2.5- Rs 5 lakh is reduced to 5% from 10%.
Under a nationwide scheme for pregnant women, Rs. 6,000 will be transferred to each person.
A sum of Rs. 1,84,632  crore allocated for women and children.
Affordable housing will be given infrastructure status.
Owing to surplus liquidity, banks have started reducing lending rates for housing.
Rs. 500 crore allocated for Mahila Shakthi Kendras.
Will undertake structural transformation of the regulator framework for medical education.
Allocation for Scheduled Castes is Rs. 52,393  crore.
Foreign Investment Promotion Board will be abolished.
Computer emergency response team for financial sector will be formed.
Pradhan Mantri Mudra Yojana lending target fixed at Rs 2.44 lakh crore for 2017-18.
Government will introduce two schemes to promote BHIM App. Referral bonus will be given to the users and cash back for the traders.
Two new AIIMS institutes to be set up in Jharkhand and Gujarat.
There would be an increased emphasis on Science Education and a proposal of flexibility in curriculum.
Allocation for Scheduled Castes is Rs. 52,393 crore.
Rs. 500 crore allocated for Mahila Shakthi Kendras.
Under a nationwide scheme for pregnant women, Rs. 6,000 will be transferred to each person.
Elimination of tuberculosis by 2025 targeted.
Health sub centres, numbering 1.5 lakh, willl be transformed into health wellness centres.


Elets The Banking and Finance Post Magazine has carved out a niche for itself in the crowded market with exclusive & unique content. Get in-depth insights on trend-setting innovations & transformation in the BFSI sector. Best offers for Print + Digital issues! Subscribe here➔ www.eletsonline.com/subscription/