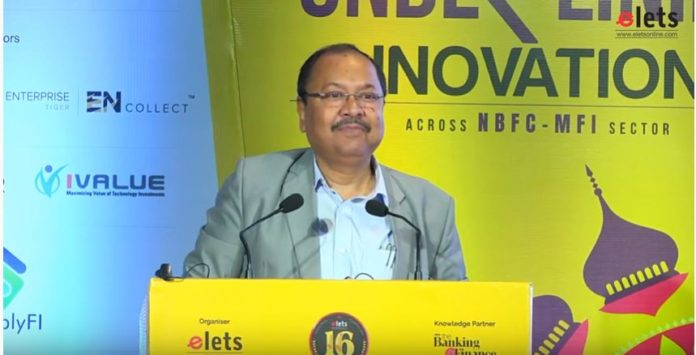 Today it is not about how efficient the technology is, it is however how efficiently it is being used. With many technology companies coming up with new products and services every day, there is still a big gap between what you expect technology to do and the way it is used by the people in the field. To build that gap there is a huge requirement of building a training and capacity building, says Subrata Gupta, Managing Director, NABARD Financial Services Ltd.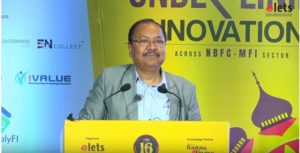 While addressing a session titled, "Non-banking Financial Company: An Opportunity in a storm", at the Elets 7th NBFC100 Tech Summit, Chennai, he spoke about how technology is playing an important role in the growth of BFSI sector and the challenges pertaining to it.
Opportunity in a storm. The storm is a negative connotation. I don't see that negatively the situation of the Non-banking Financial Companies (NBFCs) currently. 
In one of the gatherings, RBI Deputy Governor S S Mundra had said that "Bad news should travel by an escalator, good news can come by staircase." I think that is what exactly the situation with NBFCs currently.  At one point in time, due to the human factor, we have tried to suppress the situation which we shouldn't have. Things which are coming in limelight now, if have been tackled at the right point of time, the situation wouldn't have been that much worst as far as financial matters are concerned. And that's what exactly happened, the bad news came pretty slowly and we missed it out for a long time. This escalated into a bigger problem as we see now and that is today referred to as a storm.
Talking about the financial crisis in NBFCs, he said "the storm is a natural phenomenon, however, what we have done in NBFCs financial side is something which is self-created. This problem will always be there until asset financing and infrastructure financing is done by NBFCs. And that's basically asset-liability mismatch. It's up to NBFCs how they tackle it to avoid the financial storm in which currently the financial institutions are in." 
However, this is an opportunity for financiers, as they can look into newer variations of products which in turn will help NBFCs to do such financing. Because you cannot deny infrastructure financing, something which is a necessity.
The financial institutions have to come forward with products which will enable institutions like Sriram Transport to go ahead and finance. 
Today, it is not the matter of how efficient the technology is, it is however how efficiently the technology is being used.  While tech companies are coming up with a lot of technologies, there is a big gap between what you expect the technology to do and the way it is going to be used by the people in the field. And to build that gap there is a huge requirement of building a training and capacity building.
The NBFCs have to handle it internally, simply adopting the technology will not help them. They have to concentrate on how to train their people to adopt the technology which is actually the key. Because FinTech industry will churn out new technologies as the days go by. 
"When I joined NABARD, the first thing we were told was to go on the field and examine how banking is done. This helped us to know the person we can give finance to or not. Our source of information for each individual or a family was a local tea selling guy or the ration shop.  Today we talk about Artificial Intelligence and Machine Learning, which help us to keep our data. But, we need to look for the technology which can still allow the financial institutions to keep that human touch with the customers like earlier days," he said while remembering his initial days in the sector.
Expressing his views on how even with technology it is still difficult to get collections on time, he said, "When we talk about technology and digital lending, for Micro-finance Institutions (MFIs) there are three things. One is an evaluation of the customer, second is the disbursement and third is the recovery. We today have N numbers of payment gateways but to use it people need to have money in their bank accounts. For the villager who doesn't have a job, and has a bank branch 20-30 km away. Under such circumstances how these applications are going to help in collections. I have my reservations on that. I believe in MFI sector, the last mile of money going from the individual to the bank account, the reverse process of money going back to the bank account is still needs to be worked on."
"There are Business Correspondents (BCs) who have to be there. But if banks don't have a large volume of deposits in a particular branch they will probably not invest on BCs. This is something which has to be taken care of. We need people who can be there for an individual to guide them, teach them and making the repayment process easier. This is something which technology can't do. Machines can't go and do collections for us," he added. 
Citing the example of National Automated Clearing House Technology (NACH) through which you get the money he said, "In a city like Bengaluru, where we tried it on the pilot basis our success rate was 31 percent. How 100 percent account succeeded only 31 percent because even in NACH you need money in the bank account. So, every time NACH transaction fails, the failure is being charged and the charges have to be faced by us. This is another area where MFIs has to take care of because they are handling so much cash at the grassroots level. Because these people go out and collect a huge amount of money compared to the salary they get. There is a risk factor involved in this. These are the problem which needs to be addressed. Many of it can be tackled by the technology but not all." 
We have an application through which an individual can update the data, the moment he collects. So I have the collection data, but ultimately once the collection is made it has to be remitted to the bank. I cannot carry the cash and say the collection has been done. So technology has to deal with this kind of issues as well. 
Lastly, where technology has played a pivotal role in making front end simpler for many of us who are using it, the back end has become too complicated.  There are challenges and it will keep on coming, but we will come out of it soon.  

Elets The Banking and Finance Post Magazine has carved out a niche for itself in the crowded market with exclusive & unique content. Get in-depth insights on trend-setting innovations & transformation in the BFSI sector. Best offers for Print + Digital issues! Subscribe here➔ www.eletsonline.com/subscription/