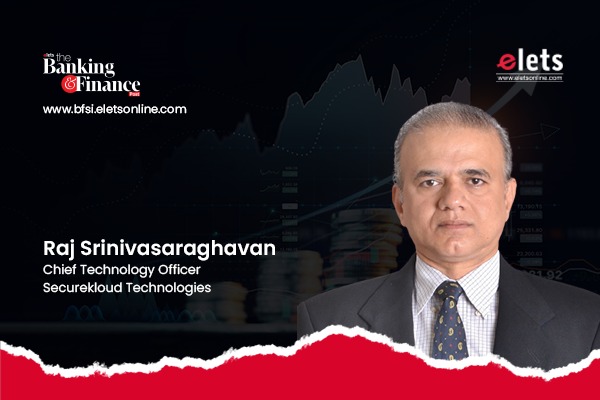 Experts across the world anticipate that cloud computing is most likely to be one of the fastest-growing technologies in the next few years. The popularity of cloud is also expected to increase as the need for digital across financial and several other leading industries is on the rise post the outbreak of Covid and migration becomes critical keeping the safety of data and continuity of business in mind. To understand how Cloud can bring significant changes across the financial institutions, Rashi Aditi Ghosh of Elets News Network (ENN) interacted with Raj Srinivasaraghavan, CTO, SecureKloud Technologies.
1. Cloud adoption is now increasingly becoming a part of every industry, especially after the pandemic. How has BFSI adopted the cloud in India?

Cloud adoption is gradually catching up to the global trends in India, especially in the BFSI sector. Maximizing benefits with minimizing risks will be the key for adoption in this sector. Globally, private cloud adoption is more prevalent. However, a hybrid cloud helps share data from one trusted endpoint to another within the corporate network. IaaS, PaaS, and SaaS (software as a service) models are being adopted with utmost security, with governance policies backing them up.
Also Read: Cloud can help BFSI in optimising cost: Shabeer Mohamed, Senior Sales Director, Oracle India
2. Which are the key areas in the BFSI industry that will level up with cloud integration?
The benefits of cloud in the BFSI are vast and varied. But there are several areas that will gain more from clouds. There are microservices based processing of loans, mortgages, insurance claims, back-office support for BFSI, VOIP-based call and contact centers, payment gateways, small application developments and deployments, backend processing for biometrics, certain core banking services, MFA (Multi Factor Authentication), API (Application Programming Interface) based pull/push notifications, etc. Mobile payments, e-wallets & crypto-wallets, especially with the advent of decentralized finance use cases in blockchain, stand to gain immensely. Few KYC processes, using AI (Artificial Intelligence) and ML in arriving at Real World Risk Proposition and Analysis, sales related applications, retail insurance sale with competitive comparison quotes, anti-money laundering applications are some of the major applications/processes that can be based in cloud.
IOT and Blockchain based BFSI applications will soon gain relevance as the cost advantages in these areas with cloud adoption are immense. Additionally, partnership-based use-cases, wherein multiple BFSI corporations must be part of a use-case, especially in blockchain, will be tailor-made for cloud deployments.
3. What are the primary gains of cloud adoption in the BFSI sector?
As the biggest advantage, we can reduce the capex and optimize the opex due to scaling and on-demand processing power of cloud. Productivity increases at every level with cloud adoption. Associated ROI is good. Universal access and access control for employees from multi-geographies are made possible. Resilience with disaster recovery processes, governance, regulation, compliance-based data storage and protection, agility, computing power especially for data analytics (Real World BFSI Applications) etc. will be improved.
4. How is cloud helping the BFSI sector in meeting dynamically changing customer expectations?
BFSI is a customer and data driven sector, each process creates a multitude of data generated to assist their customers. Advancement and automation in the DevSecOps processes can be adopted in cloud using the right set of people, cloud infra/software and processes which will be highly beneficial from the perspective of higher customer satisfaction. As security is built into these systems, any dev and QA (Quality Assurance) systems can be thoroughly developed, tested, and deployed before going to production. This will help many BFSI IaaS (infrastructure as a service), PaaS (platform as a service) and SaaS solutions. With compliance with PCI-DSS in private and public clouds, payment transactions can be processed securely in compliant infrastructures. That ensures a higher trust in the customers.
5. What challenges do you face pertaining to cloud migration?
Primary challenges are to convince BFSI customers about the privacy, security, and compliance aspects of cloud migration. Both infrastructure and application migration pose great challenges as every aspect of the migration is looked at from these three angles. The key management, encryption, signing, data loss preventive technologies, compliance-based controls must be applied for each step of the migration. There needs to be a thorough security assessment done and approved by the respective authorities before any move can happen. Direct transaction-based process moves like payment gateway infra, customer authorization. infra etc. are highly scrutinized and thoroughly vetted before migration. The task is to make both the customers and the companies aware of the security and privacy aspects.
Also Read: At VMware, we have seen customers evolve from 'cloud-first to cloud smart': Gaurav Agarwal, Senior Director – Enterprise & Government Sales, VMware India
6. How can we address the concerns of data security, especially when it is offered as SaaS? Are there enough safeguards?
When data is collected via a SaaS model in BFSI applications, utmost care must be taken about the privacy, transmission, storage, and retrieval of the data. Also, data caching, data access controls through the SaaS platform, access privileges, data loss prevention, data access through APIs (Application Programming Interface), API security controls all must be properly in place. Any number of safeguards would not suffice for BFSI systems to be satisfactorily moved to the cloud. But we can achieve it through techniques like strong encryption, signing, authentication, authorization policies, hardware security module (HSM), other strong key management techniques, MFA, device encryption, compliance-based long-term data storage, hardened instances, implementing CIS, NIST, SANS and ISO controls.
7. What is the banking regulator's view on the cloud? What inclusions should be made to help promote cloud adoption?
Banking regulator's view is slowly changing for the better towards BFSI application in cloud computing arenas. Periodic assessments, penetration tests, vulnerability assessments, continuous compliance techniques, data privacy compliance, infrastructure compliance, data transport standard adoption and compliance at every step of cloud infra and/or application migration with full implementation of PCI-DSS, CIS, NIST, SANS and ISO Cloud controls would help to promote cloud adoption in BFSI segment. These will further make the regulators more comfortable towards cloud adoption.
8. Private, public or hybrid: Which will be more feasible and secure?
It depends on the application or infra that needs to be moved. Most companies in the BFSI initiate cloud adoption with private cloud and then make transition to hybrid cloud, before eventually moving to the public cloud for non-critical applications. Obviously, private cloud helps a lot in convincing the BFSI companies that the migration can be as safe as it can be. However, the hybrid components help the BFSI company get a copy of data or transactions visible to their local/on-prem environment all the time. This gives them a sense of confidence that they can access and port their critical data to on-prem whenever there is a critical need. Public cloud is mostly being used for non-critical applications or infrastructure, even though it can support critical infrastructure. I think this view will gradually change and more BFSI companies will choose the public cloud in the future. This is due to the cloud-native tools and CSPM (Cloud Security Posture Management) processes/software that are available in the market. Also, the DevSecOps processes in cloud deployment should help eventually.
9. Do we have enough talents and expertise required for the cloud environment in India?
Yes, we do. Cloud environments if effectively managed with the right talent, security protocols and compliance measures will enable smooth transition of BFSI Infra and apps to be moved to the cloud seamlessly and we have the required skills and talent pool for the same.
Experts across the world anticipate that cloud computing is most likely to be one of the fastest-growing technologies in the next few years. The popularity of cloud is also expected to increase as the need for digital across financial and several other leading industries is on the rise post the outbreak of Covid and migration becomes critical keeping the safety of data and continuity of business in mind.
Elets The Banking and Finance Post Magazine has carved out a niche for itself in the crowded market with exclusive & unique content. Get in-depth insights on trend-setting innovations & transformation in the BFSI sector. Best offers for Print + Digital issues! Subscribe here➔ www.eletsonline.com/subscription/