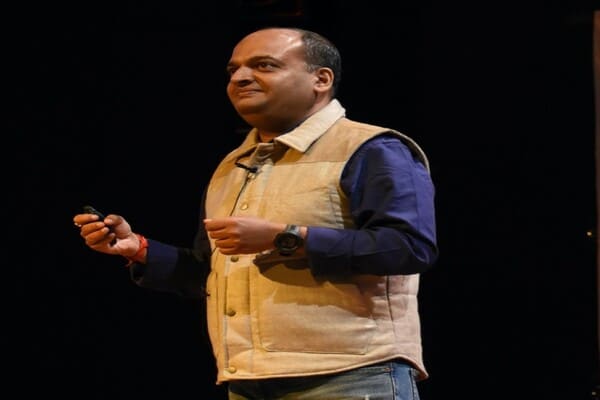 Technology is changing almost everything around us and in sync to customer demands are also dynamically evolving. To meet the need of the hour, it is significant to ensure a good product design. To understand how product design is gradually picking up and becoming an integral part of strategies, Elerts News Network ( ENN) spoke to Navneet Nair, Head of Product Design, PhonePe.
Excepts:

What is PhonePe's philosophy around its design? Where did the inspiration come from initially?
PhonePe believes financial progress should be inclusive. When the brand say's 'Karte Ja. Badhte Ja.' – we are not leaving anyone behind when it comes to this goal. Given this context, our designs have always been as simple and clear as possible. It is very simple to be cool, but it is way cooler to be simple. With that as the background, our design philosophy is hinged on three basic principles:
1. Earn Trust
2. Show Growth
3. Bring Joy
We try to incorporate this into every aspect of our design and this core value has been the source of inspiration for our design.
What's the difference between PhonePe's design philosophy five years ago and now?
Five years ago, we just wanted to get the first version of the app out to help people send money to each other and make the transaction as easy as possible. We were pleasantly surprised by how much our users loved us then. Five years later, our goal is still to make transactions as easy as possible but for a much larger number of things. These include peer-to-peer (P2P) transactions to buying insurance and investing in mutual funds among others. The one thing that has been constant in the last five years is the love our users continue to show for our app. This sense of gratitude has been a constant part of our philosophy behind building our products all through the years.
How has design evolved at PhonePe over the last five years? If you could illustrate with visual examples, that would be amazing!
Our designs have always been simple and focused on the largest common denominator. This focus on simplicity is something that is so core to our brand as well that we have a simple iconic logo that captures our design ethos. We have slowly evolved the logo over the years and have made it more refined. These subtle refinements have also carried through to the app design as well. You will find our colours more in line with the brand colours. Our iconography has also changed ever so subtly to include the elements of the logo and our 'beam' which is something you will find incorporated into our various interface elements as well. You can see the evolution of the design in this video.
What elements did you remove from the original design and why?
Our core user journey is pivoted around the idea that users start with sending money across to others, they then make their way to spending and managing money. And finally, they want to grow their money. The PhonePe app has always kept this user journey in mind and at different stages, we have experimented with elements that have served this purpose in the journey.
Also Read: PhonePe, Flipkart partner to digitise Cash-on-Delivery payments
Our primary offerings of peer-to-peer (P2P) money transfer and bill payments have always been the most important and popular use cases. They have seen an evolution in terms of the number of categories and sophistication and in the way money is being sent across. We enabled our customers to spend money when we introduced online and offline store payments, also known as person-to-merchant (P2M) transactions, in 2018.
Early on we had a transactional approach to P2P payments. However, we figured that when we make payments there is a lot of context around it that is best captured in a conversational interface. When we moved to the conversational interface, we did not want the payment experience to be a deterrent to the ongoing conversation. So we devised an interaction that allows payments to be as seamless as possible.
PhonePe is today accepted at over 20 million merchant outlets nationally. We forayed into financial services in 2017 with the launch of Gold providing customers with a safe and convenient option to buy 24-karat gold securely on our platform. Since then, we have launched several mutual funds and insurance products like tax-saving funds, liquid funds, COVID-19 insurance among others. These financial services products enable our customers to manage and grow their money on PhonePe. Financial services continue to be a major focus area for us.
How does PhonePe make its product design inclusive — and what does an 'inclusive design' mean to PhonePe? Why is it important?
Our core value speaks about making the experience financially inclusive. We want every Indian to progress while they use PhonePe. So even when we design, this is a core focus of how we develop products. We also have a focused accessibility and inclusivity group that looks at various aspects of the application and how it affects various types of users. We are also constantly looking to leverage technologies like speech among others to make it easier for our users to use our platform.
Why is design so important for a fintech company? How does it affect users?
Design is important for every industry; however, it is even more important when it comes to fintech. The new age fintech companies are looking to shape user behaviour through technology. And this means changing established mental models around how money is earned, spent and transferred. Changing behaviour is not easy and it needs to be carefully planned and designed. This is where good design can be leverage. A good design will make the interactions easy to understand and perform. Moreover, it will help inculcate new habits that will change the way people think about transacting in this new world. If we want to build products that will enable this change, we cannot ignore how the products are designed.
What are you doing to make PhonePe more attractive or to make it "fit in" better with the sensibilities of people in lower-tier cities?
We believe that design can be universal. That is why right from day one, we have kept all types of users in mind. That said, there is always an aspirational desire among all tiers of users that we try to fulfil in many ways. However, the primary principle while doing this is to stay true to our brand philosophy – Karte Ja. Badhte Ja.
Also Read: PhonePe unveils Pulse, a new website for data, insights on digital payments
For example, one of our customers John from a small town in Tamil Nadu buys 1 gram of 24-karat gold every quarter from the comfort of his home. Three clicks are all it takes him to complete the transaction, and he gets his gold home delivered at a date and time of his choice.
What do you think drives people to use PhonePe over other payment methods when it comes to design?
PhonePe is designed to be simple and intuitive. Quite simply put, our product is to 'get out of the way' so that you can get the job done as soon as possible. Thus, a clear and intuitive user interface coupled with a robust and reliable backend makes PhonePe a delight to use. And we do not need to resort to any more theatrics to win over our users.
How do your experiences affect how you design at PhonePe?
Every designer on the PhonePe team brings in his or her own experiences when designing the product. What has come out is a collective experience and effort of an awesomely talented team. My role primarily is to channel these experiences into the design while making sure the core value we are delivering is not diluted. The diverse team consists of trained designers and college dropouts. Artists and musicians. Writers and actors. We have never discriminated against what a team member cannot bring to the table but always focused on what they do bring to it. This has helped us build an accessibility team that consists of people who are able to understand how people who have differing levels of eyesight or cannot take in audio cues would respond to the interface. For example, we have collated a list of PhonePe employees who have varying levels of colour blindness (a very common thing) and we use them regularly to test the effectiveness of our use of colours and contrasts. Thus, it is a combination of experiences that makes the PhonePe design team what it is.
What traits do you look for in candidates while hiring for PhonePe's Design team?
While core skills are important, we believe that the attitude that one brings to the table is a lot more important. The biggest attribute we look for in designers is the openness to learn and a bias for impact. These are two factors that help you navigate well within a fast-changing environment. Finally, building products is a team effort and we look for talent that we can leverage to magnify team output. Individual rockstars are awesome as long as they work well together with the team to make it better.

Elets The Banking and Finance Post Magazine has carved out a niche for itself in the crowded market with exclusive & unique content. Get in-depth insights on trend-setting innovations & transformation in the BFSI sector. Best offers for Print + Digital issues! Subscribe here➔ www.eletsonline.com/subscription/