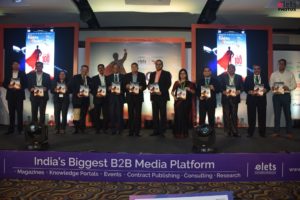 Registering a massive confluence of top-leaders from across the Banking, Financial Services and Insurance (BFSI) sector, the 4th edition of BFSI CTO Summit concludes in Mumbai.
Organised by Elets Technomedia, India's largest B2B media platform in association with The Banking & Finance Post, Asia and the Middle East's premier bimonthly magazine on banking and finance sector, the summit delved into the rising significance of technology and delve into the prominence of digital disruption within the industry.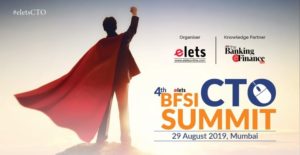 Welcoming all the esteemed dignitaries to the confluence, Dr Ravi Gupta, Editor-in-Chief, The Banking & Finance Post Magazine and Founder Publisher and CEO, Elets Technomedia Pvt Ltd shared his vision and mission and the idea behind the conference.
In sync with the ongoing developments of #BFSI sector, 4th BFSI CTO Summit is exclusively designed to highlight the key focus areas & future trends, says Dr @ravigupta1000, CEO, @eletsonline & Editor-In-Chief, The Banking & Finance Post. #eletsCTO pic.twitter.com/yovXpPHxcv

— The Banking & Finance Post (@BFSIPost) August 29, 2019
While the leaders from banking institutions congratulated the Central Government for implementing Digital India and ensuring concrete digital innovations across the sector, several emerging unconventional leaders such as Non-Banking Financial Companies (NBFCs), Microfinance Institutions (MFIs) too spoke about embracing technologies such as Blockchain, Artificial Intelligence and Machine Learning to maintain their prominence and relevance.
K Ramachandran, Senior Advisor-Banking Technology, Indian Banks' Association,Puri, SVP & Global Head of Field Technology, Solace Corporation, Sheoji Ram Meena, General Manager & Chief Information Officer, Bank of India, Subram Natrajan, Chief Technology Officer, IBM India/South Asia and many more eminent figures from the sector graced the occasion with their August presence.
Moreover, significant topics namely Digital Disruption Redefining the Role of Technology Leaders : Innovation for the Forgotten and Next Generation, Digital Banks, Payments and Platforms: Importance of Cyber Security, Fraud and Risk in Connected World, Cloud Computing, Big Data and Analytics: The Engine Behind the Digital Transformation in BFSI, New Enterprise Technologies that NBFCs, MFIs & Housing Finance Companies would Like to Embrace Next Year and Staying Relevant in the Digital Era: BFSI Modernisation with Blockchain, Artificial Intelligence, Machine Learning and IoT etc. were a part of the conclave's agenda.
A special issue of The Banking & Finance Post Magazine was also launched at the summit.
July-August issue of The Banking & Finance Post magazine is launched today during 4th BFSI CTO Summit, #Mumbai in the August presence of esteemed dignitaries from across #BFSI industry. #eletsCTO pic.twitter.com/9MfhTWLK9e

— The Banking & Finance Post (@BFSIPost) August 29, 2019
Some of the important tweets of the conclave:
"Indian #banks are making tremendous progress in terms of #technology specifically in rural areas. #Aadhaar, #eKYC are leading this growth," says K Ramachandran, Senior Advisor-Banking Technology, @IBA_org_in at 4th BFSI CTO Summit, Mumbai. #eletsCTO pic.twitter.com/Yg9dlI2EyG

— The Banking & Finance Post (@BFSIPost) August 29, 2019
"Technology penetration in #India has been massive. No where in the world digitisation is reported at this speed," says Sumeet Puri, SVP & Global Head of Field Technology, @solacedotcom at 4th BFSI CTO Summit, Mumbai. #eletsCTO pic.twitter.com/vhHViL3Xms

— The Banking & Finance Post (@BFSIPost) August 29, 2019
"#Technology heads have a pivotal role to play in today's digital world. They are like Brahma & Vishnu (Creator & caregivers) for the organisations," says Sheoji Ram Meena, GM & Chief Information Officer, @BankofIndia at 4th BFSI CTO Summit, Mumbai. #eletsCTO pic.twitter.com/oDOBCbjthN

— The Banking & Finance Post (@BFSIPost) August 29, 2019
"Banking industry is growing exponentially and now getting matured enough to acknowledge key technologies like #Blockchain & #Cloud, " says Subram Natrajan, Chief Technology Officer, @ibm_in India/South Asia at 4th BFSI CTO Summit, Mumbai. #eletsCTO pic.twitter.com/CzsMN0An9e

— The Banking & Finance Post (@BFSIPost) August 29, 2019
"Businesses around the world are adopting customer-centric approach. Product & services are not people oriented," says Philips Eapen, Head #BFSI, @SAP #India Sub-Continent at 4th BFSI CTO Summit, Mumbai. #eletsCTO pic.twitter.com/5mMEuUgjWe

— The Banking & Finance Post (@BFSIPost) August 29, 2019
"When it comes to accessing systems compromised credentials, impersonation & identity theft poses a serious risk especially for the #BFSI sector," says Venkatesh Commuri, VP – Corporate Marketing & New Initiatives, @Precisiontwts at 4th BFSI CTO Summit, Mumbai. #eletsCTO pic.twitter.com/Rjfh9GITc3

— The Banking & Finance Post (@BFSIPost) August 29, 2019
"There is a significant change in the way customers interact. Digitisation has transformed entire gamut & companies like #Equifax are key enabler in this," says Nanaiah Kalengada, MD, Equifax Credit Information Service & Country Leader -India & MEA, Equifax . #eletsCTO pic.twitter.com/hCJZKlTNSp

— The Banking & Finance Post (@BFSIPost) August 29, 2019

Elets The Banking and Finance Post Magazine has carved out a niche for itself in the crowded market with exclusive & unique content. Get in-depth insights on trend-setting innovations & transformation in the BFSI sector. Best offers for Print + Digital issues! Subscribe here➔ www.eletsonline.com/subscription/