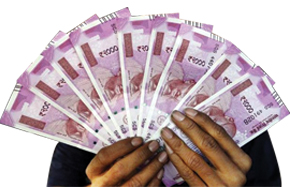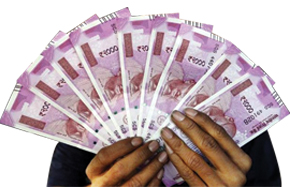 With surging crowds at banks and customers making serpentine queues outside ATMs post demonitisation, security measures have gained huge significance, writes Priyanka Sharma of Elets News Network (ENN).
In the wake of demonitisation of Rs.500 and Rs. 1,000 notes, physical security and Closed Circuit Television (CCTV) surveillance at the banks and other financial institutions have become indispensible like never before.

The banking and financial sector in India puts in a lot of money and effort to provide secure environment for financial transactions. Banks and financial institutions use high tech surveillance systems and guards to enhance security of their premises.
This is necessitated due to the fact that compared to other industries, banks and financial institutions handle a large amount of cash and transactions, making surveillance systems the first choice to tackle thefts and frauds – both inside and outside the premises – to safeguard customers, employees and assets of the bank.
Apart from building a complete surveillance infrastructure at banks, it is also required that the Network Video Recorder (NVR) support ATMs and points of sale (POS) text overlay to store the video footage along with the transaction data to quickly and easily search individual transactions and view corresponding videos for surveillance.
Physical Security at Banks
After demonitisation, Prime Minister Narendra Modi-led government has asked all States to ensure proper security be in place at all banks, ATMs and for vehicles transporting cash. Three officials from the Home Ministry are in touch with State governments to ensure security of these key entities.
The ministry officials are taking regular feedbacks on the prevailing situation in the states from the Directors General of Police.
Heavy deployment of police was ordered on November 9 as nervous and mostly clueless residents flocked their nearest bank branches across the nation. The police were deployed near all financial institutions and places where large crowds were expected.
All junior to senior most police officials swung into action. Most of the DCPs, ACPs and SHOs could be noticed engaged in patrolling in their respective zones. Junior-ranked police officials were deployed in the field. Police personnel were stationed not just at the banks but at all financial institutions such as forex offices and ATMs.
The petrol pumps and CNG stations too were supervised by police teams. The deployment started as early as 8 am, i.e., when banks open, and the policemen remained positioned at their posts till the banks were closed for public dealing in the evening.
Importance of CCTVs for Bank Security
In the past, banks in India have lost Rs.485 crore between April 2013 and November 2016 owing to thefts. It is Rs 38 crore more than the expenditure borne by the government's Indian Space Research Organisation to send a mission to Mars.
Under these circumstances, reliable video surveillance systems are indispensable these days. Robberies, burglaries, cheque card fraud at ATMs or vandalism require swift reactions. Very often, video recordings are the only way to get after the culprits.
Banks are some of the most secured institutions in the world. We all entrust banks with our money, and expect them to keep it safe. One of the many ways banks can help protect our money is to install a high- end video surveillance system. Banks are looking at newer innovations in digital technology and high definition resolution so that they may increase the effectiveness of their video security systems.
"Banks should install anti-skimming devices to protect themselves. There can also be auto lockdown of ports, disk/data strong encryptions. Banks can also apply EMV as a card security standard starting this fall to help avert fraud attacks from occurring," says Bharat Berlia, Chief Information Officer, Indus Net Technologies.
"With EMV technology, cardholder information is stored in a chip that is embedded in the card. Further, biometric, retina scans, additional authentication via mobile GPS can reduce the chances of any scrupulous attacks."
Advantages of CCTV cameras in Banks
Invented by Marine Van Brittan, closed-circuit television (CCTV) cameras can today produce images and recordings for surveillance purposes. These can be either video cameras, or digital stills cameras.
The CCTV camera system includes one or more cameras which are used to send video, images and audio data to a monitor. Essentially, these camera systems use cameras to transmit the signals to a main hub which then records that data for later viewing or live viewing.
Multiple Advantages of CCTVs
Prevent robberies – Banks continue to be high-stakes targets for criminals looking for a big payout. The proper bank video surveillance setup can help to deter robberies, or in case of any incident — provide important images and evidence to law enforcement agencies.
Crime Investigation – In instances of robbery and fraud, recorded bank security camera images can be used to identify and track down suspects.
Prevent Check Fraud: Internet Protocol (IP) video surveillance systems with advanced video analytics such as facial recognition are helping to fight the problem of check fraud at banks by recording transaction data and capturing images of offenders. This information can be used to identify criminals and helps in protecting customer accounts.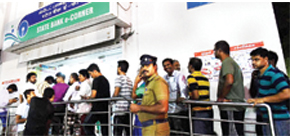 Combat 'phantom ATM withdrawals': It's common for bank customers to report suspicious ATM withdrawals where money has been taken from their accounts without their knowledge. Bank security cameras, which record every ATM transaction can provide answers.
Coordinate Information from Multiple Locations: Modern bank video surveillance systems allows footage from multiple branches to be transmitted to a central monitoring room, or viewed over the Internet.
Integration With Alarm Systems: With modern surveillance systems, bank security cameras and alarm systems can be integrated into a single network.
Intelligent Functionality: Intelligent security cameras with video analytics such as motion sensing, facial recognition, and behavioural recognition can be used effectively to identify suspicious or abnormal activity in and around the bank.
Digital Storage: With digital technology, storage and management of surveillance footage is more efficient, convenient, and accessible, allowing for advanced search techniques that help in pinpointing specific incidents and identifying suspects with greater ease and speed.
Enhanced Customer Confidence: The more secure a bank is, the more confident its customers will be. An effective bank video surveillance system goes a long way in enhancing this sense of security.
Continuous Surveillance: Bank security cameras allow for continuous surveillance of banking facilities, providing protection outside of typical workday hours. This is especially helpful for ATMs which are accessed by customers 24 hours a day.
The Home Ministry has deputed three officials to be in touch with state governments to ensure security of banks, ATMs and cash transporting vehicles.
Data Recognition: Video surveillance systems that use digital technology are capable of advanced forms of data-recognition that prove useful for searching video footage for specific bank transactions and images of particular individuals.
Remote Access – IP surveillance allows for remote monitoring of live and archived video footage from any computer with an internet connection and access to the network.


Elets The Banking and Finance Post Magazine has carved out a niche for itself in the crowded market with exclusive & unique content. Get in-depth insights on trend-setting innovations & transformation in the BFSI sector. Best offers for Print + Digital issues! Subscribe here➔ www.eletsonline.com/subscription/