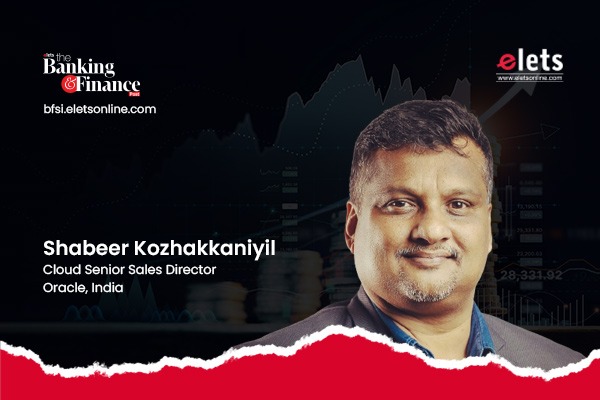 Most of India's population of Tier-2 cities and rural areas are not able to use the kind of services that are used by the people of urban areas. With technologies like the cloud, it has become easier for small NBFCs to get all the technologies that could help them to democratise the people of rural areas. To know more about how NBFCs are adopting cloud solutions for their customers, Rashi Aditi Ghosh and Srajan Agarwal of Elets News Network (ENN), had an exclusive interaction with Shabeer Kozhakkaniyil, Cloud Senior Sales Director, Oracle, India
How is Artificial Intelligence helping NBFCs in handling their dynamically changing customer base?

Artificial Intelligence and Machine Learning as technology have always been there and there are a lot of companies that are offering either services or full-fledged applications. Organisations across the world are accepting technological advancements like never before and the basis of innovation for this has always been the cloud.
NBFCs are now moving faster towards better financial inclusion and there is a lot of competition, as there are several companies that are registered on the RBIs site. Out of a large number of companies, only a handful are making a real impact. The reason is that the market has become extremely competitive and so companies are looking at different ways to address their customers and retain them.
By moving to technologies like AI and ML, organisations are able to innovate faster and understand the customer's buying patterns and the social behaviour of the customers. They are also able to personalise the offerings in a way that is suited to specific customer interests and it is what we call hyper-personalisation.
There are two ways to do so, one is to adopt the AI and ML framework which is offered by cloud companies like Oracle, and use it within their application. These can be used as widgets that can offerspecific services within their business process.
For example: AU Small Finance Bank, runs its entire platform on Oracle Cloud, and is a very long-term loyal customer. They are currently looking forward to using AI and ML services to see how they are able to reach customers and profile them better.
AI and ML specialist organisation like E42.AI is an Artificial Intelligence company that offers specific AI-based profiling for financial services companies, especially for NBFCs. They do this by hosting their applications on Oracle cloud.
In short, yes, NBFCs need to embrace this kind of technology to be competitive in the market and companies like Oracle through Oracle Cloud offer these technologies in a very easy-to-adopt manner. We offer this in two ways, one is services or organisations can also tie up with other companies who have got specific solutions built on our cloud.
We all know that the NBFC sector is reaching out to the under reached and they are trying to ensure the financial inclusion cause of India for years now. How do you elaborate India's journey in this regard and as a technology leader how do you see this vision of NBFCs as a player?
A significant population in India is still underserved or unbanked, and that is the reason why we see a huge priority and focus on financial inclusion which brings everyone including the underprivileged sector of society to a level where they are able to use the financial services which are given by Tier-1 and Tier-2 banks.
Most of India's population of Tier-2 cities and rural areas till now were not able to use the kind of services that are used by the people of urban areas. With technologies like the cloud, it has become easier, for example, an NBFC in a Tier 2 city will be able to get all the technologies that any other larger company from a Tier 1 city would do with the cloud. Cloud has democratised that now and it's no longer the situation that cutting-edge technology services or cutting-edge technology solution components are only available to people in metropolitan cities. Today, many companies are mushrooming in Tier-2 cities which is happening because of cloud and the company policies where you are able to work from anywhere, regardless of your location.
The company in Tier-2 cities is also able to get the kind of technology and manpower, and is able to enjoy the innovation as a company in an urban area is able to. They are also able to offer all kinds of services, regardless of where the location is.
With technology like autonomous warehouses from Oracle cloud, you are able to set up a complete data warehouse within a couple of hours with the underlying technologies also automated. The customer today only needs to focus on his business concepts.
AI and ML can enhance intelligence in the process. With a growing network, digital solutions, flexible processes, and quick services, with the help of the cloud, NBFCs have come a long way and have bridged the gap between financial services and the common man.
Oracle cloud is used by small or medium NBFCs like Chola Finance, Dhani loans erstwhile Indiabulls, Shubham Housing Finance, Shivalik Small Finance Bank, AU Small Finance Bank, etc. They are using our technology in Tier-2 cities to target a mix of rural and urban people.
What are the characteristics of cloud architecture that separate it from the traditional mode of architecture?
Cloud as a technology has been there for the last 15 years, but the adoption was more or less limited to the born in the cloud companies, or the kind of companies who are at the brink of technology and who are into developing technology solutions for various end customers.
When you look at the real corporate, verticals like government, finance, etc were not completely adopting cloud adoption, especially for the production workloads.
Also Read | Cloud can help BFSI in optimising cost: Shabeer Mohamed, Senior Sales Director, Oracle India
In the last 5 years, we have come up with the first public cloud buildfrom grounds up for a better experience for enterprises serving every application.
Our cloud is developed for enterprises, which completely grounds up with security as the primary feature. The cloud primarily has 10 important factors that actually differentiate the security model.
One is the exclusive security posture and monitoring system called the Cloud Guard. It is bundled along with the cloud which cannot be de-bundled so that any customer who uses our cloud, cloud guard constantly monitors and reports the entire Oracle's cloud activity for security posture.
The second is our cloud comes with built-in security zones, where with a click of a button the customer can enable the security zone if it is a critical application. The cloud mandatorily forces you to deploy their application in a way that does not violate security principles.
Of course, we have things like Data Safe, which keeps the database secure, we have vaults or key management systems. We have a built-in vulnerability scanning system and an identity cloud service. We offer a bastion as a service, firewall, OS management and certificates. The entire security model is baked into that. Second part that differentiates us is superior price performance. Our cloud comes with three things which are different from others. One is off-box virtualisation. The entire management software of Oracle Cloud, which manages the virtual machines is isolated and put in a separate silicon. Oracle is the only cloud which does that and we call it off-box virtualisation. It makes the cloud virtually hackproof. We also build custom security chips to ensure that there is no hacking or any kind of malware that is being built into our chips.
We have also come out with a completely seamless and easy way to migrate and run enterprise applications. We have included migration services as well as lift services are part of our migration plan.
Oracle provides a complete cloud-native service in the ecosystem which helps enterprises to also migrate to new technology applications.
The next one is we are the first cloud to provide a complete autonomous database in an autonomous operating system. Which means it is a completely self managed, self tuning environment for databases as well as operating systems.
Oracle Cloud is providing a cloud with a complete autonomous service. We are the first cloud provider to give complete hybrid and multi cloud support. We offer a complete cloud for a customer as a region within their data center. And we can provide all the services which are offered on the public cloud within your firewall. We also offer in most of our regions, seamless connectivity between cloud companies like Azure.
Oracle has a tie-up with Azure where we can provide sub second latency between these 2 clouds wherein you can actually have an application with your front-end or your application tier in Azure and your database in Oracle.
There are several kinds of technologies which are making our cloud unique and targeted for the enterprise. Our pricing is done in such a way that even start-ups and mid-market companies are able to afford our services. So, we are providing enterprise-wide performance at an affordable rate.
What are your future plans to create a road map for a stronger cloud computing society in the next 5 years?
Oracle today is working in two major areas; one is Oracle Cloud Infrastructure and the other is Oracle Cloud Applications. We have significant investments in both, while on one side the Oracle Cloud infrastructure will be expanding into all regions across the world, and we will be having at least 2 data centers in every geo-political location.
Countries including India, Korea, Japan, Australia have two data centers. We already have more than 10 data centers in Europe, but we will be ensuring that we will have at least two in each country.
Also Read | Four Cloud Migration Challenges Enterprises Need to Tackle
Today we have around 40 data centers across the globe which are more than most of our competitors and the road map is very clear. We will be expanding. In India specifically, the cloud market in India is expanding at a very high pace.
If you look at our cloud business, over the past few years, it has grown by triple digits and every year we are doubling our customer base.
The relaxation in regulation by the RBI which enables banks to put non-critical workloads on the public cloud. The responses that we have been getting from banks and NBFCs are very encouraging, as we are having a lot of engagements and we foresee huge demands from the customers.
We have launched Oracle Alloy, which is a dedicated cloud that can be bought by a partner who would want to get into customised cloud solution and does not want to invest in huge capital expenditure. Oracle will set up the dedicated cloud for them and he will be able to offer cloud like a whitelisted cloud service to the customers. And this is what we are actively pushing in countries like India.
India is a big country, and there is a lot of untapped potential, so Oracle Alloy along with our strategic partners could really help.
We want to equip more organisation in India with cloud technology so that they can get benefit from this economy, scale and agility. We have also tied up with some skilled partners who are helping customers to get the maximum out of their IT investment, and the cloud is helping corporates as well as mid-market companies.
We also believe that enterprises must select the best multi cloud or hybrid cloud options.
We have ensured that Oracle Cloud offers the best multi-cloud solution because our services work seamlessly in an on-premise environment as well as cloud environment and we are able to seamlessly connect with the other cloud providers.
Now we understand that each customer is different, and the requirement for each customer depends on what kind of industry he is into, what are his/her growth plans, what is the revenue, investment outlay, etc. We are ensuring that we are able to target every one of them and with our 600 partners from a range of industries in the country, we feel, we have just started.

Elets The Banking and Finance Post Magazine has carved out a niche for itself in the crowded market with exclusive & unique content. Get in-depth insights on trend-setting innovations & transformation in the BFSI sector. Best offers for Print + Digital issues! Subscribe here➔ www.eletsonline.com/subscription/