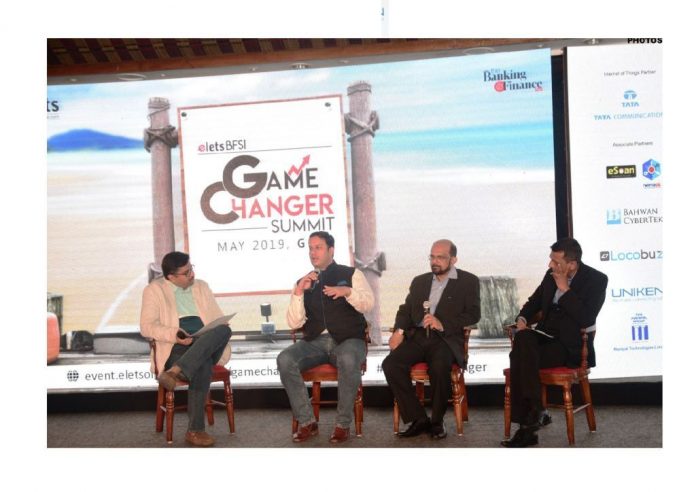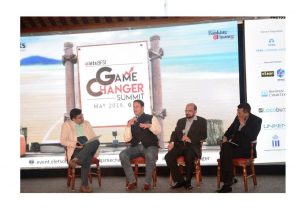 Open Banking, a buzzword is often talked about in the banking and financial sector for its potential benefits and speculated threats associated with. While some experts believe that India is progressively approaching this futuristic mode, others are concerned about the security quotient.
While addressing a panel discussion during the recently concluded Elets BFSI Gamechanger Summit, Goa, bankers from leading institutions unravelled the role of Open Banking in India's BFSI landscape.

Panel Discussion – NextGen Transactions: How Open Banking and Regulatory Landscape Led to Open and Collaborative Transactions in Hybrid World
Beginning the discussion, Gautam Anand, Head Net & Mobile Banking, Bill & Direct Pay, HDFC Bank talked about the present state of formal banking across the world.
He said, "According to the World Bank, around 2.5 billion people in the world do not use any formal financial sector. This is 75 percent of the total population of the world. But there are countries like Spain where 98 percent have access to basic banking. So there is a huge paradigm shift between the world as a number and few developed countries."
"Post demonetisation, we have also seen a huge shift in the payments domain with a boost in the number of transaction, customers coming in. We started off late but caught up in a big way," he added.
In the open banking space or broadly in the payments space, there are three issues that we have. Anand raised three questions for the panel that are currently surrounding the application of Open Banking in the country
Is it really safe?
From a customer's point of view, is it really safe to have your cards, CVV number put on an app or browser page and most e-commerce sites will also save your details? Is it safe to do that? And also from the bank's point of view, if we are really collaborating with a lot of Fintechs as their open source and we open our APIs for them. Is it really safe because we have seen in the recent past some instances that are not too healthy?
Are we complying with the data privacy requirements?
Is our society really ready for Open Banking?
With great trust, comes greater responsibility -Ritesh Pai, Group President & Chief Digital Officer, Yes Bank
Historically if you see payments in India was something that we were just blindly copying from the west. If you look at the way prepaid, debit, credit, PoS, payment gateway…these originated in the west and we were the followers. But off let the trend is changing…post demonetisation the kind of off swing that we have seen. It has at least fast track the development by three to four years. Otherwise, we would have taken a few more years at a very organic.
But now we have many homegrown payment systems that we can take pride in while it is restricted to the local jurisdiction. We all know that prior to demonetisation, only five percent of the transactions in the country was happening via electronic mode.
Cash is the real enemy out here. There is so much more to do there is so much more market to be captured. And that's where we feel that banking as a service is going to be a reality and that was our first step when we started our open banking or API banking concept. The whole idea was that why can't we make payments incidental to the entire set of transactions.
 Earlier we used to try and make the payments piece sound very complex and because of which people were very reluctant to use it. But because of API banking went we go ahead and tied up with lot many entities like NBFCs, food aggregators, merchant aggregators, cab aggregators, business correspondents, and start-ups.
For e.g, if someone is booking a cab and paying for it, the payment is incidental. Customers are very happy with these kinds of services. So these companies need bank's support at the background to run these services.
To answer the security concern, I would like to modify the saying from the movie the Spiderman "With great power, comes greater responsibility" to "with great trust, comes greater responsibility". These are make or break moments for any person who wants to come into the electronic mode of banking.
One bad experience and this guy will never ever come back to this mode of payments.
Proceeding ahead, Gautam from HDFC Bank raised the concern on the challenges associated with India and its diversification.
"India payments applications were earlier copied from the west but we have our own stack now. India is a very unique landscape and we have our complexities based on linguistic challenges. The literacy rate is not great. So how do you think open banking will be able to function in these challenging circumstances?" asked Anand.
India is growing and there is hope beyond challenges-Milind Varerkar, General Manager-IT, Saraswat Bank
We started with NEFT, RTGs which are also very highly regulated till date. But post demonetisation we have seen some good products coming in such as UPI through which payments transaction system has opened up. With this, we are opening the transaction field to various channels and Fintechs. We have seen a lot of brands offering payment system in regional languages. This will help those who are hesitant in using such channels into the mainstream. That's how the system will grow.
However, a lot is to be done. But we also acknowledge that new channels have opened up and a lot of Fintech companies who understand this are engaging with the banks and the banks are also ensuring that through various APIs they will help the system grow.
Gautam: From the Foreign bank point of view, do you think it is important to regulate the payments systems? If yes, should the regulators regulate it or the market should regulate it? What is your perspective because with open banking lot new vistas will open up for foreign banks?
Security is the ultimate concern-Zulkernain Kanjariwala, Head-IT, Doha Bank
Open banking will definitely be an advantage for us. For banks like us, that does not have a full landscape in India in terms of covering the entire market but foreign banks like us have a stringent RBI guideline where we have to follow strict regulations. If we talk money transfer through our bank, 90 percent of it is in foreign remittances. And if you consider the FEMA and FERA rules and regulations, we will have to follow the stringent rules and regulations. Open banking and APIs are good options for us because we don't have to do much investment in that and with this kind of integration, we will reach more and more areas that don't have our presence.
If I talk about Business Correspondent, there is a regulation given by RBI that if you are having a particular amount of presence in India then only you can be allowed to Business Correspondent tie-up.
We face a challenge in this regard as we have less number of customers and a small number of branches in the country. Here we will have a tough time in handshaking with a different kind of Business Correspondents. Which is not the case for other banks who are the pioneers in India. Our case is a bit different because we have to abide by two guidelines, RBI and the regulator from the country of our origin. At times, our home country allows us to initiate a process but RBI stops us from doing it.
From a security point of view, we all know that a lot of breaches have happened in the recent past. Even our management discuss the rise in the level of vulnerability with integrations and collaborations.
In India, consumers have blind faith in the services offered to them but in today's world, we should focus more on the security part.

Elets The Banking and Finance Post Magazine has carved out a niche for itself in the crowded market with exclusive & unique content. Get in-depth insights on trend-setting innovations & transformation in the BFSI sector. Best offers for Print + Digital issues! Subscribe here➔ www.eletsonline.com/subscription/