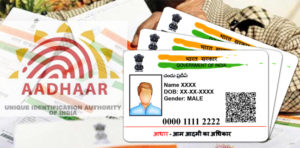 The centre has now made Aadhaar a mandatory requirement for availing the benefits of Ayushman, a health insurance cover of Rs 5 lakh per year for hospitalisation of 10.74 crore families.
The announcement was published by Union Health ministry in a notification on July 4.
 "A beneficiary eligible for receiving the benefits under the scheme shall be required to furnish proof of possession of Aadhar number or undergo Aadhaar authentication,"  says the official notification.
Insurance holders who don't have Aadhaar need to apply for it by March 31.
Unique Identification Authority of India (UIDAI) the authority responsible for issuing Aadhaar  has so far issued 121 crore numbers till date. As per the estimates nearly 10 lakh people either enroll or update their Aadhaar details every day, said Ajay Bhushan, Chief Executive Officer, UIDAI.
The notification from health ministry was issued because Aadhaar Act makes it mandatory to publish it and seek government approval, if anyone wants fetch data set from Aadhaar.